Post-graduate studies in any program are a huge commitment, but law school is especially challenging simply by its nature — the law is complex and difficult. Becoming a lawyer takes dedication, time and sometimes just sheer will power to meet all the demands and do well. So, when considering law schools, it pays to make sure you choose one that fits you, your life circumstances and your personal preferences. If you are seeking a law school that is as much an experience as it is an education, Western Michigan University Cooley Law School has a lot to offer.
1) Location makes it doable
For many people considering law school, location is near the top of the list of concerns. Jobs, families and other obligations are daily realities that serve to shape decisions and sometimes make a dream like law school seem impossible. So, when you're settled in with a mortgage, kids, and the other trappings that go along with life in general, having a law school nearby can make all the difference between "yay" and "nay."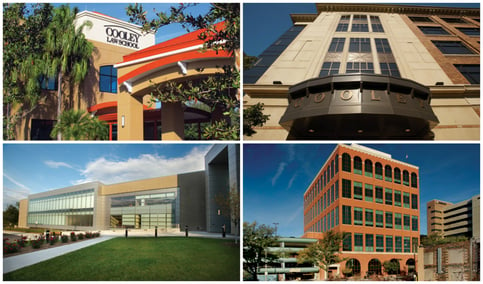 At WMU-Cooley, we get it. That's why WMU-Cooley has three campuses, two in Michigan and one in Florida:
Lansing – positioned in the heart of the state capital, the Lansing campus is a 10-story building among offices of the Michigan Supreme Court, Court of Appeals, local courts, and numerous law firms.
Grand Rapids – set in the city's dynamic Heartside District, the five-story, loft-look brick building features a mix of vintage architecture blended with modern technology, to produce a pleasant and up-to-date learning environment.
Tampa Bay – near vibrant downtown, the Tampa campus is a country setting yet close to great food, shopping and more with easy access for commuters.
Western Michigan University in Kalamazoo also offers students the opportunity to begin classes there before transitioning to one of the campuses.
Over and over again, we have graduated students who likely could not have attended law school at all, except that a WMU-Cooley campus was close by. Don't give up your dream, read all about our campus locations and find out if one is right for you.
2) A culture of professionalism
Watching the daily news might make you believe there's no place on Earth where respect for each other is the norm, diversity is appreciated, and collaboration wins over competition. But there is, and it's WMU-Cooley Law School. At every level, WMU-Cooley is built upon the premise that professionalism "inspires excellence, service and integrity," the very things lacking in so much of life today.
At WMU-Cooley, students work together to help each other succeed. It is an all-inclusive team and anyone willing to put in the time and energy required to excel is welcome to join. When ethical and professional behavior is at the root of all you hear, see and do, it becomes a part of you. When you graduate, you can then take what you have become and, as Mahatma Gandhi said, "… be the change you want to see in the world."
3) Outstanding, experienced faculty
In law school, students' great success can only come after great teaching and WMU-Cooley's faculty is uniquely qualified. We believe that providing a fully rounded legal education requires professors who are experts in the law, have served years as attorneys in the real world, and who are passionate about bringing forward the next generation of excellent legal minds.
For example, who do you think would be the better instructor: a circuit court judge who just presided over one of the nation's most notorious sexual abuse scandals in higher education or a professor with zero hours on the bench or in front of a judge? In fact, WMU-Cooley has two such adjunct professors, both of whom presided over disgraced former sports doctor Larry Nassar's trials in two different counties. And both of whom continue to be insightful, accessible and supportive WMU-Cooley professors.
Another example of our great leaders in legal education is Professor Emily Horvath, a veteran attorney and flag-bearer for innovative learning. Read her story and take a look at our faculty bios to learn more. We also have an entire section of our blog dedicated to showcasing our awesome professors and faculty members.
4) Choices
Law school can be a rich and profound experience when you have not only the basic required curriculum, but many, many other options from which to choose. Concentrations are one way to enrich your legal education and WMU-Cooley offers eight focused programs as well as one allowing you to create your own focus in a specific area of legal studies.
Experiential learning is another very important way that WMU-Cooley students get to truly live what they're learning. Through clinics and externships students get practical training by assisting people with life's legal challenges. These include opportunities like the Innocence Project, helping innocent people be exonerated and released from prison; the Family Law Assistance Project working with low-income people in need of legal assistance; working at a practicing law firm; or in a county public defenders office, to name just a few.
Of course, many students also need flexibility in their schedules to accommodate classes as well as other obligations. WMU-Cooley's flexible scheduling was created for that very reason and the choices are many, including a 2-year accelerated schedule; 3-year part-time schedule; 4-year part-time schedule; 5-year part-time schedule; as well as a weekend program schedule and a traditional schedule. Read more about our schedule options and see if one will work for you!
5. Career Services
From your first day in class until you retire, WMU-Cooley provides career and professional development services to students and alumni through the Hire WMU-Cooley section of the portal, as well as through workshops, mock interviews, counseling, career exploration programs and more. On the flip side, WMU-Cooley cultivates relationships with employers around the world, working with them to find the best person for each position and the best position for each person.
WMU-Cooley Law School has a lot to offer everyone, but especially those with unique and challenging life circumstances. If you want to attend law school, let us help! Sign up for a campus tour and visit your future today!
Want a complete look at life as a WMU-Cooley Law School student? Click the button below to download our Viewbook.