Judge Janice Cunningham – A Catalyst for Change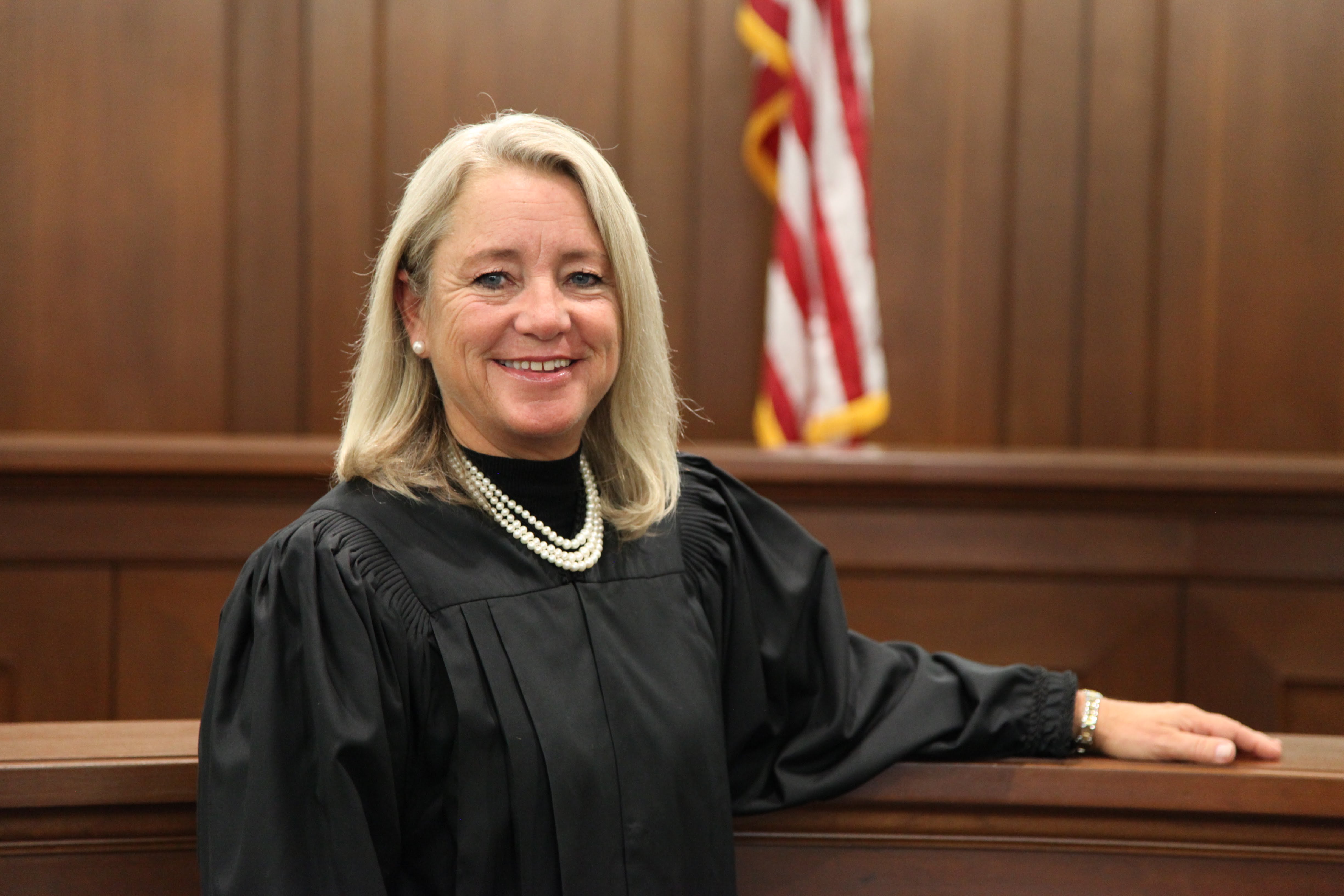 We live in turbulent times that often try our patience and make us wonder what could possibly be next. But under the choppy surface waters of daily life, good people are going about the business of making change — for the good. They ignore that which detracts from their mission while steadily moving toward their goals. Eaton County 56th Circuit Court Judge Janice Cunningham is one of those steadfast crusaders. Cunningham, a long-time Cooley adjunct professor, was the second judge to sentence disgraced sports medicine doctor Larry Nassar.
Growing up a fan of Perry Mason, Cunningham was fascinated with the law and the system of justice that always won the day for Mr. Mason. In ninth grade Cunningham's class was assigned the task of writing a paper about what they planned to do after high school. Her topic of choice was the law and her findings sealed the deal for her.
"I spent a lot of time researching lawyers and what they did," she recalled. "I concluded that was what I wanted to do. And when I graduated from law school, my mom had saved that paper and gave it to me."
Cunningham attended Michigan State University and then Cooley Law School. During her third year in law school, she took a clerking position at a law firm where two of the partners were Cooley graduates. Working closely with them created a bond that deepened her appreciation for how Cooley prepared students to be both knowledgeable and practical in their practice of the law. It proved a great start for a woman on her way up.
In 1996, Cunningham decided to start her own law firm, along with fellow graduates Susan Mallory and Thomas Lapka. Back then, fewer women than men attended law school, and it was unusual for a woman to start her own law firm. But thanks in part to her great Cooley connections, Cunningham defied the status quo, helping change the perception of women as leaders in the legal profession.
Cunningham said the firm supports the original mission of former Michigan Supreme Court Justice Thomas E. Brennan, who founded the law school in 1972.
"So here we had a law firm in downtown Lansing and all the partners were Cooley grads … and I think we epitomized what Justice Brennan had in mind when he started the law school," said Cunningham. "And most of our associates were also Cooley grads, not because we only wanted Cooley grads, but because we knew if somebody graduated from Cooley and did well there, they were prepared to be good lawyers in private practice."
During that time, Cooley invited Cunningham to instruct a class about law office management and how to start a practice. Soon she was also teaching family law and realized she really enjoyed the interaction of teaching and speaking. Thirty years later, she remains an adjunct professor who continues the Cooley tradition of putting practicing attorneys and judges in front of students to bring reality into the classroom and changing the way law students learn.
"Justice Brennan's idea was that we would learn the academics — the black letter of the law — but also the practical side," said Cunningham. "That's significant because it brings to what you learn much more than the academic part: How does this translate when I go to do it? It's a really unique approach that's continued today, and I think it gives students a very well-rounded education."
In 2004, Cunningham became the first graduate of the law school to receive the Frederick J. Griffith III Adjunct Faculty Award, which is given each year to one outstanding professor who best exemplifies the qualities of Rick Griffith – dedication to the law school and legal education, excellence in teaching, passion for persuasive advocacy, and compassion for law students.
PRACTICING THE THREE P's
From law school, to law firm, to classroom, Cunningham made her way, building a career and a reputation as an ethical and exacting lawyer. So, in 2012, when she was elected the first woman circuit court judge in Eaton County, it was no surprise. And today, as she prepares to run again to retain her seat on the bench, Cunningham continues to uphold the unwavering principles she brought to the court on day one.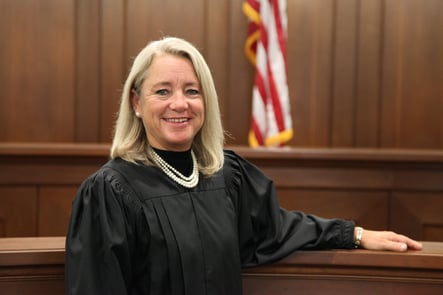 "My judicial philosophy is based on the three P's: be prepared, be professional, and be patient," she explained. "On my first day on the bench I wrote the three P's on a piece of paper and I put it on my bench. I still look at it every day."
It's safe to say the three P's have served her well.
Now one of the state's most respected and accomplished lawyers – male or female – Cunningham's list of accolades, awards and recognition is long. Among the most significant are her regular appearances as lecturer at the prestigious Michigan Judicial Institute and the Institute of Continuing Legal Education (ICLE), the top legal resources for continuing education for judges and attorneys, respectively.
While always honored to contribute to her profession, Cunningham is particularly proud of something that happened in 1994, something she never saw coming.
"I was counsel of record and I filed an amicus brief before the U.S. Supreme Court as representative of a group of women contractors who believed they were being discriminated against," she recalled. "I never thought that would happen and I actually got to go to the Supreme Court for the oral argument. It was pretty big for me then, and it still is!"
CHANGE IN MOTION
But the Supreme Court experience didn't intimidate her. Few things intimidate Judge Cunningham. She's already been there and done that. From deciding to go to law school to presiding over the circuit court, she set her sights high.
"Starting out, everything was male-dominated so I don't know that I was intimidated because you didn't make the decision to go to law school if you were intimidated."
And, she noted, she just happened to begin law school the same time that Ingham County elected its first woman Circuit Court judge. That woman, Carolyn Stell, was one of only four female practicing attorneys in the county when she started out. Stell became known not only as an accomplished judge, but as a mentor of women joining the legal profession, something Cunningham says is an essential part of creating change for women in the law.
"Judge Stell was very active with women lawyers, as were a lot of women attorneys who had reached levels of recognition and who actively mentored younger women like myself," she said. "And I think that is an obligation that I have and that I take very seriously. I think we all have that obligation."
As the judge who presided over the Eaton County sentencing hearing of former sports medicine doctor Larry Nassar, Cunningham also feels the obligation to address the insidious scourge of sexual violence and is encouraged by recent movements to bring it into the bright light of day.
"Over the last two years, a dialogue has opened up between the various movements where people are talking more about sexual abuse, sexual assault, and inappropriate behavior," she said. "And that dialogue is long overdue."
CHANGE FOR THE BETTER
Today she applies her skills, ethical values and humanity to what are called specialty courts or problem-solving courts in Eaton County. This work is in addition to her hours on the bench and serves to address societal problems like mental illness, substance abuse and the human repercussions of war.
"One of the things that is evolving in our society is that for individuals who have drug problems or mental health problems, and sometimes both, the right answer isn't always, 'Let's put them in prison,'" she explained. "The answer is to take a team approach and get them the help they need because we all benefit when they become productive members of our community."
In Eaton County, Cunningham oversees the Veterans Treatment Court that manages veterans in the criminal justice system, and the drug court program for people who are in trouble due to drug use. Those who end up in either court quickly find that they are not considered just a docket number; rather they are recognized as people with problems to solve and are provided the help they need to reestablish their lives and start again.
"In both of these courts, the judge works with probation, defense attorneys, mental health providers, and doctors in a team approach to find out what we can do to help," said Cunningham. "I think as a society we have now realized it is worth putting time and money into, and I am proud of the work we have done, even though we still have a long way to go getting the resources to make the change."
Cunningham is also on the advisory board of Families Against Narcotics (FAN), which is modeled after the Ingham County program and provides help to families caught up in the opioid epidemic.
She is proud of her 32-year marriage and says that her husband, Steven Transeth, also a Cooley graduate, has supported her every step of the way.
INTO THE FUTURE
While she sincerely hopes to continue to serve the people of Eaton County for years to come, Cunningham is pretty clear about how important her life's work is overall. When considering her legacy, she first looks at it personally and acknowledges that raising her three sons and one daughter is the most important accomplishment of her life. From the professional side however, Cunningham says helping to prepare the next generation of lawyers is at the top of her list.
"If I've helped any young lawyer to be prepared, to be professional, to live by the ethics and the oath that they swore, to enjoy being a lawyer, practicing law and helping people, if there is just one person who said I did that, that's a legacy to me."
---
This story originally appeared in the June 2018 edition of Benchmark Magazine.