Distinguished Professor Emeritus Otto Stockmeyer shares his remarks when presenting WMU-Cooley Law School's Adjunct Faculty award to graduate Judge Rosemarie Aquilina.
The MSU-Larry Nassar scandal has focused national attention on Ingham County Circuit Judge Rosemarie Aquilina. Media profiles have noted that she was the first female JAG officer in Michigan's Army National Guard, a successful lawyer before becoming a judge, and a published novelist.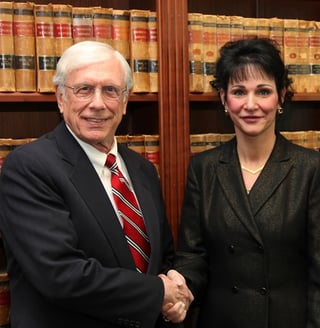 Judge Aquilina is also a revered teacher, who in 2011 received WMU-Cooley Law School's Frederick J. Griffith Adjunct Faculty Award for teaching excellence. I had the honor of presenting Judge Aquilina -- a long-time member of our adjunct (part-time) faculty, and a former student of mine -- with the award. Here is part of what I said on that occasion:
"Judge Aquilina has taught a wide variety of courses to students at the Lansing campus. These include, in the last year alone, Animal Law, Defending Battered Women, Legislative Process, and three sections of Family Law. For those courses, her student evaluations averaged 9.91 on a 10-point scale.
"Knowing that, and overcome with a sense of personal inadequacy, I could not bring myself to read through her student comments. Instead I turned to www.RateMyProfessors.com, where it has been my experience that one can generally find less flattering (i.e., snarky) student comments. Instead, I found that her students have given Professor Aquilina perfect 5.0's for Helpfulness, Clarity, and Overall Quality. They even awarded her a chili pepper for 'Hotness.'
"Student comments on the website included these:
The most fun you'll have in law school. Judge Aquilina is insightful, practical, personable, and extremely knowledgeable. She ensures that her students are learning not only Family Law but also how the legal process truly works.
And
Amazing professor and judge. Very friendly and always available for help! She uses real-life experiences from the courtroom in class to explain things! Had her for Animal Law, will take another class with her ASAP!

"On behalf of all of your students, and your WMU-Cooley professors, and your teaching colleagues here at WMU-Cooley, may I say: Thank you, Rosemarie Aquilina, and congratulations!"
---
Professor Professor Otto Stockmeyer began his law school teaching career as an adjunct professor in 1976. The full text of his 2011 Griffith Award presentation is available on the Social Science Research Network. Each year an outstanding adjunct faculty member is recognized.