Danielle Lofton: Award Winner and Torch Bearer for Family Law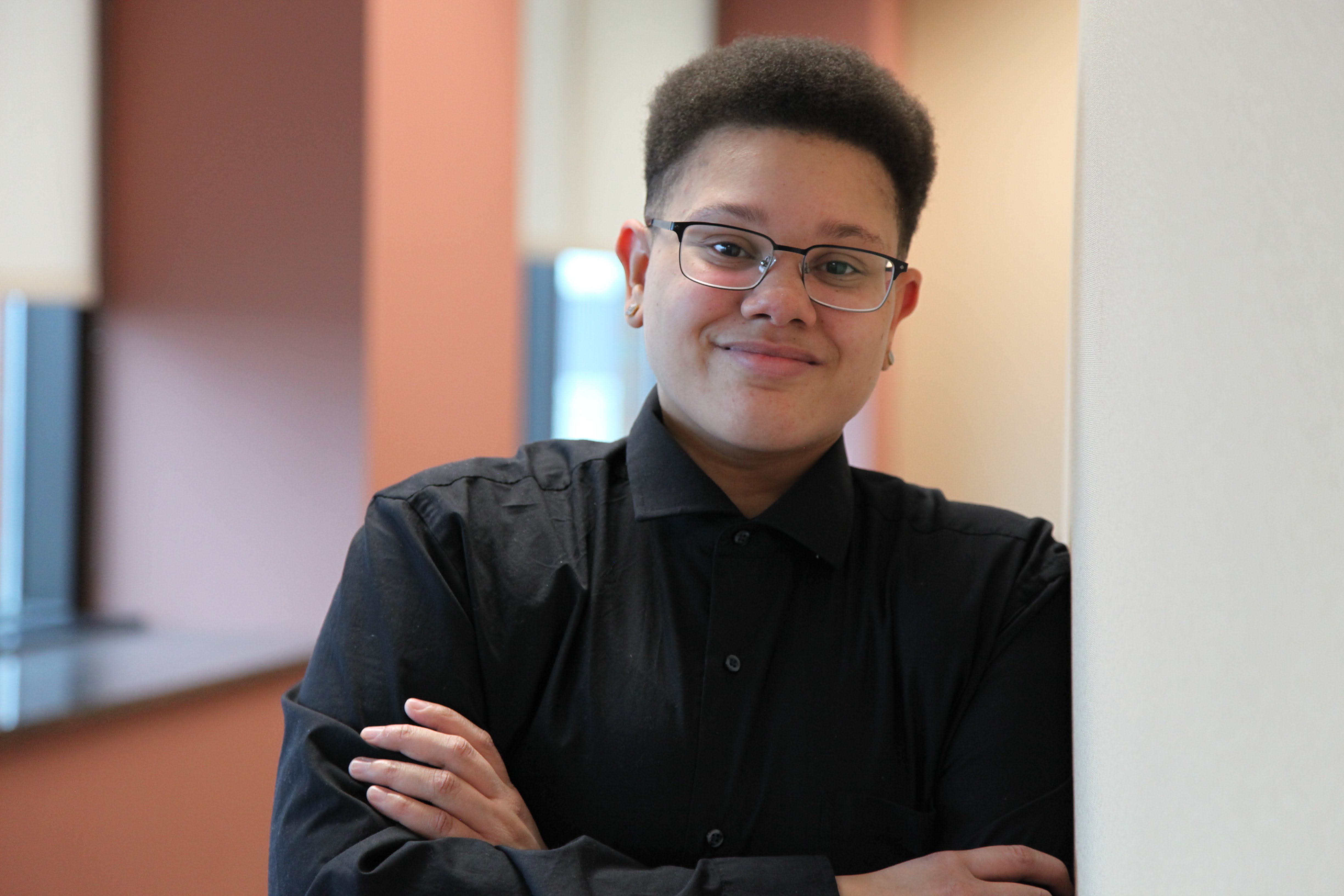 Sometimes it's just serendipity when life takes you where you didn't know you wanted to go. That's how third-year WMU-Cooley Law School student Danielle Lofton might describe how she finally found the career path meant for her.
Lofton, a Southfield native, was a film studies student at Bowling Green State University who spent a lot of time watching Judge Judy and other law shows. Eventually she began wondering if there might be something to that minor obsession.
"I would wake up every morning and watch Judge Judy and then I would watch all the other court shows and I thought 'You know there's a parallel somewhere,'" Lofton said. "So, I decided to minor in pre-law and I absolutely loved it. I absolutely loved all my law classes!"
Lofton eventually decided to go to law school and chose WMU-Cooley based on the recommendations of alumni in her family and because, when she took the tour she felt like "… this is home."
More recently, Lofton lucked upon another legal love affair, this one with family law. She decided to take Judge Rosemarie Aquilina's Family Law elective class and between the subject matter and the instructor, soon realized it was the specialization for her.
"At first, I took the Family Law course because it was a subject tested on the bar, but now I am interested in family law because it is an area where I can help people who are dealing with financial and emotional legal issues," said Lofton. "Judge Aquilina did a phenomenal job teaching family law. Of course, I learned certain topics, such as the 'Best Interest Factors' and differentiating between marital and non-marital assets, but it was her words of encouragement that motivated me to excel in this area of law.
"Judge Aquilina would often tell her students, 'If you can make it here, you can make it anywhere,' and 'Go out and do great things in the world.' I am very grateful to have had Judge Aquilina as a professor."
In fact, Lofton enjoyed the class so much she received the Certificate of Merit (or Book Award) for academic excellence and for receiving the highest grade in a class. But she isn't shy about giving credit for the award to her instructor who made it an outstanding learning experience.
"The reason I feel I got the certificate of merit is that Judge Aquilina has a way of creating effective communications with her students. I found that out as soon as I sat down in the classroom," Lofton said. "I was a little nervous at first because she is so highly respected and in class, she definitely not only pushed me but pushed her students to understand the law in real life scenarios.
"So not just in the classroom but in real life experiences as well — 'How would you handle this?' Obviously, that is a little nerve wracking at first but after class I would sit and talk to her and it was casual conversation. She definitely motivated me and encouraged me to do the best that I could not only as a student but also as a future attorney, and that gave me the motivation to excel in her class."
As she prepares to graduate in September, Lofton looks back on her time at WMU-Cooley as time well spent among friends and mentors. Unlike some of her friends attending other law schools, Lofton said she is grateful for the personal attention she has received throughout her law school years.
"… law school is already so stressful so for a professor to come up to you and say, 'Hey Danielle' or just call you by your name is meaningful," said Lofton. "I have other friends that go to different law schools and they always talk about how competitive it is, how they are just a number and how they are not able to reach their professors. And I sit there and I don't even know what to tell them because here at WMU-Cooley, a professor is either an email away or a phone call away."
After graduation, Lofton plans to pass the bar on the first try and then move on to her career. In addition to family law, she wants to gain experience in transactional law and find a way to help disabled people get into the workforce. But first she wants to get an externship in family law, possibly with someone like Judge Aquilina, who Lofton said, "Opened up not only herself but her practice as well for students to get an internship or an externship. She is definitely willing to help her students and that's fabulous."