Professor Burt Burleson Honored on Veterans Day with Adjunct Faculty Award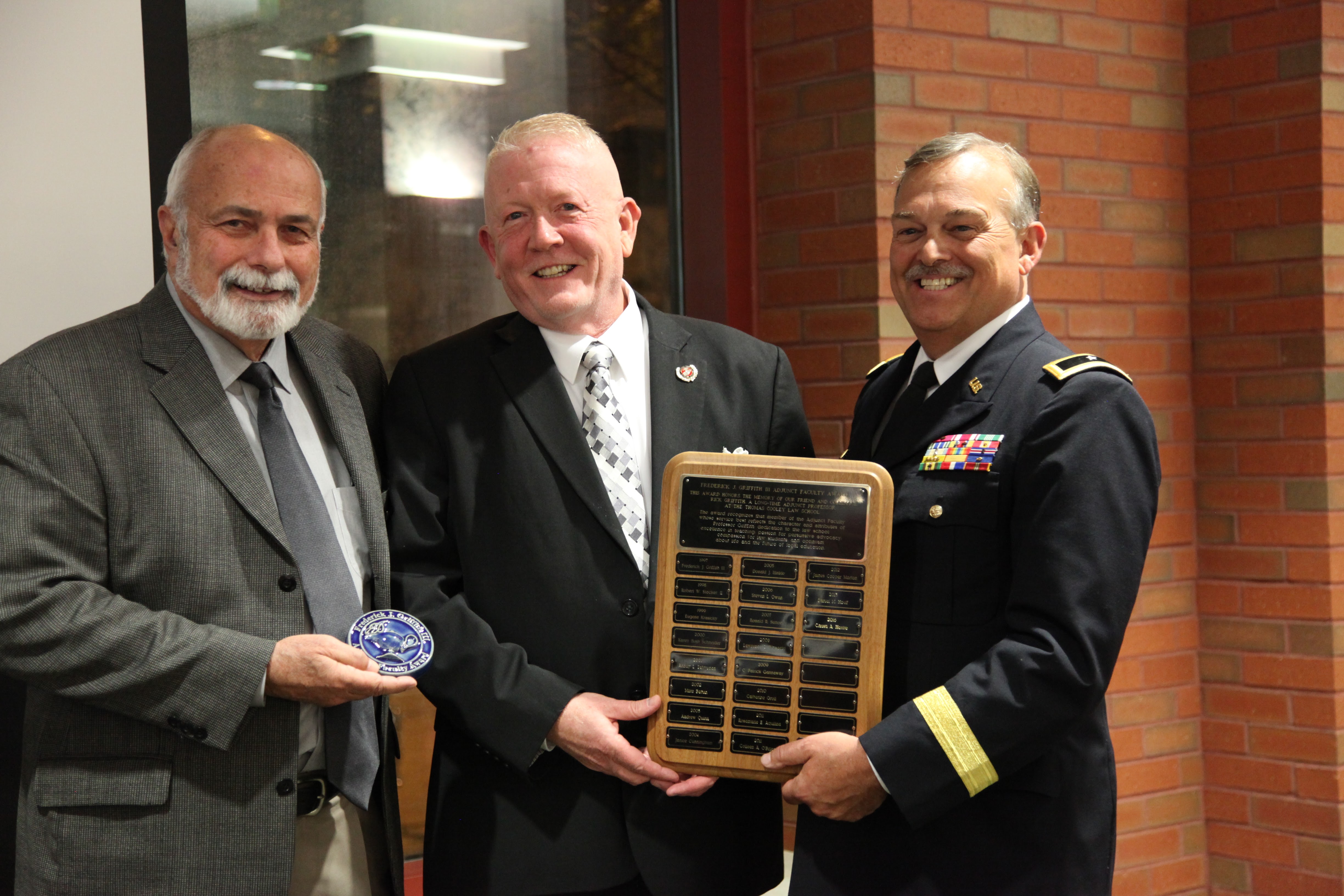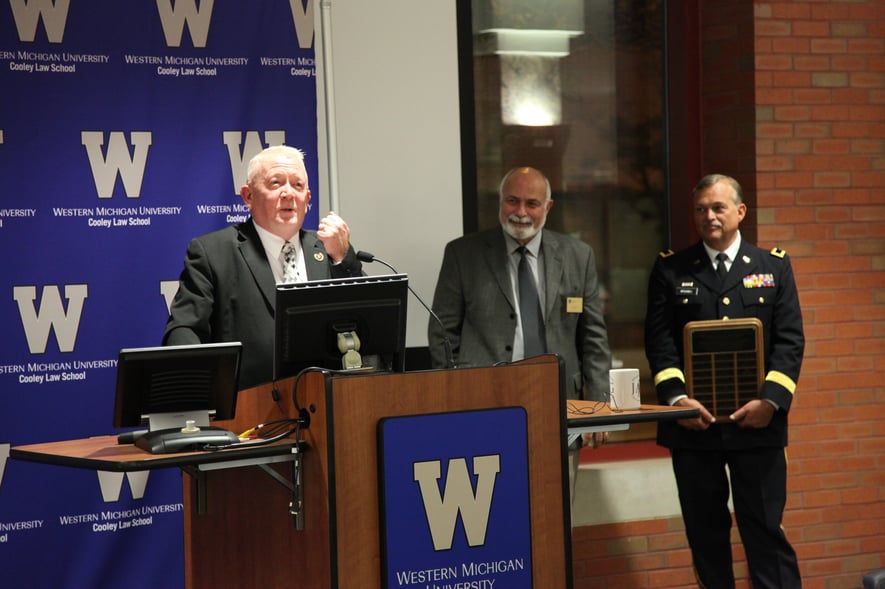 Throughout its development and growth, Cooley Law School has been fortunate to engage the services of very gifted and dedicated adjunct (part-time) professors. Twenty years ago, the school initiated a way to honor one outstanding adjunct professor each year with an award recognizing them before their students and peers.
The Award
This year, that award—the Frederick J. Griffith III Adjunct Faculty Award—was presented on Veterans Day to William Burt Burleson for his 27 years of unbroken service to Cooley Law School and the thousands of students who were lucky enough to come under his tutelage.
The award was originally established to remember Rick Griffith, Cooley Law School professor, former Michigan Supreme Court Commissioner, and Of Counsel practitioner with Murphy, Brenton & Spagnuolo, a Lansing law firm. He taught as an adjunct at the law school for nearly two decades until he passed away at the age of 52.
The Griffith Award was endowed by contributions made in Professor Griffith's memory by his family, friends, and associates. The award carries with it an engraved plaque, a $500 cash stipend and a commemorative ceramic tile created specifically for this award by Detroit's renowned Pewabic Pottery.
The Recipient
In presenting the award, Gary Bauer, professor and auxiliary dean, said the award recognizes everything professor Burleson stands for:
Dedication to the school,
Excellence in teaching,
Passion for persuasive advocacy,
Compassion for his law students, and
Optimism about life and the future of legal education.
The Veterans Day ceremony was no accident, since Burleson is also a U.S. Marine, joining in 1974, which coincidentally made him the youngest member of the Marine Corps on its 200th anniversary.
He said he could not have imagined that, 42 years later, on the Marine Corps' 242nd anniversary, he would be standing at a podium being honored with such a distinguished award.
"I was the Lansing City Attorney and I retired from that in 2002; I served in private practice for 15 years and I retired from that; now I am very privileged and honored to be a union rep for the Michigan Education Association and I get to represent teachers and support education professionals throughout the state," said Burleson. "Now I want to thank the people here at the Law School for this prestigious award, especially Professor Gary Bauer. I have had a tremendous career."
Burleson also thanked his students, who he lovingly referred to as his "little boo boos, little sunshines, and little sweet peas," a throwback to his days as a Marine Sergeant, and reflected that as a Cooley Law School graduate himself, he grew up with the school.
"I am so proud and honored to have been a small part of the growth of Cooley in my life. There are two types of lawyers out there as far as I am concerned: There are Cooley lawyers and there are those who wish they had been Cooley lawyers. My goal is to be here teaching for 50 years."
Raising the bar
In a recent blog, Distinguished Professor Emeritus, Otto Stockmeyer noted the Griffith Award raises the bar for recognition of adjunct legal educators across the profession.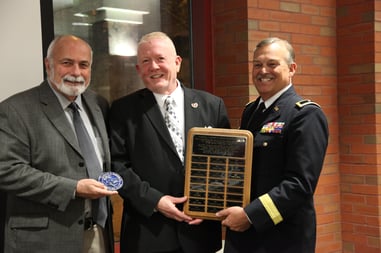 "Among recipients of the Griffith Award over the years are judges and state officials, Assistant Attorneys General and county prosecutors, defense attorneys, solo practitioners and big-firm partners, corporate house counsel, and even a Canadian barrister.
"A recent ABA publication, Best Practices on the Use of Adjunct Faculty, reports that less than a third of American law schools have any type of award or recognition event for their adjunct faculty members. Cooley Law School is in the vanguard of what Best Practices referred to as the "recognition and morale front.
"The ABA Section of Legal Education and Admission to the Bar is considering relaxing its requirement that more than one-half of the law school curriculum must be taught by the full-time faculty (Standard 403(a)). Under the proposal, adjuncts could be used to teach all courses beyond the first-year ones. The intent is to permit schools more flexibility in the use of "part-time teaching resources." (The present requirement was itself a retreat from an earlier mandate that full-timers must teach "the major portion" of the curriculum.)
"The ABA is coming to recognize what Cooley Law School has experienced over the past 40-plus years: that use of adjunct teachers can strengthen the important mission of imparting a practical legal education. Through receptions, awards, and the potential for increased use, it's good to bring adjuncts out of the shadows."