Back in 2010, Rashida Tlaib was elected as the first Muslim woman to serve as a Michigan State Representative. On Tuesday, November 6, 2018, Tlaib made history again as one of the first two Muslim women, and the first Palestinian-American woman, to be elected to Congress. Below is a story that ran in the law school's July 2010 alumni publication Benchmark Column.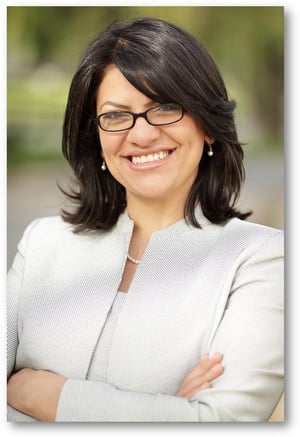 In 2004, Rashida Tlaib (Cross Class, 2004) was a newlywed, a full-time employee at an Arab community center, and a weekend student at Cooley's Lansing campus. The last thing on her mind was becoming the first Muslim woman to serve in the Michigan House of Representatives.

Fast forward six years, and 12th District Representative Tlaib is just that. The 33-year-old Democrat and policymaker credits her amazing journey and success to her family, faith, and her top-notch Cooley education.

Born and raised in a diverse community in southwest Detroit, Tlaib is the eldest of 14 children born to Palestinian immigrants. Responsibility came in many forms, including serving as her mother's translator, as Tlaib's mother spoke very little English.

Tlaib also played a key role in helping her parents care for her siblings. She credits this experience, coupled with being raised in a diverse neighborhood where she had exposure to people and needs of all kinds, as her inspiration to help others.

Serving Others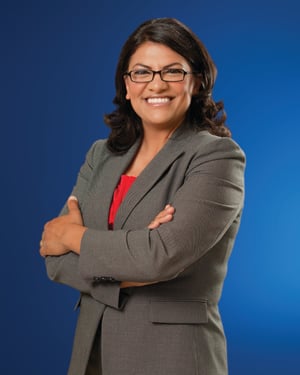 "I know I'm not the only one who goes to law school thinking that I'm going to change the world," Tlaib said. "But all my experiences, my family, background, and the culture I grew up in, instilled in me the importance of taking care of the people who need it the most."

This passion for helping others eventually drove her to run for office and continues to influence her policy interests. Two of her driving passions are immigration reform and environmental issues. Tlaib pointed out that air quality was especially important to her as her district is surrounded by oil refineries and is home to an international bridge with high truck traffic, affecting the nearly 100,000 residents in her district.

Until the time when Tlaib ran for the House seat, she leaned on her law degree as a social service advocate for thousands of southwest Detroit residents.

This included working for organizations such as Latin Americans for Social and Economic Development as well as the Arab Community Center for Economic and Social Services where she advocated for increased human services, education, and civil rights.

Tlaib initially had no interest in running for the Michigan House seat until her mentor, former State Representative
Steve Tobocman, approached her about entering the race. Tobocman, who was term-limited, identified Tlaib as the
most qualified person for the job. He pointed out that representing the residents of southwest Michigan in Lansing
was a position of service, which needed to be filled by a person who truly cared about the people in his/her
community.

Once Tlaib decided to run for the seat, she poured all her energy into her campaign, including visiting every house in
her district twice. It wasn't until her campaign was under way that she realized her candidacy as a Muslim woman
could have historical implications. "When I first explored a state representative seat, I didn't know the historical
significance of my ethnicity and faith," Tlaib recalls. "It was all about giving back to my community."

An Anchor of Faith

Tlaib's faith has been a life-long anchor in her personal and professional journeys.
"Islam, in so many ways, is structured for a job like mine," she said, describing how the tradition of five daily prayers gives her specified time to
stop, to give thanks, and to refocus on what is truly important.

"I wouldn't be where I am without my faith," she said.

In addition to being a public servant, the freshman representative is a wife and mother. Tlaib has been married to her
husband, Fayez, for 13 years with whom she has a 4-year-old son, Adam.

Tlaib makes the three-hour, round-trip commute to Lansing three to four times a week. The extensive travel keeps
her focused on achieving a healthy work and family balance. Tlaib said she has learned the importance of saying no and
being intentional with her time. "There are times – even in the car or running an errand – I won't put the radio on
and I won't pick up my phone so I can talk with my family in the car," Tlaib said. "A working mom's struggle is saying,
'I'll spend time with my family tomorrow,' but you need to get in the habit of doing it today."

Tlaib sees a definite correlation between her Cooley experience and her legislative work.

"Anyone who studies in the legal field has an advantage when working on legislation and policies that impact people's
lives," she said. "If it weren't for my Cooley education, I don't think I would be where I am. It has given me
confidence."

A Place in History

Tlaib's place in history has not gone unnoticed. Tlaib recalled the first time a Muslim father brought his 12-year-old
daughter to meet her after a public event. "You could see the pride in his eyes," Tlaib recalled. "He said, 'This is a
state representative and she is a Muslim.'"

The encounter brought tears to Tlaib's eyes as she was able to discuss with the young girl how they both shared last
names that were hard to pronounce, and how both had often felt different growing up. "It was an opportunity for me
to tell her how, once people get to know you one-on-one, you can do whatever you want."
---
This story originally appeared in a 2010 Benchmark Column.