Alumni Feature: Senator Nicholas P. Scutari, 115th President of the New Jersey Senate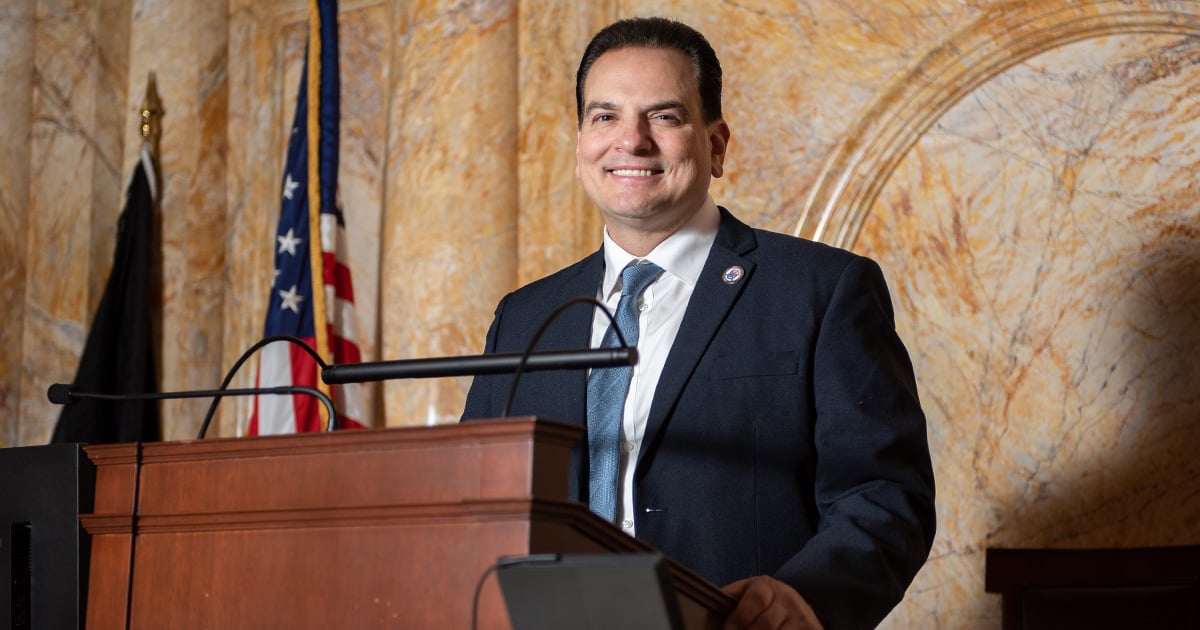 At the end of his first year elected the 115th President of the New Jersey State Senate, Senator Nicholas Scutari is leading the upper chamber for the 220th Legislative Session.

Scutari was first elected to the State Senate in 2003 to represent the 22nd District, which includes the Middlesex County municipalities of Dunellen and Middlesex, the Somerset County municipalities of Green Brook and North Plainfield, and the Union County municipalities of Clark, Fanwood, Linden, Plainfield, Rahway, Scotch Plains, and Winfield.

A lifelong Linden resident, Senator Scutari began his career in public service in 1994 when he was elected to the Linden Board of Education. Senator Scutari was elected to the Union County Freeholder Board in 1996. He served as Union County Freeholder Vice Chairman in 1998 and as Union County Freeholder Chairman in 1999. He is the youngest person ever to serve as Freeholder Chairman in Union County.

As Senator to the 22nd Legislative District, Senator Scutari has spearheaded several initiatives that benefit both the citizens within the 22nd district and the State of New Jersey as a whole. He is a strong advocate for insurance reform and has sponsored legislation to create a more consumer-friendly environment.

Another priority for him is having a fair, competent, and qualified Judiciary in New Jersey. Senator Scutari was the longest serving Chairman of the Senate Judiciary Committee in New Jersey history. He continues to be committed to the thorough vetting and scrutiny of judicial nominees, cabinet nominations, and other gubernatorial appointments.

He also recognizes the importance of caring for the ill and infirmed in the State. To that end, was the primary sponsor of the 'New Jersey Compassionate Use Medical Marijuana Act,' which allows New Jersey citizens suffering from chronic and debilitating illnesses, for whom currently available treatments and medications have proven ineffective, to receive medicinal marijuana to treat and help alleviate their symptoms. Senator Scutari has been a long-standing opponent of draconian drug policies and this landmark piece of legislation served as a first step in getting cannabis outside of the underground.

In 2021, Senator Scutari spearheaded legislation that would create the legal and regulatory framework for the cannabis industry in the state of New Jersey. This landmark legislation helped to create thousands of jobs in a new industry sector while righting countless legal injustices that people have faced generationally.

Also, a strong advocate for quality education, Senator Scutari has supported a number of pieces of legislation that would provide funding and expand programs to ensure that New Jersey citizens receive the high-quality education they deserve.

Senator Scutari is a graduate of Linden High School where he was captain of the Varsity Wrestling Team. He received his Bachelor's Degree from Kean College in less than three years at the age of only 20. He received his Masters Degree in less that one year at Rutgers's University at the age of 21. He earned his Law Degree from WMU-Cooley Law School and was awarded the John D. Voelker Award as the school's Outstanding Law Review Associate.

A practicing attorney with an office located in Linden, Senator Scutari is a Certified Civil Trial Attorney certified by the Supreme Court of New Jersey.

Finally, Senator Scutari is also an Eagle Scout since 1984.