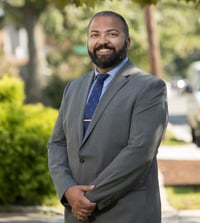 Born in Kerala, India, WMU-Cooley Law School graduate Kevin Thomas always knew growing up that his parents wanted a better life for their family. By the age of 10, Thomas's family made the move to the United States to seek more educational and career opportunities.
What Thomas didn't realize as a young boy though was that he would be dedicating his life to serving others. Or that he would beat out a 28-year incumbent in this November's election for the state's sixth district (Nassau County) seat, making him the first Indian-American to serve as New York State Senator.
Read Thomas's full story in the upcoming Winter 2018 edition of Benchmark Magazine.