Cooley Law School Graduates Kendra and John Smith: Mr. and Mrs. Atticus Finch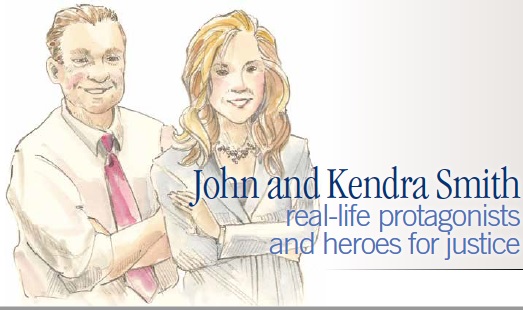 It's hard to imagine when Kendra Smith (Person Class, 1994) and John Smith (Bird Class, 1995) attended Cooley Law School that they would end up being the real-life protagonists in a book written about an environmental case they defended, which would go all the way to the Pennsylvania Supreme Court.In fact, Kendra's career had taken her into the arena of corporate defender, and John built his career representing Pennsylvania municipalities. Both were prepared to be advocates for their clients, but neither set out to be defenders of poor people against huge natural gas drilling companies. But it was those companies that were slowly ruining their land, their livelihoods and their health. So when it came down to right and wrong, the Smiths were all in, and then some.
"Amity and Prosperity, One Family and the Fracturing of America," by Eliza Griswold, is the story of hydraulic fracturing in Pennsylvania's Marcellus Shale that literally ruined the lives of people who blindly trusted state and federal environmental agencies to look out for them. The agencies didn't. That's when the Smith's stepped up – when no one else would. Here's what author Eliza Griswold had to say about the Smith's perseverance and dedication to the case.
Mr. and Mrs. Atticus Finch: Q&A with Eliza Griswold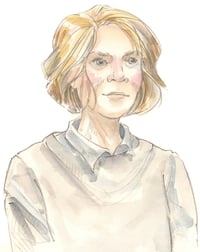 In her book "Amity and Prosperity, One Family and the Fracturing of America," journalist Eliza Griswold chronicles the horrific repercussions of hydraulic fracturing on one family — the Haneys — and their neighbors living near a drill site. The true story comes complete with real-life heroes, Cooley graduates Kendra and John Smith, who took on a more than seven-year legal battle to hold the "frackers" and the state of Pennsylvania accountable for mysterious illnesses, the deaths of treasured pets and farm animals, and ultimately the loss of their home and farm. Recently, Griswold talked about the Smiths.

Q: What were your first impressions of John and Kendra Smith?

A: Kendra is all brains and doesn't suffer fools, but she's super warm when you get to know her. I would say she is very guarded because she is dealing with the work at hand. John is a charmer, he definitely is a small town country lawyer. He started up the local historical society and he loves the history of George Washington in the region. Both are extraordinarily committed to their three children, which manifests itself, in Kendra's case, in coaching three different soccer teams at the same time — super high level soccer teams. She herself was a soccer player in college at a very high level. They are both driven, both have a fierce intellect, and are committed to doing the work before them, no matter what.

Q: At what point in the story were you introduced to the Smiths?

A: I got to know them after Stacey [Haney] had taken them on as her attorneys so I got to know them in the summer and fall of 2011. From the start I was already working closely with Stacey on her story and I was concerned about having attorneys on the case, about whether they would try to shut down my access to Stacey. But they were extremely respectful of the journalistic process and they understood; they didn't try to convince her not to talk to me or anything like that. I thought that was very honorable of them. So, in order for me to understand the case they would spend sizeable amounts of time with me, sitting down to explain what was what, even things as simple as procedure, and it was very, very generous of them because they received no benefit from it.

Q: What professional and personal attributes do you think John and Kendra Smith brought to the table?

A: John has that country lawyer ethos. He's a lawyer for municipalities, he's an expert on local government, and in Pennsylvania that is highly relevant because local government in Pennsylvania is very, very strong. Pennsylvania has more than 2,500 municipalities that have local town councils where they collect taxes and do all kinds of things. John is fluent in this language, which ended up being extremely useful in the larger case. Kendra, of course, is a corporate defense attorney and mostly worked for railroads on cases related to exposure, particularly exposure to asbestos. So, neither of them was especially predisposed to this and they were not "lefty environmentalists" in any way.

Q: The Smiths, with their respective backgrounds in the law, would at first appear to be unlikely warriors in this battle for justice. What factors do you think drew them to take the case and to stay with it despite the personal costs to them?

A: They didn't begin this opposed to drilling. They were pro-drilling, and they didn't get involved in this because they were against oil and gas at all. They were pro-drilling, and their firm was making money helping people negotiate leases. They thought the region needed the revenue and they assumed that the regulatory institution, which in Pennsylvania is the Department of Environmental Protection (DEP), was doing its job. So, it wasn't really until they started looking into the case and found that the DEP wasn't doing its job at all that they felt this was a fight they had to take on.

They are both driven in the extreme. In this case, in order to take these cases on, they had to double their workload. Not even considering billable hours, the costs alone for transcripts and experts and to establish the record for these cases meant they were laying out hundreds of thousands of dollars. So, they were under an extreme amount of pressure.
On top of that, it earned them a lot of political enemies in a place where the oil and gas industry is extremely powerful, and the powerful people are pro oil and gas. Where their practice sits, that's the oil and gas capital of Appalachia, and when you look at the directory for the building where their office is, almost every one of their neighbors is involved in extractive industries in some way.

And they did have a sick daughter; their youngest, Ainsley. Their son Dakota is their oldest, and then there's their daughter Savanah. When she was small, she was very, very sick with a mysterious illness and she nearly died. So, I think more than anything, yes, there was the outrage at the public failure to protect human beings in their county, but there was also the emotional intelligence and experience and history of having a sick kid. That made them take this case on because it involved a sick kid named Harley Haney who was just 14 years old and suffering from mysterious illnesses and they wanted to help figure out what it was and to hold those responsible accountable.

Q: As time went by after you became involved, did you at any point think the Smiths would recommend that the plaintiffs throw in the towel and just try to get on with their lives?

A: I never saw either of the Smiths ever consider for one second putting this down. Not for one second. It's really impossible to quantify and make clear to the reader the pressure that this put them under. Mostly because they felt a responsibility to the people involved. In both journalism and law cases like this there was never going to be a time where the people they were representing were going to say thank you. It doesn't work that way. They could sacrifice everything and still it wouldn't be enough.

Q: When did you realize the Smiths weren't being paid, and in fact may never be paid for all their work on the case?

A: Stacey signed with the Smiths in the spring of 2011 and she was keeping journals as to what was going on at the time and I used the journals as a primary source for the book. So, once she signed with them she had the terms of contingency — what they would be, so I knew what they were. We talked on a regular basis. She talked to me quite a bit about the fact that she didn't want to sue this company; she didn't want any of this, so it wasn't like she was going out looking for a pay day, she was just trying to get the company to do the right thing as quietly as possible.

So, when I realized the Smiths might never be paid, I started keeping track as much as I was able to of the work they were doing. There's something I have never said before, which occurred to me at the time, and that is when I would show up and try to understand the case with them. They would spend time with me, and those were billable hours, in addition to them working every single night and every single weekend. Kendra was averaging four hours of sleep, and I don't even know how she did it. I will be honest, I saw this case take a physical toll on her, almost more so than anyone else involved, and I really at times wanted to communicate to her clients exactly what she was giving because they knew but they also didn't know because she is so professional.

We know the normal corporate strategy is to bleed people out. I tried to talk to the oil and gas company about their side of things but it's extremely difficult to talk about active litigation so they were well within their right to say no to talking to me, but I do think it's possible they made a miscalculation. The company accused the Smiths of being secretly paid by a foundation or an environmental group and attorneys went digging for where the Smiths might be getting money and there was no "where." I think that action signified to me that they were surprised the Smiths could keep going.

Q: How did the knowledge of the lack of payment shape your perception of them as attorneys and as human beings?

A: I would say, in this case for the Smiths, I have watched them come to a crossroads time and again where there is an easy way and there's an honorable way, and I have watched them choose the honorable way even when it wasn't in their interest to do so, including talking to me — I would include the process of participating with a journalist in recording what happened. When you wonder why the Smiths would do that, why would they use billable hours, when they are working 18-, 19-, and 20-hour days, to talk to a journalist? The reason is to make sure that people understood what had happened and to try to make knowledge a block so this wouldn't happen again.
So that in itself is extraordinarily honorable and not everything in the book is a portrayal that they would like to have out there. This kind of journalism is called immersion journalism where you really get close to your subjects, not emotionally but physically as close as you can. You watch them live and that can be, for those who are under that kind of scrutiny, extremely disconcerting, especially for private people. I would say Kendra certainly is a very, very private person and I could feel at times that this was really uncomfortable for her, and she let it go on because she knew it served the public good.

The public good. That's it. What I truly believe, what was truly most shocking for the Smiths and what they really were fighting for in this case was the public good. They were shocked by the erosion of basic life principles that guarantee the safety and security of Pennsylvania citizens that they themselves took for granted. They have a comfortable life style, they have three wonderful kids, who at this point are thriving. They're not facing unusable water. They're not facing the toll of unprotection that comes along with poverty. And once they saw that toll, and once they saw the risk taking and the risks corporations were putting on people without any kind of adequate state protection, they got involved to try and stop it.

Q: The point that the DEP was not taking necessary action to protect citizens seems like a breach of their official mission. Did the Smiths take that on?

A: That's exactly it. In deposition, the Smiths would ask the state regulators and investigators if they knew the mission statement of the department or the mission statement of what their job was supposed to entail. It wasn't about personal responsibility; it pointed to a total systemic failure because that agency has been complicit for so long. The intentionality of some of the oversights and errors is hard to prove. The intentionality of the negligence is hard to prove, but at the same time they were so woefully underfunded there was no way state regulators could do an adequate job protecting people. The Smiths said time and again, "That's not good enough. The status quo is not good enough."

Q: The Smiths were referred to as Mr. and Mrs. Atticus Finch, the defense attorney in "To Kill a Mockingbird." Where did that originate and what does it say about the Smiths?

A: Mr. and Mrs. Atticus Finch came from a wonderful, conservative old-school politician in Pittsburgh named Doug Shields. Doug Shields was the architect of the moratorium the city of Pittsburgh put on fracking early on. He was an early skeptic of the benefits of fracking and he, like so many people who most of us will never hear of, really regard the Smiths as heroes. He liked to call them Mr. and Mrs. Atticus Finch and it's one of my favorite references because it speaks to the local heroism that really embodies what they have done.

Q: Do you think the Smith's involvement had a positive impact on Range Resources or the DEP?

A: Range Resources' holding ponds failed at some point, and the Smiths were really hammering on the fact that this one pond had leaked and then they started digging into other ponds around the county. To my knowledge they found that every one of them had leaked and as a result of them pressuring the [state], the DEP levied a $4.15 million fine on Range and ordered the ponds remediated and closed. So most of the ponds were closed but two were left open.

The Smith's principle victory in the book is that they were able to give teeth to the state's Environmental Rights Amendment. Since 1971, the amendment was largely symbolic in Pennsylvania that citizens have the right to "clean air and pure water." Through their work, the Smiths were able to give that amendment teeth for the first time in history. That helped them protect people and protect small communities against overreach by companies because it gave small governments the right to say, "We have the right to protect our citizens and we have the right to clean air and pure water."

The Supreme Court of Pennsylvania found in their favor and the person who wrote the decision was a conservative Republican chief justice. The idea that they were able to find an argument that was practical in nature and nonpartisan was so exciting to me because I think, in this highly partisan time, we've lost any kind of ability to work together. So, I think there is a way forward to get us around partisan politics and I think the Smiths have pioneered some of these methods that cross political lines to galvanize people to work toward a common solution.
Kendra and John Smith
John and Kendra were introduced spring of 1992 by two mutual friends during a class, and the relationship blossomed as they spent more time together on the Cooley Law Review and in Moot Court. John was from Pittsburgh, Pennsylvania, and attended the University of Pittsburgh, and Kendra was from East Windsor, New Jersey, and attended Monmouth College. Those same friends who introduced them back then are now two of the finest attorneys in the Pittsburgh area, Jeffrey Purvis and Scot Goldberg.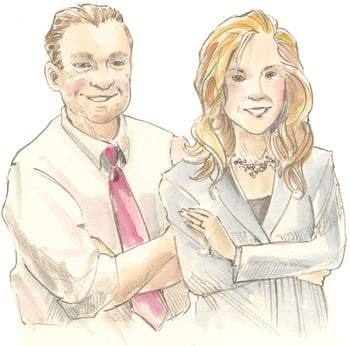 Both John and Kendra sought undergraduate degrees with the intention of going to law school and having a legal career advocating for clients, Kendra in criminal justice and John a dual degree in political science and communications. They both chose Cooley for the law school's reputation for delivering a hands-on-learning experience, the option to take an accelerated schedule year-round and finish early, and the law school's generous scholarships that promoted and rewarded academic excellence. They knew that the program was hard, but they also knew that if you made it through the tough program, you would also pass the bar exam.

Both John and Kendra graduated with honors, including a Distinguished Student Award, which John proudly displays today on his office wall. John is licensed to practice law in Pennsylvania and New Jersey. Kendra is licensed to practice in Pennsylvania, New Jersey, Ohio and West Virginia and has tried cases in many other jurisdictions across the United States.

Both feel strongly that their Cooley education has shaped them into prepared, ethical advocates with a first-rate, hands-on legal education. They appreciated learning from seasoned professors who could call upon their own experiences to drive home a legal point. Upon graduation, both worked in litigation practices and represented numerous corporations. They learned early on to treat all clients with respect, including those in need or who lacked financial resources. Every person deserves consideration, and many times those encounters have opened doors and provided other opportunities. Both have been asked to write a Law Review Article for Duquesne Law School; invited to speak at Yale Law School (twice), Duquesne Law School, Penn State Law School and Carnegie Mellon University to discuss cases and share their knowledge in this particular area. They both field calls from other attorneys seeking expert advice in this area.

Defending those in need is a sacrifice according to John and Kendra, on both sides. The client is unable to provide sufficient economic resources, and a small firm is unable to front resources of their own, both in time and money. Then those same clients are not treated in the same way in the courtroom, which is always hard to watch and impossible to accept.

John and Kendra's three children learned what it meant to sacrifice as well. They heard so much over the years about the case that they would beg for them to talk about any other topic. Their eldest child actually wrote a college essay entitled "Growing Up Fracked" that detailed his experience, admiration and witness to the years of constant struggles with clients and his parents desire to provide them with clean water and justice. The children were always supportive though and not willing to sit on the sidelines. They learned to never tolerate injustice and knew the difference between right and wrong.

As much as John and Kendra recognize that not all attorneys are in a position to provide free or reduced rate legal work, they both agree that attorneys should use their legal abilities to help as much as they can. They believe there is no greater feeling than knowing you did the right thing by helping those in need. Due to the unfortunate costs of litigation, according to John and Kendra, our legal system often provides justice based solely on who has more financial resources, which is wrong. Lawyers should take a stand against this process.

For both John and Kendra, helping the Haney family and surrounding clients was not the only satisfaction they received from taking on their case and their collective interests. It was knowing that their clients truly appreciated that someone believed in them and their issues, and were willing to be their advocate. It's the trust of a client that they found most gratifying.
---
This story originally appeared in the December 2018 edition of Benchmark Magazine.