Passion, Core Values and Principles Set the Standard for Senior VP of Player Relations at PGA Tour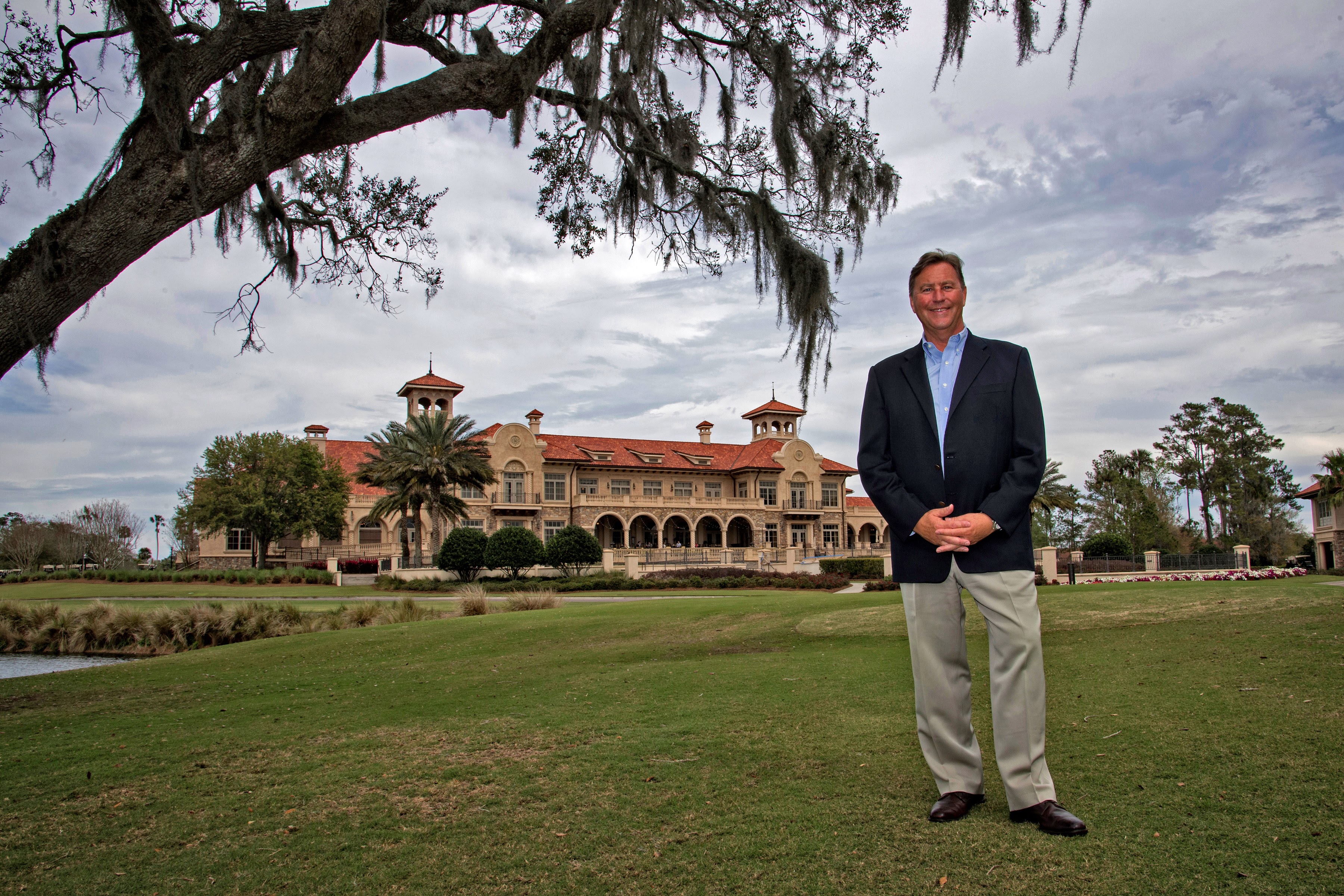 Ross Berlin, (Kavanagh Class, 1981), middle of his three brothers and a sister, admits to identifying with the middle-child personality: a compromiser, bringing people together to reach mutually acceptable results. Middle children are also willing to take risks and to make friends easily and keep them for life. His rich and varied career makes it clear that these positive traits have served him well.
It all began in high school in Birmingham, Michigan, where Ross joined with other classmates, including Brian McKeen (Wing Class, 1982), another distinguished Cooley graduate and the successful founder of the Detroit personal-injury firm McKeen and Associates.
"A group of us just hung out together," McKeen recalled. "We were serious students but found time for sports and even started a band named the Wammer Jammers. Ross played the organ, and I was the lead singer. We had a great time entertaining people, and when we graduated from Bloomfield Hills Andover High School, Ross was voted most likely to succeed."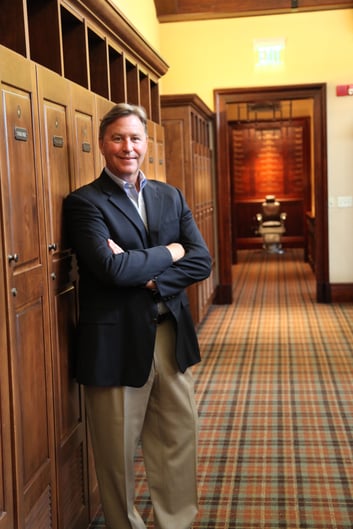 Ross was a gifted athlete, playing football, basketball, and baseball. He had an opportunity to play Ivy League football but elected instead to play baseball at Wake Forest University, a southern school with an excellent academic reputation.
Following graduation, he enrolled at Cooley Law School and met Paul Hamre (Dethmers Class, 1981), through racquetball and fitness. Paul, a retired Michigan Circuit Court Judge, has many fond memories of Ross.
"We spent a lot of time playing sports and studying together. I'll never forget his gallows humor as we walked into Professor Roger Needham's Civil Procedure exam. Needham was widely known to students as the Grim Reaper and Paper Chase's Professor Kingsfield on steroids."
Recalling Dustin Hoffman's quote from the movie Little Big Man, Ross said, "This is a good day to die, my son." We did survive, and Ross was able to realize his dream of becoming a successful sports attorney."
All was not fear and trembling though. Once it was discovered that Ross played varsity baseball at Wake Forest, a faculty member invited Ross to join Ipse Dixit, a citysoftball-league team of lawyers. He was a terrific addition to an otherwise athletically challenged group.
After Cooley, Ross began a remarkable career encompassing wide-ranging experiences, beginning as an associate at a Los Angeles sports and entertainment law firm, advancing to general counsel of a public works/ environmental systems enterprise; then to Senior Vice President of Venues, 1994 World Cup USA; followed by work as a consultant for the 1997 Ryder Cup in Valderrama, Spain. He then became PGA TOUR Vice President for Sales and Marketing for the World Golf Championships and then a William Morris sports agent for LPGA phenom Michelle Wie. Ultimately he returned to the PGA TOUR as Senior Vice President, Player Relations.
Q&A with Ross Berlin
Q: Can you share your thoughts on why you chose to attend Wake Forest University and your experiences there?
Ross Berlin: I received a scholarship to play baseball, but decided fairly early to spend more time thinking about my future. I asked legendary golf coach Jesse Haddock for some career advice on how to become a sports agent. He directed me to a gentleman named Vinny Giles, a Richmond, Virginia, lawyer who owned a sports agency representing professional golfers such as Lanny Wadkins, Tom Kite, Jay Haas, and several others. He said: "If I were a young man, I would get a law degree. I would practice law for about six or seven years to learn how to zealously represent a client. Then, if I still wanted to become a sports agent or manager, I would hang out my shingle and get to it." I found that advice to be profound, simple, and direct and that became my focus and the reason I decided to go to law school.
Q: Why did you choose Cooley Law School?
Ross Berlin: [Cooley] was close to home in Michigan, the emphasis was on practical legal knowledge, the practice of law and it provided scheduling flexibility.
Q: How would you describe your law-school experience?
Ross Berlin: Difficult and challenging, which I welcomed. I found the Socratic teaching method a bit intimidating and my classmates all seemed smarter than me, but I soon gained confidence and was even able to work outside the classroom because of flexible scheduling. Many professors were really tough, particularly, Roger Needham, Ron Trosty, Larry Morgan, Jack Rooney, Otto Stockmeyer, and Bill Weiner. But like most graduates looking back, I appreciated that they were just preparing us to become better lawyers. I also appreciated Professor Pete Jason, whose excellent Sports Law class removed any doubts that I had about wanting to become a sports lawyer.
Q: Your first job was an associate at Iverson, Yoakum, Papiano and Hatch in Los Angeles. Can you elaborate?
Ross Berlin: It was 1981, and I was offered $18,000 ($22,000 after passing the Bar). Iverson was a boutique sports-entertainment and civil-law practice. I was assigned to a senior partner, Donald M. Robbins, the foremost thoroughbred-racing attorney in the country. When he became President of Hollywood Park, he said to me, "I've trained you. You are my counselor." I was honored and felt confident because I had learned from the very best.
Q: An Iverson client, the Ogden Group, embarked upon some major public works and environmental systems and invited you to join them as a Vice President.
Ross Berlin: Yes, they had several projects underway, including a new stadium for the San Francisco Giants, the Anaheim arena, a racetrack grandstand, and waste-to-energy facilities. It was challenging work, but I learned a lot.
Q: In 1989, you joined 1994 World Cup USA, ultimately becoming Senior Vice-President of Venues.
Ross Berlin: Yes, but there is an interesting back story. Years earlier, I volunteered for the 1984 Los Angeles Olympics. Since I was the only volunteer in the group who had played college baseball, I was asked by Scott LeTellier to draft the rules and regulations for the demonstration sport of baseball to be included in the 1984 Olympics. They were so busy, they took what I wrote and approved it without change. I took a measure of pride in that assignment and result. Years later, in 1988, the United States was awarded the World Cup, and Scott was named president of the Organizing Committee. I was the first person Scott hired. I was the Vice President of Venues, and I developed and managed the 1994 World Cup venue-selection process. In 1992, ISL Marketing AG offered me a job in Switzerland. ISL was the revenue-rights holder for the governing body of soccer, FIFA. They offered and I accepted the position of Vice President of Futbol, which provided a wonderful opportunity for my wife, Nancy, and me to work and travel in Europe. We had been unsuccessful in having children, and were without the constraints of parenthood. Soon after arriving in Europe, we were blessed with our two sons, Evan and Chase, born within two years of one another in Switzerland. It was difficult for Nancy because I traveled so much, but she was incredibly supportive throughout.
Q: Somehow you became involved in the 1997 Ryder Cup at Valderrama Golf Club at Sotogrande, Spain. How did that happen?
Ross Berlin: Again, it was because of prior work with Scott LeTellier. He formed an organization called Eagle International Group, which reached out to the owner of Valderrama Golf Club. Valderrama was selected as the first venue outside Great Britain to host the Ryder Cup. I joined them and was responsible for managing and organizing sales, hospitality, and other revenue-producing projects related to the 1997 Ryder Cup. Working with golf-related matters made me realize how much I enjoyed promoting the game of golf and wanted to make it my exclusive focus.
Q: How did you ultimately end up involved with the World Golf Championships?
Ross Berlin: My work at the Ryder Cup led to a meeting with the PGA TOUR Commissioner, Tim Finchem. He said the TOUR was establishing a series of international golf events named the World Golf Championships and thought I might be interested in becoming involved. I was very interested, but this opportunity did not begin until 1999. During the interim I joined Outback Sports, Inc., developing and managing large-scale multisport complexes, especially soccer, and pursuing other growth opportunities for Outback. One of our proudest developments is the Mike Rose Shelby County Soccer Complex in Memphis, Tennessee. This project includes 17 FIFA regulation sports fields, impeccably maintained, which have hosted many premier soccer tournaments.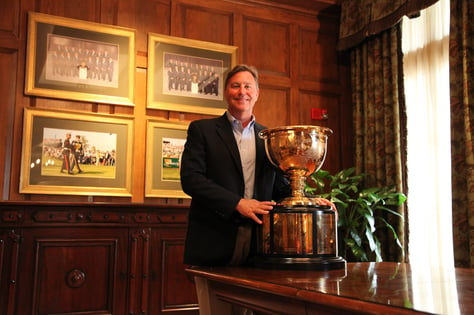 Q: Your next stop was PGA TOUR Vice President of Sales and Marketing for the World Golf Championships and President's Cup. Can you describe your duties?
Ross Berlin: That's right. I formulated marketing strategies and sales plans, managed event sponsorships, and supervised all commercial aspects of the golf tournaments with local marketing and sales staffs. Soon after, in 2002, I was promoted to Vice President of Championship Management. I was responsible for seven of the 13 yearly tournaments, including the TOUR Championship, the Legends of Golf, and the Senior Players Championship. I was very busy but enjoyed it immensely. In 2003, Commissioner Finchem asked me to direct a new unit called the Title Sponsor Account Group. It was designed to renew and grow relationships between sponsors and the TOUR, and was expanded to include all the TOUR's corporatemarketing partners.
Q: Your work caught the attention of the William Morris Agency, and they asked you to become their first agent to represent a professional golfer, Michelle Wie. She was a teenage phenom and soon to be a rising star on the LPGA.
Ross Berlin: I was not only flattered but also curious and eager to accept an opportunity to further the career of a promising professional golfer. It was an exciting time in my life. Michelle was a terrific talent (and person) and we accomplished a lot in the year and a half that we worked together. I remain a big fan of Michelle's.
Q: Why are you no longer her agent?
Ross Berlin: Commissioner Finchem asked if I was interested in joining an expanding department called Player Relations. It would eventually have nine people and be the communication interface between the players and the TOUR. It involved handling player and agent communication, orientation, and continuing education and business issues in representing the TOUR. Basically, our job was to ensure that all aspects of player relationships with the TOUR operated smoothly and efficiently and projected a healthy and wholesome image to the public.
Q: Do TOUR members have a union with collective bargaining?
Ross Berlin: No. Our Player Relations Department is the closest thing to a union. The PGA TOUR is a 501(C)(6) not-for-profit trade association. TOUR members are independent contractors, and our job is to ensure that their interests and those of the TOUR are both considered as we move forward. Other professional sports, like the NFL, NBA, NHL and MLB, have leagues, owners, general managers, coaches, and players. The organizational dynamics are very complex, which makes collective bargaining appropriate and useful in that setting. Individual TOUR members competing against each other every week is quite different.
Q: Do you think there will ever be such a thing as team golf competition among cities? I know Cooley's founder and former Chief Justice of the Michigan Supreme Court, Thomas E. Brennan, envisioned an enterprise he named the American Golf League, with teams, leagues and playoffs – just like the NFL and other professional sports.
Ross Berlin: Judge Brennan has always been ahead of his time. He recognizes that whatever the nature of the enterprise, you constantly have to change or you fall behind. For instance, the views of the millennials and the "X" generation now have our full attention. We covet their interest in our sport. Sometimes you have to reinvent yourself. Consider the FedExCup competition. Commissioner Finchem realized that this season-long competition would be endorsed by the players, was interesting to follow, would benefit the PGA TOUR, and would promote the game of golf. I have not forgotten Judge Brennan's idea, and there may come a time in the not-too-distant future that something like the American Golf League may become feasible.
Q: The overarching theme of your career seems to be readily accepting challenges in areas where no roadmap or precedent exists. What skillset enabled you to succeed where none have traveled before?
Ross Berlin: I'm really not sure, though I do think luck and timing are always involved. I just tried to do the best job I could, and, as it turned out, other opportunities presented themselves. Looking back, those instances where something special was created out of nothing were some of my most memorable accomplishments. The 1994 World Cup Organizing Committee is a good example. The USA had never hosted the event before, and President Scott LeTellier and I spent many anxious nights envisioning and creating the plan to select World Cup venues, as well as creating a revenue stream for our fledgling organization. With ISL Marketing, as an American sales, marketing and event-management representative of FIFA, I was challenged everywhere I went — Europe, South America, Africa and Asia — because soccer was not a popular sport in America, and I had to prove myself time and time again to gain respect in order for this "outsider" to speak the language (of soccer) and conduct business. Many naysayers predicted the 1997 Ryder Cup at Valderrama would be a disaster because of poor access, transportation, and remote accommodations, but the event was ultimately very successful.
I think a positive attitude really makes a huge difference, along with working with good people.
Q: Commissioner Finchem retired, and Jay Monahan was appointed to succeed him beginning January, 2017. How would you describe the transition?
Ross Berlin: Virtually seamless! Tim was immensely successful in the Tiger Woods era. One of his many major accomplishments was to ensure that TOUR members were paid commensurate with other professional athletes. He is responsible for taking the TOUR purses from $70 million to almost $300 million and making the game of golf more popular than ever. Tim has worked closely with Jay the past several years and is extremely confident that he is perfectly situated to continue the progress made over the last 20 years. Jay's stated goal of the TOUR is to always "Make Mr. Palmer Proud," and I'm sure he will succeed.
Q: I've taken the liberty of reaching out to former Commissioner Finchem and his successor, Commissioner Jay Monahan, for a few comments about your performance working with the PGA TOUR. Tim said you were "uniquely qualified" and "absolutely essential" in making all aspects of the TOUR work smoothly and efficiently and stated that your "passion, core values and principles set the standard for all the players and enables you to be very effective in dealing with players." Jay Monahan, with whom you've worked for some time, indicated that your greatest strength is the ability to relate to a wide range of players, as well as organizations, sponsors, and related associations. TOUR rookies like Jon Rahm and 25-year veterans like Phil Mickelson often have different interests. Jay related further that the annual member survey consistently rates your Player Relations Department the highest of the service groups at the PGA TOUR. That is certainly high praise!
Ross Berlin: I thank Tim and Jay for those kind words, but both have established and continue to provide a working environment and culture that lends itself to the successful achievement of our goals. The collective attitude is the glass is half full, which has become infectious. Everyone at PGA TOUR headquarters is outstanding, and a real joy to work with.
Q: Do you have any advice for those wishing to pursue careers in the sports world?
Ross Berlin: I would say a law degree is indispensable, especially when beginning your career. Now, in the second half of my career, I would call it invaluable. I personally believe a law degree provides background and depth in many useful disciplines. I remember what Vinny Giles told me years ago: "It's one thing to have a law degree, but quite another to actually use it." I think the actual practice of law is extremely useful. Learn how to zealously represent your client and develop associated disciplines. It's tough! 60- hour work weeks, 7:00 a.m. to 7:00 p.m. weekdays and 9:00 a.m. to 2:00 p.m. on Saturdays, like clockwork. You have to have a passion for it. It makes all the difference in the world.
Q: Your responsibilities have just been expanded to include overseeing player relations on the PGA. Champions TOUR (50 years and older) as well as the Web.Com TOUR (qualifying tour). You also serve as Chairman of USA Golf, the national governing body of men's and women's golf in the United States. Commissioner Monahan has just appointed you to the PGA TOUR's Executive Committee, a group of senior leaders responsible for the TOUR's strategic planning and execution. How do you spend what precious little leisure time you have?
Ross Berlin: Believe it or not, Nancy and I often watch the Golf Channel and weekend broadcasts of TOUR tournaments when I'm home. I like to read, mostly historical and autobiographical, and occasional fiction. I also like to fish. It allows me to do some serious thinking, as well as contemplating the eternal verities and conundrums of life.
Q: Your sons Evan and Chase are excellent golfers. One or the other has won the Plantation Club championship for the past seven years. Both have won club championships at TPC Sawgrass. Can you beat them?
Ross Berlin: Heavens no! They were drawn to the game very early, and I simply can't compete with them. When they play against each other, Mom and Dad just like to see good shots. The best result for us is a tie.
Q: You've been exposed to so many facets of the sports world, both domestically and internationally: sales, marketing, management, player relations and no doubt many other additional aspects. You are positioned to do pretty much anything you want after you retire from the PGA TOUR. You had mentioned teaching when we talked earlier.
Ross Berlin: Right. I've always been attracted to teaching, and I have had terrific mentors – such as you. I think I have a lot to offer in these emerging sports programs in schools these days. Sports are a big business, and I've always been intrigued by how big a part of people's lives it has become, both as participants and spectators.
Q: Well, I attended your superb lecture at the 2007 Second Annual Howard Soifer Memorial Lecture on Sports and Entertainment Law at Cooley and have talked with rookies who have been in your orientation class, and they can't say enough good things about you. You would be an outstanding teacher.
Ross Berlin: That's encouraging and very nice to hear.
Q: You've had a remarkable career, but I'm curious whether you would change anything at all.
Ross Berlin: No, I wouldn't. It's been a tremendous learning experience, and I'm very fortunate to have encountered people who gave me opportunities to succeed. And I'm especially thankful for my loving and patient wife, Nancy, and my two sons, Evan and Chase. No, I really wouldn't change a single thing.
Q: Thanks, Ross. Your Bloomfield Hills Andover High School classmates who voted you most likely to succeed were wise beyond their years. You are one of Cooley's very best, and we wish you continued success.
Ross Berlin: Thank you. It's been my pleasure.
---
This article was originally published in the June 2017 edition of Benchmark Magazine.