Call To Action: What Does Accountability Mean To You?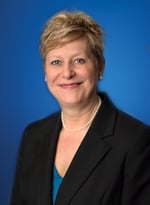 Blog author Marla Mitchell-Cichon, is the director of WMU-Cooley Law School's Innocence Project. She has been recognized many times in her career for her commitment to right the wrongs in our criminal justices system. She has received the State Bar of Michigan's Champion of Justice Award, Michigan Lawyers Weekly 30 Leaders in the Law, and Ingham County Bar Association's Leo A. Farhat Outstanding Lawyer Award to name a few.
Accountability (Noun) The quality or state of being accountable; especially an obligation or willingness to accept responsibility or to account for one's actions (Merriam-Webster Dictionary).On October 2 and throughout the month of October, the Western Michigan University Cooley Law School Innocence Project will be honoring Wrongful Conviction Day-a day to raise awareness of the causes and remedies of wrongful conviction and to recognize the tremendous personal, social and emotional costs of wrongful conviction for innocent people and their families. This year's theme is "Fighting for Justice and Accountability."
According to the recently released report by the National Registry of Exonerations, "Government Misconduct and Convicting the Innocent," official misconduct contributed to false convictions in 54 percent of exonerations. Not surprisingly, misconduct is more prevalent in cases where the accused is a person of color. The identified misconduct fell into five general categories: witness tampering, misconduct in interrogations, evidence fabrication, concealing exculpatory evidence and misconduct at trial. Often there is more than one type of misconduct in a given case.
There was government misconduct in each of our exonerations. In Kenneth Wyniemko's case, the police covered up evidence that was later DNA tested and excluded Mr. Wyniemko. Both the police and prosecutor incentivized a witness who testified that Wyniemko confessed to the crime. That testimony later proved to be false. In Nathaniel Hatchett's case, the prosecutor knew before trial that both Mr. Hatchett and the victim's consensual partner were excluded by DNA evidence. The prosecutor failed to share this information with the defense and argued to the jury that the DNA could have come from the husband. When, in fact, it was the DNA of the perpetrator. Mr. Hatchett spent nine years in prison because this information was covered up. In Donya Davis's case, one of the investigating officers was dating the witness who implicated Mr. Davis. Her son was a viable suspect in the case. Finally, in LeDura Watkins's case, both the police and prosecutor incentivized one of the actual perpetrators, giving him immunity for the murder, in exchange for implicating Watkins. Years later, numerous police documents were uncovered calling into question the witness's story. The witness recanted five years after Mr. Watkins's conviction, but it took 37 more years before he was released.
Fighting for justice and accountability is about reforming a system that has failed us all. Now, more than ever, we must work to change a culture that allows, ignores, and fails to remedy misconduct.
What does accountability mean to you? What ideas do you have to make the system better? I challenge you to think about these questions, share your ideas, and take action. Learn more about the WMU-Cooley Law School Innocence Project.
The mission of the WMU-Cooley Innocence Project is to provide legal assistance to persons who are imprisoned for crimes they did not commit and to train students in best practices. Since its inception in 2001, the Project has screened over 5800 cases and is responsible for the exoneration of four men--Kenneth Wyniemko (2003), Nathaniel Hatchett (2008), Donya Davis (2014) and LeDura Watkins (2017).