Blog contributor Otto Stockmeyer is a WMU-Cooley Distinguished Professor Emeritus. He represented mid-Michigan lawyers on the State Bar Board of Commissioners and in the ABA House of Delegates. The following is based on his three-part series of articles profiling Lansing-area State Bar presidents, published in the Ingham County Bar Association newsletter, BRIEFS.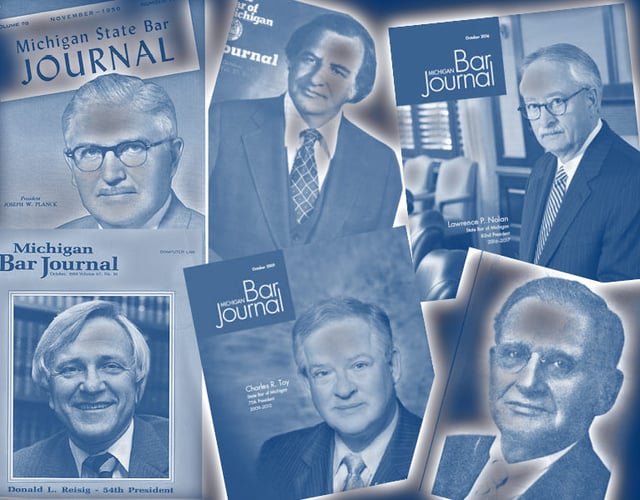 In less than a month, Lawrence P. Nolan (Cooley Class, 1976) will complete his term as 82nd president of the State Bar of Michigan. His is only the sixth Lansing-area attorney to head the state's lawyer organization in those 82 years. Of these six State Bar leaders, three have an enduring connection with Western Michigan University Cooley Law School.
The State Bar of Michigan, founded in 1935, was in its infancy when Lansing lawyer Dean W. Kelley became its eighth president in 1942. The State Bar had 6,329 members. More than 700 were serving in the armed forces during Kelley's term. Another 1,000-plus volunteered their services on draft boards and related entities. Afterward Kelley served on the Board of Law Examiners.
President Kelley was succeeded on the State Bar's Board of Commissioners by former Ingham County prosecutor Joseph W. Planck, who himself became State Bar president in 1950. Later, after his hearing deteriorated to the point he could no longer represent clients in court, Planck became the Michigan Supreme Court's first Commissioner.
It would be almost 30 years before Leo A. Farhat, also a former Ingham County prosecutor, became State Bar president in 1978. Farhat was a forceful presence in the Lansing legal community and a kingmaker in the Republican Party. The Ingham County Bar Association named the Leo A. Farhat Outstanding Attorney Award in his honor.
Donald L. Reisig followed Farhat as county prosecutor and later, in 1988, as president of the State Bar. Earlier, while serving as Ingham County Circuit Judge (1968-1976), Reisig was among the first four professors to teach at the newly formed Thomas M. Cooley Law School. In 1997 the State Bar presented Reisig with its Champion of Justice Award.
In 2009 Charles R. Toy, a 1981 summa cum laude graduate, became the first Cooley alum to serve as State Bar president. Following a judicial clerkship and a two-year stint in the prosecutor's office, he entered upon a successful 24-year career with the Leo Farhat law firm. Toy became Cooley's Associate Dean of Career and Professional Development in 2008, and continues to serve his alma mater in that capacity.
Lawrence P. Nolan was a student in Don Reisig's Criminal Law course, graduating in Cooley's inaugural class. In another connection with his predecessors, Nolan is the 2009 recipient of the Leo A. Farhat Distinguished Attorney Award. Before assuming the State Bar presidency, he was State Bar Young Lawyers Section chair and Ingham County Bar Association president, among many bar and civic offices. He has served on Cooley's Board of Directors since 1983, and is its current chair.
Congratulations, President Nolan, as you conclude your successful year at the helm of Michigan's 46,000-member State Bar. And thank you for contributing to a strong State Bar-Cooley connection.
---
Find out more about the history of WMU-Cooley Law School by going to the Law School's Mission & History page here.