Tanya Gibbs: Business and Law Background Connects WMU-Cooley Graduate to Her Tribe's Culture and Heritage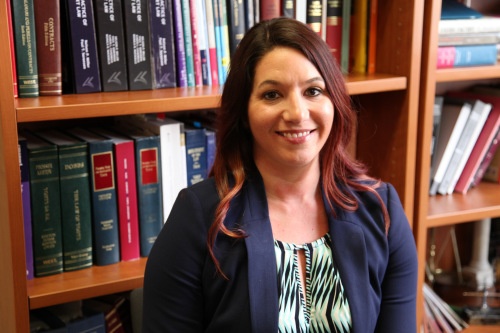 This blog was originally posted on May 2, 2017
Tanya Gibbs knew she wanted to be an attorney since the 11th grade when her high school math teacher suggested she go to a national student conference in Washington, D.C. For 10 days she learned about the laws that govern our nation, toured the city, and even met the Supreme Court justices and several high-end defense attorneys. "I just thought it was the coolest thing, and I wanted to be a part of that," said Gibbs.
From that point forward, she prepared herself for a legal career.
"Knowing that I wanted to be a lawyer, I decided that I would go to a liberal arts school and concentrate in political theory and philosophy, which really helped," said Gibbs. "I fine-tuned my analytical skills and engaged in a number of entrepreneurial activities. I even ran my own business for a few years, which was very successful. It was that experience that helped me realize that business law was where I wanted to go and where I would focus my legal education. When I graduated from MSU, I knew that I wanted to go right to law school, and I knew that I wanted to be in Grand Rapids. I also knew WMU-Cooley was in Grand Rapids. I heard good things about the school, and I applied. I'm the type of person that, once I make my mind up about something, that's just where I go and what I do.
Once Gibbs started law school at WMU-Cooley, she knew she had made the right decision.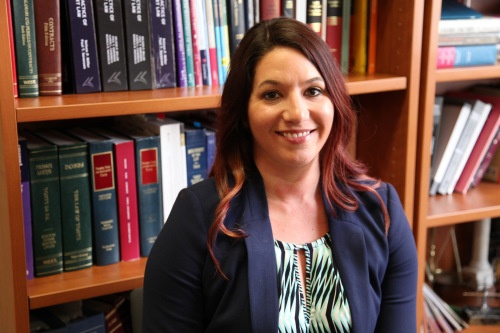 "Even sitting in my first Property class, which might sound boring, I found learning about property law, even in the 1800s, was really interesting, and that business law was definitely the right career choice. During my time at WMU-Cooley, I was able to not only learn the theory behind the law, but really learn the things that I needed to know about the practice of law, and how to be a lawyer."
But it was WMU-Cooley's real-world, hands-on approach that she found so crucial in law school — particularly as to how it related to her heritage as a Native American.
"My law school internship with my tribe (Little Traverse Bay Bands of Odawa Indians) during my second year was amazing," exclaimed Gibbs. "I was able to work with them on business and economic development issues and actually applied the things I had just started learning about in law school. I found it to be important work. I was able to help answer questions my tribe had about creating and operating businesses and go to bat for them on a number of legal issues they were facing. I continued to learn more those more about business in my third year — things like legal structures, operational issues, compliance issues and real estate development — all areas I was able to take back to my tribe and make a difference, even before I graduated and while I studied for the bar. It was very, very helpful. I think that's one of the great things about WMU-Cooley is that you learn the things that you really need to know. Even in my practice just about a month ago, I was referring back to my notes from my business planning class my 3L year, so definitely real life, practical information."
Gibbs works for a small boutique nationwide firm that specializes in non-gaming economic development – which includes every type of business that an Indian tribe might own and operate outside of a casino.The firm is majority native-owned and works with Indian tribes and their wholly owned businesses.
"Each Indian tribe is a sovereign nation, which means they have the ability to make their own laws and self governed," explained Gibbs. "I do everything from help the tribal government draft and enact a limited liability company code to helping them engage their own business by creating a separate legal entity, wholly-owned by the tribe. This can be anything from owning a fuel station, to real estate development, to e-commerce and consumer financial services-type business. It encompasses all kinds of things. I've been able to do very large, hundreds of millions of dollars, merger and acquisition, as well as regulatory compliance and contract reviews."
Gibbs finds her career intensely interesting and rewarding.
"In my work, there are lots of fun waters to navigate," smiled Gibbs. "As a sovereign nation, the tribes aren't subject to state laws, and they are only subject to federal laws in certain situations. It's an interesting regulatory and legal landscape when you have three different jurisdictions, or three different regulatory bodies that are interested in the same activity that may or may not be occurring on Indian land.
Gibbs reflected on her own ancestry and Tribal culture.
"I'm a descendant of the Little Traverse Bay Bands of Odawa Indians, on my dad's side of the family, and have always known about my culture. Growing up, my father's family never was very traditional or involved in their tribal culture. I think it might have had to do with the politics associated with being native in the '80s. State and federal governments were taking Indian children from Indian homes, which resulted in Indian Child Welfare Act and the Michigan Indian Family Preservation Act. Lots of my older family back then didn't want to associate with the tribe, including my dad.
"Yet, there was a local attorney who moved his family to my hometown when I was in the third grade. They became my pseudo-Indian family. Iwas able to join his family in lots of cultural and traditional events and activities, and they taught me a lot of about our native culture and what it means to be part of a tribe. So when I had the opportunity to go back to my tribe to do an internship during law school, I was really excited because I had never really spent much time on my reservation and on Indian land. It was very cool to learn about the government, our different traditions. About how we work and to learn about our values. It's just been really wonderful!
"That experience solidified my desire to do business law, but more importantly that I wanted to do it for Indian tribes. I feel very fortunate to be able to walk out of law school and be able to do exactly what I planned to do all along. My practice is especially wonderful because, although we work primarily with tribes in Michigan and Wisconsin, our firm, as a national firm, works with tribes all over the country. Each tribe is different and has a different culture and different traditions. Getting to know all different types of people is so cool for me, and it's a feeling of being connected. A lot of my clients, we don't just give a handshake, we hug. We're all family and you get to know people and get close to folks."
The ability to meet different people and different kinds of tribes, and to learn about different kinds of issues is, for me, simply fun.