Erika Weiss: Embracing Heritage Leads To Native American Law Practice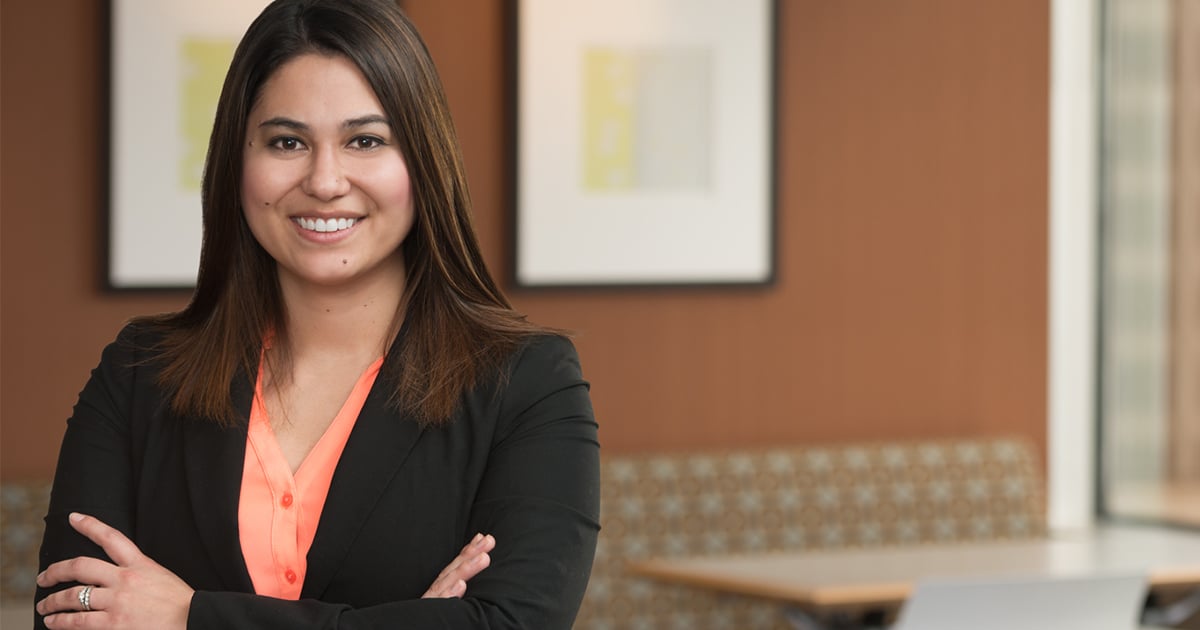 Growing up, Erika Weiss' (Livingston Class, 2014) family didn't talk much about their Native American ancestry. While In middle school, Weiss remembers often being asked, "what are you?" She wasn't sure how to answer what seemed like a strange question, often saying to herself "I'm a human," while realizing she "stuck out like a sore thumb" to those asking the question.
Today, Weiss is sure how to answer the question, and has even embraced her Native American roots enough to build a legal practice working with Native American tribes and their businesses.
Her dedication to this niche practice has led Weiss to being named to the 2020 Lawyers of Color Hot List. Lawyers of Color is a non-profit organization devoted to promoting diversity in the legal profession and advancing democracy and equality in marginalized communities. The listing honors up-and-coming attorneys who have had noteworthy accomplishments, giving special attention to candidates who are active in diversity pipeline initiatives.
NATIVE ANCESTRY
Weiss' grandmother was one of 12 siblings who grew up during a time when many Native Americans didn't talk about their Native ancestry. It wasn't until after her grandmother died that her father learned they were descendants of the Little Traverse Bay Bands of Odawa Indians.
As casinos operated by Native American tribes became more prevalent around Michigan, Weiss, who grew up in a quiet
suburb northeast of Grand Rapids, was often asked "You must get a big check from the casino?" She would reply, "No, we don't get one of those. Our (tribe's) casino doesn't really make that much money to give out that much money to our members."

Weiss has found that many in Michigan underestimate the number of Native Americans in the state.

"It really is surprising that with how many tribes there are in Michigan, people don't realize there is a significant presence in the area," said Weiss. "It's always been interesting being Native in west Michigan."

Weiss believes that with recent events involving race, people are truly interested in learning more about others.

"I do think things are getting better, as I was recently at a gathering with a group of 20-something-year-olds saying 'I don't know much. Tell me about what tribes are around us and what they do. We want to learn more.' I don't think these discussions are only happening around Natives, but because of the environment we are in right now. It's exciting for me to have people say 'I'm ignorant about this but I will learn more, tell me more, let's talk.'"
Weiss knew at a young age that she wanted to attend law school. While attending Grand Valley State University, Weiss applied to several law schools, but decided to stay in Michigan and attend Cooley. She credits her aunt, Melissa
Leckie (Green Class, 1988), for influencing her interest in law, as well as her grandmother, who was a juvenile probation officer.
INTEREST IN TRIBAL LAW
"My aunt was my biggest influence. I remember sitting in her office asking her about different things she was working on," said Weiss. "She took me to court with her and let me sit in the back of the courtroom to watch her during a trial and spoke with me about different aspects of the case after the trial."

While attending law school, she realized that she was more interested in business law, and also had an interest in legal
matters concerning Native American tribes. She began learning there were opportunities for tribes outside of casinos. Weiss also recognized that the tribes have many other business entities and opportunities that many people do not realize the tribes are involved in. She grew passionate about using her legal skills to work in the area of tribal economic development.
"There is so much cool stuff that tribes are doing that no one knows about or realizes because all you see are casinos," said Weiss.

During her time at Cooley, she realized that in order to get a job at a big law firm she would have to stand out from other students and be involved in extracurricular activities. Weiss spent so much time in the law school's resource center that
eventually she was hired as a student worker. Additionally, she set herself apart from others by having a sound interest and
background in tribal law issues, and by graduating magna cum laude.

During her externship at a large law firm in Grand Rapids, Weiss realized she wasn't as fond of working in that position as she thought and began toying with the idea of having her own firm. She ended up with a small firm in west Michigan gaining experience in commercial litigation and mortgage-backed securities litigation. Knowing that practicing Indian Law was in her heart, Weiss reached out to a contact at Rosette, LLP's Michigan office to talk about her goals of practicing with a firm specializing in tribal law. It was at Rosette that she was able to work solely with Native American tribes and their businesses.
"I was doing my dream job," said Weiss. "I wanted to work with tribes and at this point was practicing in the area of what the purpose I went to law school was for."

On LinkedIn, Weiss was discovered by a recruiter. She had told the recruiter of her long-term goal of wanting to help set up a Native American practice group and dive into that area. Weiss accepted a position as a litigation associate and, after eight months with the firm, she and another attorney were tasked with setting up a Native American practice group at Barnes & Thornburg.

"Because work with tribes was being done by other attorneys across the firm, it allowed us to pull all the work under one group and really expand our efforts," said Weiss. Because Weiss' tribal focus is economic development, she made the jump from litigation to the firm's corporate department.

"Tribal economic development corporations' goals are to generate revenue and wealth for the tribe for the benefit of the
tribal members," said Weiss.

"Depending on the strategic plan of the tribe and its economic development company, their business transactions could
include anything from real estate purchases, company acquisitions, and operating businesses such as manufacturing or even federal contracting."

Beyond her work as an attorney, Weiss and her husband Kirk are parents to two-year-old daughter, Payton, and are expecting their second child in August. They are also pet parents to two Shih Tzu dogs and enjoy playing golf. And she is quick to say "it's not cliché," but she does enjoy going to casinos.