Law Student Couple Win in Love and Regional Client Counseling Competition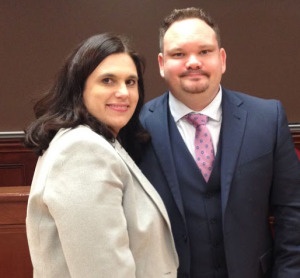 This blog was originally published on February 14, 2015.
"Who needs just red roses and dark chocolate when what I really love is working together and solving problems with my husband as a team," exclaimed Elizabeth Devolder about the couple's Valentine win in the ABA Client Counseling Regional Competition in Pittsburgh, Pennsylvania on Feb. 8th.
The WMU-Cooley Tampa Bay campus evening students Elizabeth and Bryan Devolder were crowned regional champions and then advanced to the national competition held in North Carolina in March, where 12 teams — the top school in each region — competed for the national title. WMU-Cooley Associate Dean and Coach Chris Church was impressed with the couple's problem solving skills in the competition, and loved the pair's style and chemistry.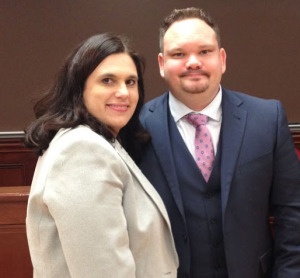 The national topic was family law. The Devolders began their interview by revealing that they were a married couple, and talked about the advantages of gaining both a male and female perspective. They had framed pictures of their two children on the desk, completing the family theme.
"Elizabeth and Bryan had a no-nonsense, practical approach to solving client problems — and it was evident in the competition that their relationship and life experience gave them a true advantage over any other team in the competition," stated Church. "The other two finalist teams took everything the client said as gospel — and offered to take the case pro bono. Bryan and Elizabeth approached the representation with a healthy dose of skepticism. They understood that the client wasn't telling them everything, and that trust takes time. They didn't jump into a pro bono custody case — they said they needed to do more investigation first. But they left the client with options, referrals, and a promise to look into things and get back with her. That's what great lawyers do."
---
This is the 7th win in 10 years for WMU-Cooley teams at the hotly contested Client Counseling Regional Competition. Our 2011 team of Erin Moss and LaToya Palmer won the ABA national championship. This year, WMU-Cooley team Devolder beat over 11 teams to win the regional competition, including teams from the University of Michigan, the University of Pittsburgh, the University of Akron, the University of Louisville, Duquesne University, and Northern Kentucky University.