Cooley Moot Court Team Take Skillset and Competition by Storm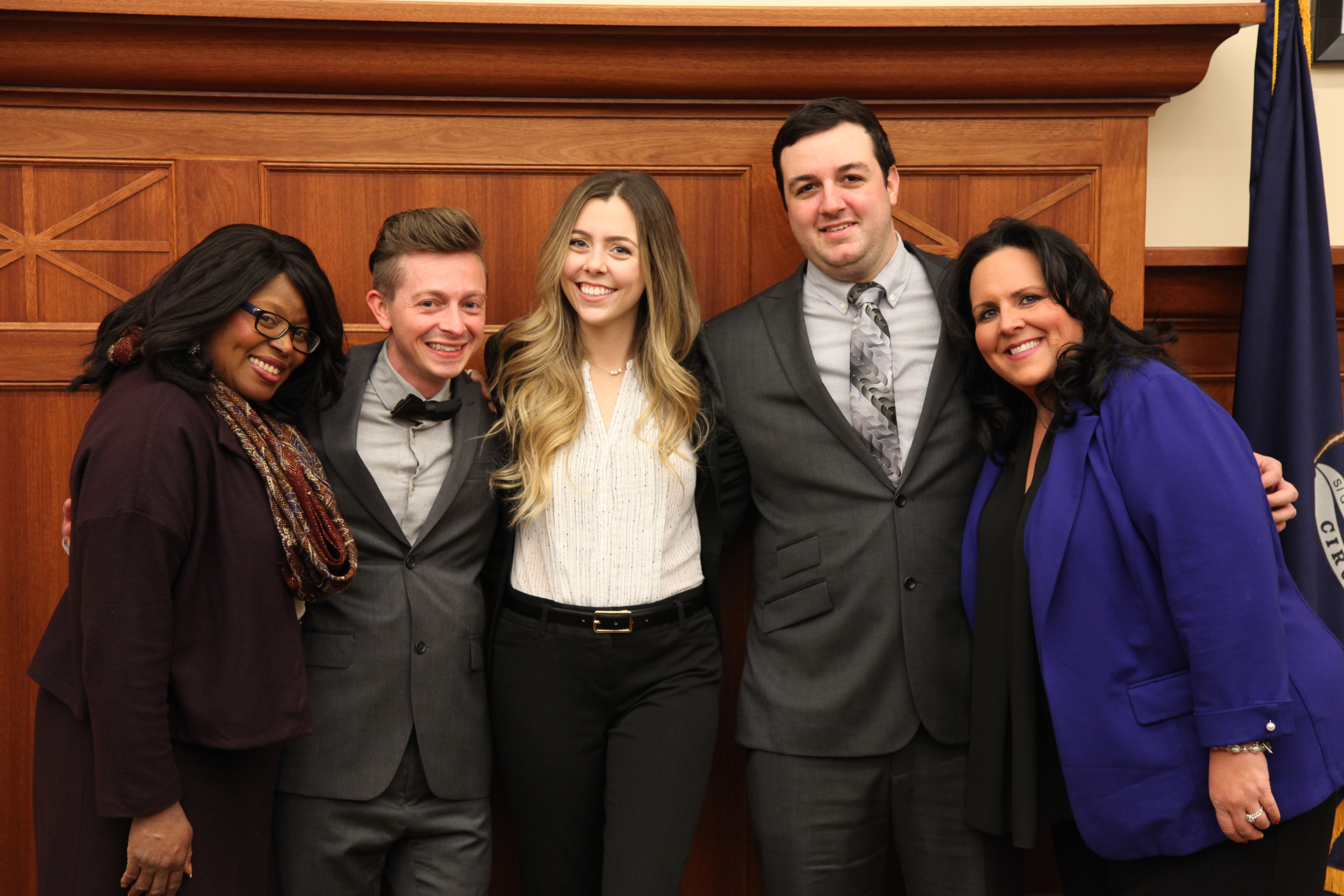 At Cooley Law School, one of the activities students can participate in is the moot court program. Recently, graduate Brandon Ayers and law student Lauren Simasko talked about that experience.
AYERS: So when we started Moot Court, obviously we didn't quite comprehend how much work would go into it, but we had a lot of practice rounds where we would go in and argue in front of judges. They would ask us questions or give us feedback. That was difficult for us because we worked so hard, then you go in there and get shredded. They were very nice about it, but Lauren and I both found it a little rough to have all that criticism all at once for something that we had put so much time and effort into.

INTERVIEWER: Was it helpful, though? Is criticism part of the learning process?

SIMASKO: I think the most helpful part of being on the National Moot Court Team was the fact that once we got to the regional rounds, there was not one question where I felt someone was going to throw at us that we didn't already hear before. The regional round definitely had some straggler questions that the judge was excited to ask but didn't seem to make much sense, but by the time we got to the national round, every question we had heard. We knew by that point how to answer each question perfectly.
AYERS: We had our own spin already in our heads. We've argued so much about it and have had so many conversations about it. I remember thinking, "Ooh, I just want to answer it for them when we would listen to other teams."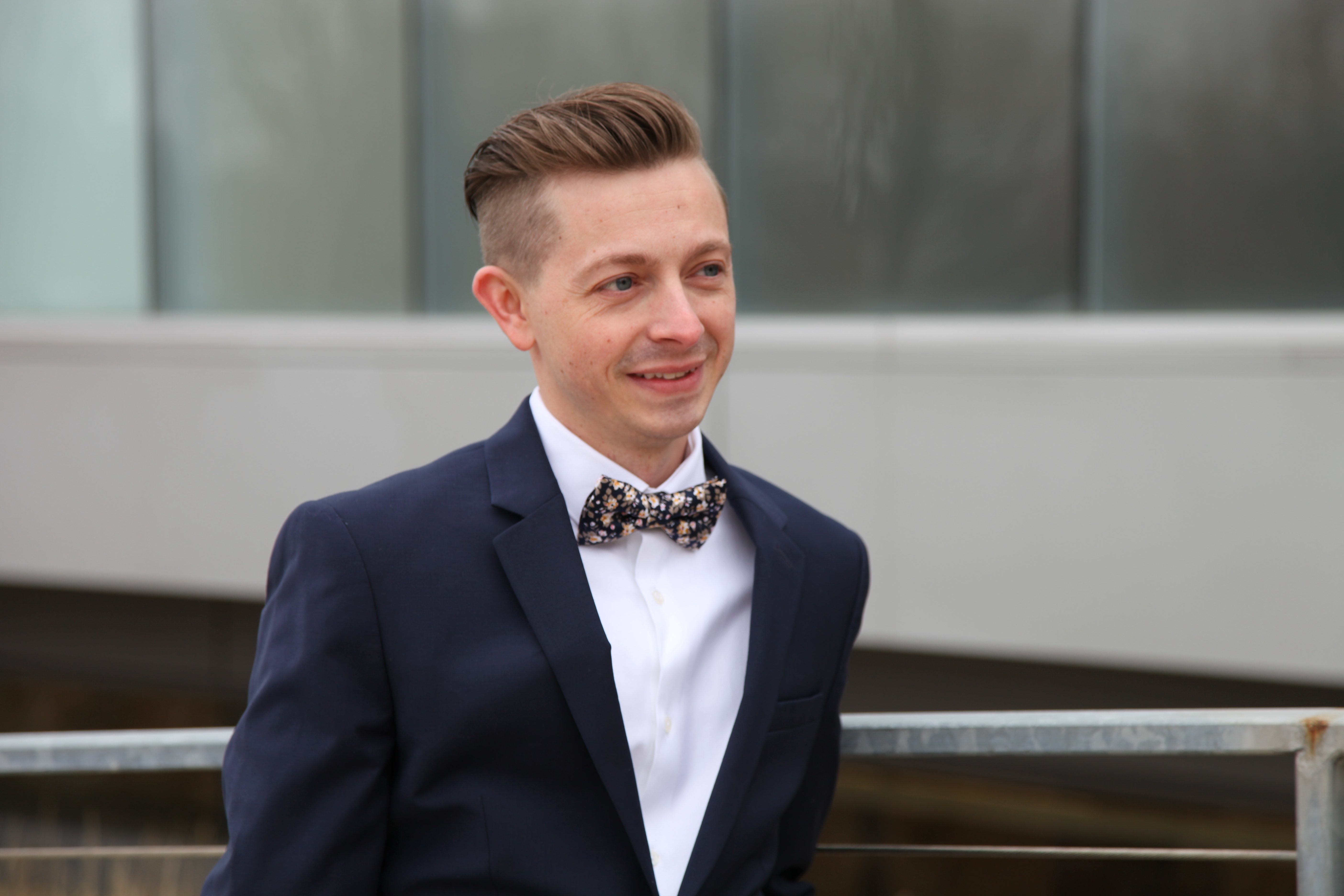 SIMASKO: It was a lot of fun because we both had the antithesis of each other's arguments, so I'd be arguing for one version of the law and Brandon would be for the other version. We would get a little adversarial and say, "Well, you have this great but know how to respond if a question is asked in this way." It was really fun because it gave us each the opportunity to look at all the arguments and it made us more prepared than I could have ever expected.

AYERS: I must say Lauren and I had such a connection from the beginning and we just fed off of one another. We were so supportive of each other. Even if we did criticize each other, we did it in such a way that the other didn't even know that we were criticizing them. And we just became so in-tune and so in-sync at some point, certainly by the regional competition. Even during the trip down, when we drove from Detroit to Cleveland, we were truly a team.

SIMASKO: We always joke that we're going to be friends forever, even when we're old. We joke about how we are going to be in the same nursing home together, and that we will be talking about the issues that we argued in this national moot court team. We put so much of our hearts and souls into the arguments and this fake client, who doesn't exist and will never exist, that it feels so strange to have the competition behind us. It's like we lost a little piece of what was found so exciting during our time in law school. Even today we'll still talk about this autonomous vehicle that was part of our question.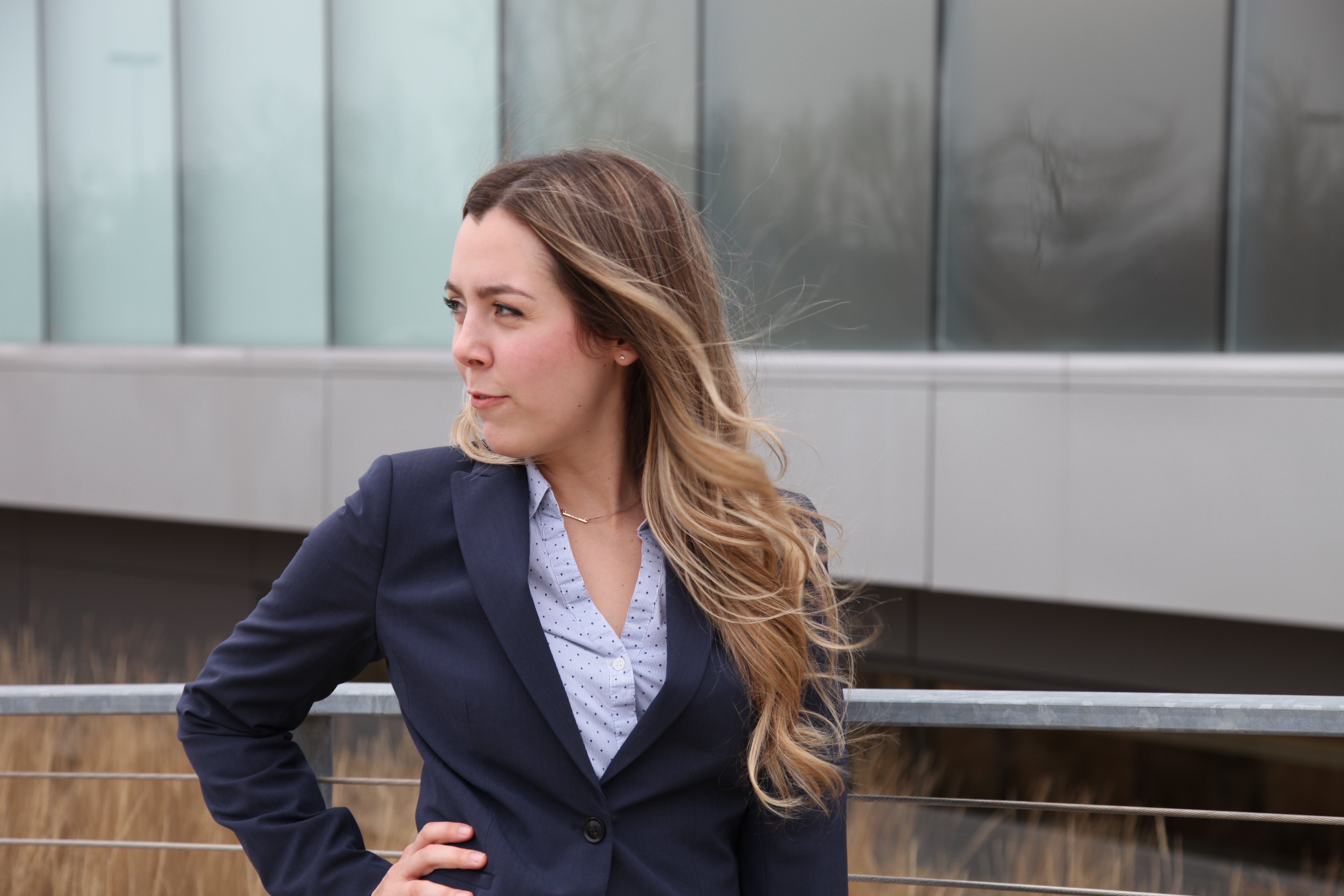 AYERS: I think after spending so much time on the problem, none of us on the team will ever own an autonomous vehicle because we are a little bit traumatized. I cannot tell you how many times among the three of us we said, "Madam Chief Justice, may it please the Court?" We will probably be rattling it off until the day we die because we put so much work and time into it. And even though we did not win nationals, it was so amazing to go there and to be in that room with the 28 best teams in the nation of advocates out of 174 that started. We know that that's such an accomplishment and we will always have that with us through our entire practice.

AYERS: I'm going to tell this one (story) about Lauren. I remember when we started, we were exhausted throughout the entire experience because you get the question, and then you have a couple of weeks to write your brief.

SIMASKO: I think it ends up being just under four weeks.

AYERS: So, you are feverishly researching, and I'll never forget the time I caught Lauren crying in a practice round. I just started laughing because I knew exactly how she felt. It's not about your feelings being hurt or that you did something wrong. It's that you have worked so hard and you are so exhausted that, in that moment, that's all you have left. And it's not that we were even getting bad criticism, because she was amazing, but at that one moment I thought, "Oh I know exactly how she is feeling right now," because you are so exhausted. But the result and what you get from it is amazing. For us, it's one of those experiences that many people can only try to have. There were 174 teams that attempted to get to New York, and 28 got there, and we were one of those. It feels amazing to know that. At the end of all that work, we made it to the destination we set out for.

AYERS: For Lauren and I both, we had a really interesting take on it. If you spoke to either of us at any point throughout, it would have been just that, that we have something to prove. We are the underdog in so many ways, and we would hear people's comments and hear their opinions. But we know. We chose and attend Cooley, and the fact is we know what it's really like. We know the amount of work that it takes to be successful. And it's not just successful in law school, but in practice and in life. That was one of the biggest things for us, we loved getting to tell people, "We go to Cooley," because it gave us a rise to see people's reactions.

SIMASKO: Absolutely.

INTERVIEWER: Tell me what you think Cooley is all about.

AYERS: Lauren and I talk about this. We say, "Cooley students are a little different than other students." Different because they had a different path. It's not always the straight path, like Lauren came to law school directly from undergrad, but the path where the Lauren Simasko's and the Josh Bemis's and the Tami Salzbrenner's, and so many other people that all have different life stories. It's a very diverse group. Many students work full-time and go to school. Lauren works in the dean's suite and goes to school and takes a heavy load of classes, and we were still able to go and beat everyone at the regional competition. We always know that a Cooley graduate is prepared. It's frustrating to have to deal with people's opinions or thoughts because that's what people like to do. People want to place a negative connotation with the law school because we are inclusive. I can tell you this though, we know we can compete and win at every level. Just like the many students that came before us, and the many students who will come after us, we not only were able to win, we were able to win big.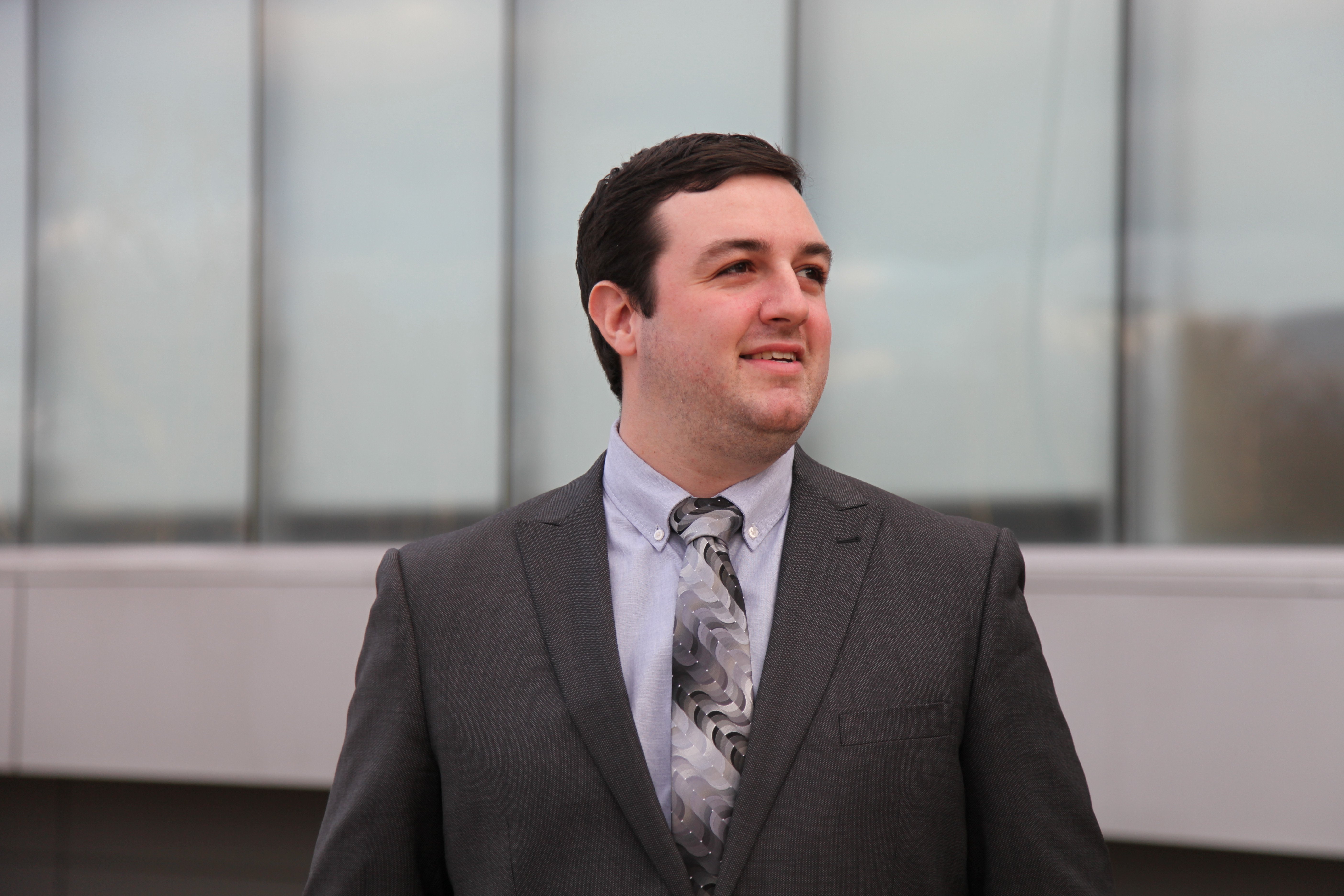 SIMASKO: I think one of our favorite parts about the regional competition in particular was, while the competition was meant to be anonymous, and everyone there came prepared, we all knew who the teams were and where they had come from. It was especially rewarding to sense from the other team who was thinking, "This will be an easy win." Then we would walk right up to them, shake their hands really hard, and immediately they'd respond, "Oh my gosh," and we'd rattle them from the first moment that we walked into the room. It was so satisfying to finish the round and get those critiques that are technically called critiques, but all the judges had nothing but fabulous things to say about our oral styles. And I think the thing that really sets all Cooley students apart is that we are creative in a way that these other schools likely don't teach their students. Or possibly the students didn't have the opportunity to really think about the law in a way that is going to be compelling. Cooley students and graduates can set themselves apart from their competitors, whether that be in a national competition, or in their own practice someday.

AYERS: We really did feed off of it. It fed our hunger, which is so silly, but we loved it. We would imagine in our heads the number of times a team though, "Oh, this is going to be so easy," or, "Oh, we're definitely going to win that round." And then you have Lauren, and you have Josh, and myself, and we come up and we can bring the thunder. It's true because you could see it on their faces. They didn't see it coming. One of the most gratifying moments I had in this competition was when a coach from another team at the Moot Court competition in Cleveland had a really strong opinion of how we'd performed in the first round, for which she's entitled. Fast forward, in the last round, we came out and that coach was there to hear that our team was the victorious winner of the regional competition. We all thought how appropriate to have that coach eating crow for the remarks she made.

SIMASKO: Yes, proved her wrong in every sense of the word.

AYERS: You know, we never get mad when we hear from those who don't know. We just think, "You are so wrong." I would bet you the people that saw us argue and the people that read our briefs were very impressed and their minds were turned that day. After all, we were up against teams that were tops in the nation.