Michael Terner: Success is not where you start, but where you finish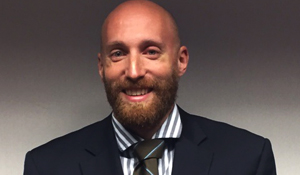 "Look to your left, look to your right; one of you won't complete your law school journey." I remember getting this from deans and professors when I first started at Cooley Law School. I also remember thinking one of the "ones" should have been me.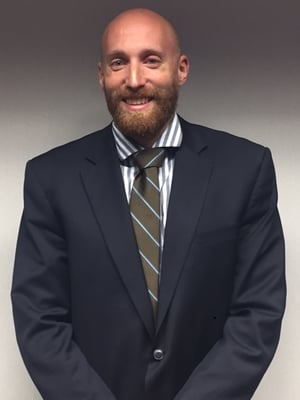 Law school wasn't originally on my radar growing up. I was obsessed with watching and listening to live sports and sports talk. I spent hours memorizing the rosters for each NBA team and keeping track of trades, releases and other roster changes. My high school friends, and even my broadcasting teacher, thought being a broadcaster would be a great field for me. That memory got me thinking about law school after getting my B.A.A. in Broadcast and Cinematic Arts from Central Michigan University.
But college was never easy. I missed more classes than I care to admit, and my GPA suffered. I had bought into the myth that undergraduate grades didn't matter when I started. I only put forth the bare minimum, even though I knew I could do much better. But then I learned that grades really do matter. Once my attitude changed, my grades and attendance improved.
TOUGH JOB MARKET
After officially completing my undergraduate studies, I applied to 30-40 different employers over the next year (mostly radio and television stations) without so much as a "we don't believe you are right for the job" reply, let alone an interview request. A good friend had recently signed up for a Paralegal Certificate program at the local community college and encouraged me to do the same. We both had multiple family members working in the legal sector and I figured that might be my best shot at stable employment.
I plowed through the program in a year-and-a-half, obtaining my Paralegal Certificate with honors. Unbeknownst to me, one of my uncles, an attorney in Birmingham, needed a paralegal, and hired me.
paralegal to lawyer
At this point I was content to be a paralegal, until I heard a commercial about Cooley Law School's flexible program, and offering classes when most other law schools did not. With most of my weeknights free, I decided to take the LSAT, then enrolled.
I realized in my first Contracts class that all of my broadcast skills were going to come in very handy in law school. Although I felt as though I was trembling when I stood to recite in class, I was able to state the facts of the case, the court's holding, and its reasoning.
The professor nodded her approval, and I sat down feeling a real sense of confidence and accomplishment.
For the next few semesters, I took classes at least five days a week while working 5-6 hours per day. Because I worked I had to commute back and forth as well. I managed to complete my assigned readings and case briefs in my car, and arrive at class just before the 6:00 p.m. start. This daily routine helped the semesters fly by but didn't help with my participating in extra-curricular activities, or my grades, for that matter.
Despite it all, I managed to finish law school in only seven semesters, then pass the Michigan, California, and Ohio Bar exams on my first try. I never felt that I was owed a job. I knew it would be an uphill battle. That's why I took three bar exams. I felt being licensed in multiple jurisdictions would help me stand out from others in the field.
After passing the Michigan Bar, I decided I would continue to work for my uncle, until I moved to Ohio to be with my girlfriend, who I met at Cooley Law School. Jobs have never come easy, so I decided I would start my own law firm, and be my own boss. I am now doing criminal defense work, something I had not done before.
five practical lessons
My journey hasn't been easy, but I do have some practical lessons to share.
PRIORITIZE GRADES
I realize that there is no other law school in the country that has Cooley's flexibility. I believe it's important to have other things going on in your life during law school. It really does help combat burnout. That being said, your grades are extremely important. There's a reason the governing bodies restrict number of hours of work. It's because you need the proper time to study and fully complete your assignments. I can say that the majority of employers will ask to see your transcripts, so for your sake, make grades your priority.
NETWORK. NETWORK. NETWORK.
I'm not sure why I thought this, but I believed getting my J.D. and passing the bar exam would be enough to get a job. I underestimated the importance of meeting people in my field and making connections. Seeking out, talking to, and learning from like-minded and experienced comrades not only expanded employment opportunities for me, but provided valuable insights into the legal field. Cooley offers excellent externship opportunities that can match you with an experienced attorney or judge to mentor you and give invaluable exposure to legal work that may turn into a job.
STUDENT ORG INVOLVEMENT
You should become involved in at least one co-curricular activity. Cooley offers over 40 student organizations you can join, from criminal law to sports and entertainment law. There surely is an organization that will fit and foster your passions. These organizations are superb résumé builders and essential for those seeking employment in a specialized field.
GET TO KNOW PROFESSORS
Take advantage of gleaning all you can from your professors, especially those teaching subjects in your field of interest. They are excellent sources of information, both inside and beyond the classroom. Plus they are always willing to assist you. Professors make great references and advocates for future employment as well. Visit with each professor at least once during office hours, or stop by to say hello.
BUILD LIFELONG RELATIONSHIPS
The quest to become a lawyer is not a sprint, but a marathon. It's more than just a path to a J.D. or L.L.M. You need to continue to form and build lifelong relationships and acquire information will ultimately shape you into the person you become, professionally and personally. Soak up as much knowledge as possible during your time to benefit your future career endeavors.
Learn to grasp as much as you can in your law school journey, but know that learning is lifelong. Law school teaches you practical ways to succeed as a lawyer. Things like how to think on your feet, how to cultivate personal and professional relationships, and the ability to tap into resources you will need to succeed in real-world situations.
Take advantage of all Cooley has to offer and enjoy the ride!