A Hunt for Treasure Becomes a Treasured Hunt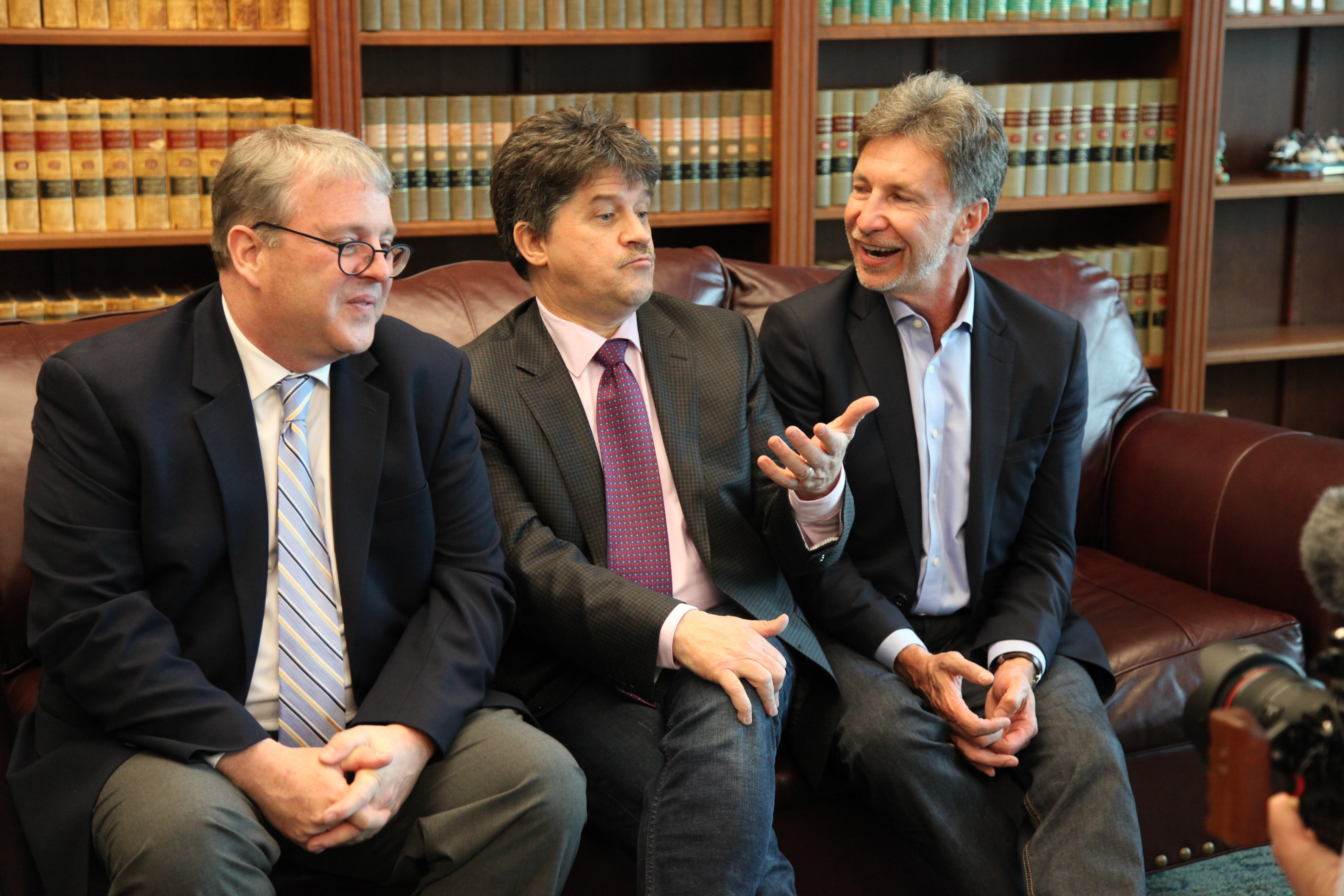 Going on a hunt for real treasure is something most of us will only ever do through a book or a movie. Then, with a wistful sigh, we will resume our day-to-day regime, sharing only a fraction of the pleasure that real hunters enjoy.
Yet for three WMU-Cooley graduates, the hunt was real. Their business goal was to return the recordings to the people who have the copyright interests and merge those rights with the possessory rights so the content of the recordings could be exploited. More importantly to them though, was the chance for the law school friends to get together again, something they consider even more valuable than the treasure itself.
The treasure is a 9-year collection of live Grateful Dead concert tapes known as the "Betty Boards" that were recorded by the legendary sound board operator Betty Cantor-Jackson. While Betty may have been called a 'Sound Board Operator,' she also is credited with producing numerous commercial GD releases, including Aoxomoxoa; Live Dead; Skull and Roses; Workingman's Dead; Europe '72; Dead Set; Reckoning.
The three lawyers, Andrew Acker, Jeffrey Butler, and Charles Dadswell, met and became close friends soon after starting WMU-Cooley Law School in the fall of 1988. They joined the same study group, grew to share a love of music and the Grateful Dead, and even traveled together, until they graduated in 1991 and moved on.

"(Our friendship) became a kind of parallel universe," said Butler. "That friendship helped all three of us get through a pretty rigorous law school and 30 years later, here we are!"
Then came the challenge to locate the more than 1,000 reels of the "Betty Boards" that went missing in 1986. In 2012 they joined forces and formed ABCD Enterprises, LLC and began the hunt. Combined they had a range of legal expertise, Acker in municipal law in Chicago, Butler practicing education law in Lansing, and Dadswell in corporate and intellectual property law in California. The tedious work brought them back together, performing as a team just like they did in law school, this time with a different goal in mind: recover as many reels as possible.
"When we heard the story, we thought it was a way we could get something back into the hands of the fans," said Dadswell. "It was like a treasure hunt, but for me, it was a chance to do something again with the two closest people I knew in law school."
Over the next several years the three spent an estimated 1,500 hours researching, locating, acquiring, restoring, and digitizing the reels they were able to find. The tapes were then returned to Warner Music and since May 2016, eight Grateful Dead releases have taken place, thanks to the recovered "Betty Boards."
Ultimately, the three agree, their work to give back to others came full circle, becoming a gift they really gave to themselves.
"It's kind of a dream to work with your friends in a way that you're doing something meaningful," explained Acker. "The music is important but the interaction and getting the gang back together was really cool."
Acker, Butler and Dadswell were the featured speakers at the 2018 annual Howard Soifer Memorial Lecture in Sports and Entertainment Law held April 13. The entire intriguing story of the hunt for lost music treasure by these old college friends will be in the June 2018 issue of WMU-Cooley's "Benchmark Magazine."
---
Howard Soifer was a proud 1977 graduate of WMU-Cooley Law School and an accomplished lawyer and a shareholder in the firm of Loomis, Ewert, Parsley, Davis & Gotting, P.C., until the time of his death on January 29, 2003 at the age of 53. It is Howard's great passion and loyalty that the Soifer Committee created the Howard Soifer Memorial Lecture Series in Sports and Entertainment Law. The Committee feels strongly that the event is a meaningful way to honor Howard's memory and to endow the lecture series for perpetuity.