Larry Nolan: It is through your faith and your faith tests that you grow
Cooley Law School 1976 graduate, Board Chair, and State Bar of Michigan President Lawrence P. Nolan was the keynote speaker for the Cooley law student Christian Legal Society this month. He shared with the law students and guests how when tested in your career, by a client or in a case, you can use your faith to get through it. This blog originally posted on April 7, 2017, on our old blog site.

When I talk to different groups, including your group, I let them know that the need and demand for lawyers is great. We really need to know we have good lawyers out there, and judges.

When I first got sworn in I spoke in my inaugural address about standing up for lawyers, but I also stated that I would stand up for judges. People ask me why judges should be exempt from criticism. They say the President gets criticized, Senators get criticized, members of the House of Representatives get criticized, so why shouldn't judges get criticized? I said, the one difference is that judges can't respond. They can't follow up and have a press conference. If a case is pending, they can't defend themselves. Simply, it's about being fair and just.
There is a lot of good things happening within the profession. I am proud to be a lawyer. I've been practicing 42 years now at the same location, same small office on Main Street in a little town called Eaton Rapids, just about 20 miles south of here (Lansing). I love the law, and believe if you have a passion for the law, it will serve you well and you can make a difference. I wrote an article in the Michigan Bar Journal this month. It was called the USS Iowa explosion April 19, 1989. Forty seven sailors were killed on board a ship called the Iowa and there were four major ships that were 900 feet long. Think of that, think of (University of) Michigan's stadium. That would fit a third of Iowa into Michigan stadium. It was three times the size.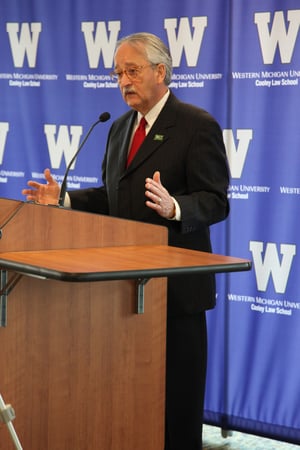 I got involved with the case, not because I knew the family from Eaton Rapids who lost their son, but because I went to church and sat in the first pew and their family sat behind us. In our church, during the celebration, you turn at a point in the mass and say peace be with you with people you are sitting near. I only knew the family because they always sat behind us. I only knew them because I saw them on Sundays. I never had any social discussion with them, until this tragedy happened. They came to me because they knew that I was a Christian lawyer, I was in their hometown, and they wanted some meaning to come out of this event. It was a six-year year journey, from filing suit in the Eastern District of Virginia and Norfolk, to Richmond in the 4th Circuit Court of Appeals, then to the Supreme Court. It all arose because I was living in the community, going to the same church, and the family felt comfortable coming to me in handling the case where their son was tragically taken from them. We as lawyers, and we as Christian lawyers, you can look at the 10 commandments and just about take anything off the 10 commandments and use them as the common law and develop from that all the other laws that exist.
I still enjoy what I am doing 42 years later. I want to share a story with you all. I once went to funeral where there was a Rabbi who gave the eulogy and said the deceased person was mensch. When he described what mensch was he said it was a person who does the right thing knowing he could to the wrong thing, but does the right thing even knowing no one is watching. In your future endeavors, always remember one thing; Do the right thing when you know no one is watching.
During my career, whether it's during a case or with clients, I have been tested daily. It is my faith that gets me through it. Both my parents were immigrants. My father from Ireland. My mother from Canada. They came to America for a better life, and for that I'm thankful. I think that many of you would feel that same way – a spiritual feeling you have that you have been blessed by your parents, your background, and where you are today.
Sometimes in adversity there are no explanations. I am like anyone. I have the same shortcomings. We are all human. I find myself often asking the question why when confronted with adversity. Why would someone do something like that? I'd like to know the answer. There was a French poet who once said that adversity tempers the human heart in which it finds its true meaning. If you think about it, we've all gone through tough times. Nobody likes to hear about your tough times. Yet if you think you have gone through tough times, you may want to stop by a hospital. Go to the children's care unit or the cancer unit. Or volunteer at a soup kitchen, or visit those who have suffered addiction and have not been able to beat it.
You might see how fortunate you have been, and that you are receiving a legal education where you can help people in a very real way. It is through your faith and your faith tests that you grow. I know we have all suffered loss, but if you can fall back on your faith, I think you're ahead of the game in life.