Dean's Fellow Adriana Burga: Know Yourself and Your Boundaries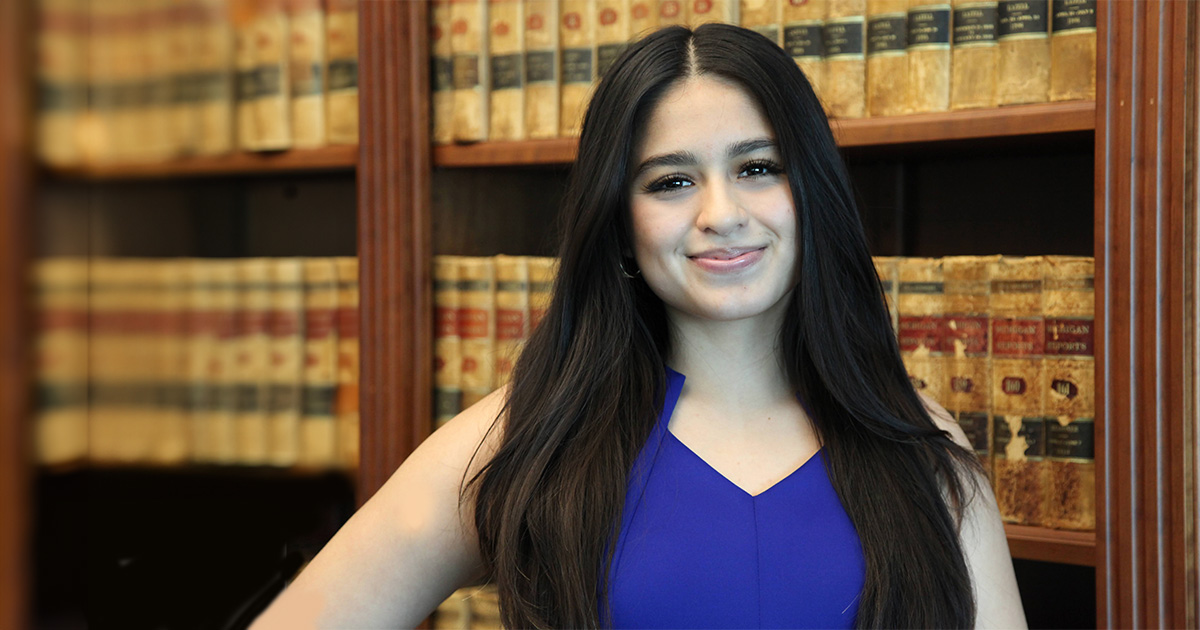 As hard as it was to leave family and friends in Los Angeles, California to attend Cooley Law School in Lansing, Michigan, Adriana Burga knew it was the right decision. She also knew it wasn't going to be forever since she planned to return to her home state but knew in her heart that she needed to be in a place where she could "settle down for a little bit and take a break from big city life" for law school.
"I believe that you really have to know yourself when making your best decisions," shares Burga. "You need to know your capacity to stay focused on critical information without becoming distracted and to set healthy boundaries. Law school is a big-time commitment, and it needs to be a priority."
SOUL SEARCHING
There were other factors that also played into Burga's decision to attend Cooley, like the fact that Lansing was so affordable, at least when compared to the sky rocketing cost-of-living in California. Not to mention comparing the commute to and from Los Angeles vs. the casual 10-minute drive to the Cooley campus in downtown Lansing.
"That physical distance was one of the reasons why I chose Michigan, and I really loved the small city vibes," smiled Burga. "I enjoy the greenery, the open fields, and the drives are very peaceful. It's not the hustle and bustle of Los Angeles traffic. I appreciate the time I get back. In Los Angeles I had an hour and a half commute in the morning, plus an hour and a half at night, and those three hours every day added up."
That kind of intentional thought process helped Burga set her own boundaries to find success in law school. She wanted to make sure she was somewhere she knew she could succeed – somewhere she felt welcomed and comfortable.

LAW SCHOOL BOUND
Since attending Pepperdine University in Malibu, California, with a major in political science and a minor in sociology, Burga had an interest in the law. But it was one class that moved her into the decision to pursue a legal degree.
"I took a class called Social Action and Justice, and it exposed me to ideas that I never knew anything about," recalled Burga. "It opened my eyes and made me think about how I might be able to contribute to making relevant change, and how I could make a difference in others' lives. That was it! I was going to law school."
Burga had experience working for an employment law firm when she started her law school search. What she discovered was Cooley Law School's evening and weekend program really appealed to her because she wanted to continue working while she went to law school. Cooley Law School was a good fit for her.
"I started law school during Covid, so there were a few ups and downs in the beginning learning the law remotely. It was a hard time for everyone, but now that I am a 3L, I can say that I am happy that I landed at Cooley and very grateful for my experience."
SHARING INFORMATION
Back at the start of law school, Burga made sure she connected with the right people to set herself on a path to success. She met up with a number of upperclassmen who all were welcoming and happy to pass along advice and suggestions.
"Students were more than willing to share tips, tricks, and information. They even gave me a heads up about some classes, what they looked like, what worked for them, and what mistakes they made. That helped me a lot."
For Burga, being a Dean's Fellow has allowed her to give back in the same way. "Whatever I can do to help set a student up for success I will do," declared Burga.
She especially enjoys helping fellow students who are working or have families. Burga knows what it's like to have too much on her plate. For her, it comes down to managing your schedule.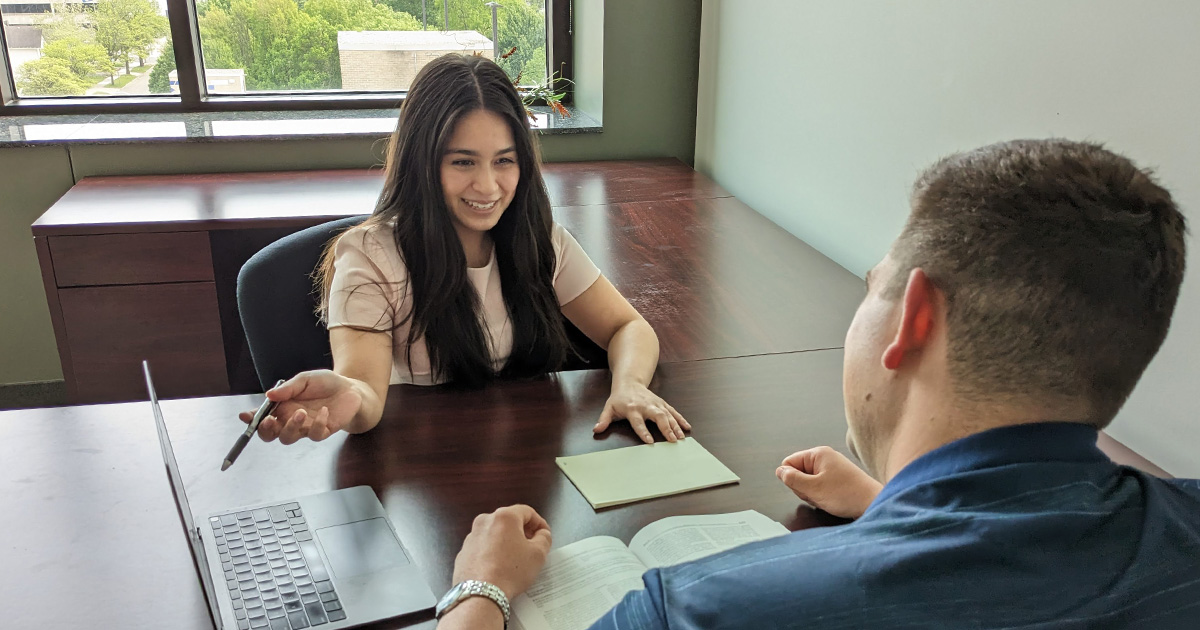 "I have helped and supported various students through many things, like multiple choice, outlining, and time management," explained Burga. "Students who are working and going to school full-time especially need to do this well. When I hear back from them that my suggestions have helped, that means the world to me."
Burga recently enjoyed being part of the Women's Lawyers Association Michigan leadership class where upper classmen like herself got to share success tactics with new students in a bootcamp.
"The bootcamp was an opportunity for us to share our knowledge and experience with them about what it's like to be a law student. We shared advice on what to expect in their first term of law school. We answered questions about seeking scholarships and opportunities they should take advantage of going forward. We explained how they would need to set boundaries with people so they wouldn't sacrifice too much during law school. It can be complicated but I truly enjoyed being part of the bootcamp project. I got to meet so many amazing and intelligent women."
THE FUTURE IS BRIGHT
Burga knows that she plans to head back to sunny California to start her legal career, and to reconnect with her family and friends.
"I grew up in Los Angeles. It's my home, and I want to start my journey there. Working in the legal environment before, I know what it's like to be a law clerk, a legal assistant, and a trial technician. I really enjoyed going to the courthouse and assisting with exhibits and the technology aspect of showing exhibits; it was an inspiring process."
Burga has participated in moot court and mock trial team competitions while at Cooley to bolster her skills in the courtroom.
"Presently, I'm on the Jessup international moot court team, and I am developing and honing my litigation skills," said Burga. "I am learning so much by watching trials, watching attorneys as they use open-ended questions, or direct or cross examination tactics. I want to develop those oral advocacy skills, then take what I have learned into practice."
As far as what Burga wants to do after graduation, she's leaving her options open, but feels it may be in the area of Tort law.
"I really enjoy tort law," admitted Burga. "Anything personal injury, anything wrongful termination, discrimination in the workplace. I've done a lot of work currently with survivors of domestic violence and sexual assault. I would love to support survivors and clients who need legal help."
FREE TIME
In her rare free time in law school, Burga likes to be outdoors hiking with her dog, Odie, walking the trails and open fields.
"There's not a lot of greenery in Los Angeles," stated Burga. "You have to drive a long way to find what I can find here just walking out my door. I've explored a lot of trails with my dog in my time in Michigan. He loves going on hikes and swimming in Lansing Lake."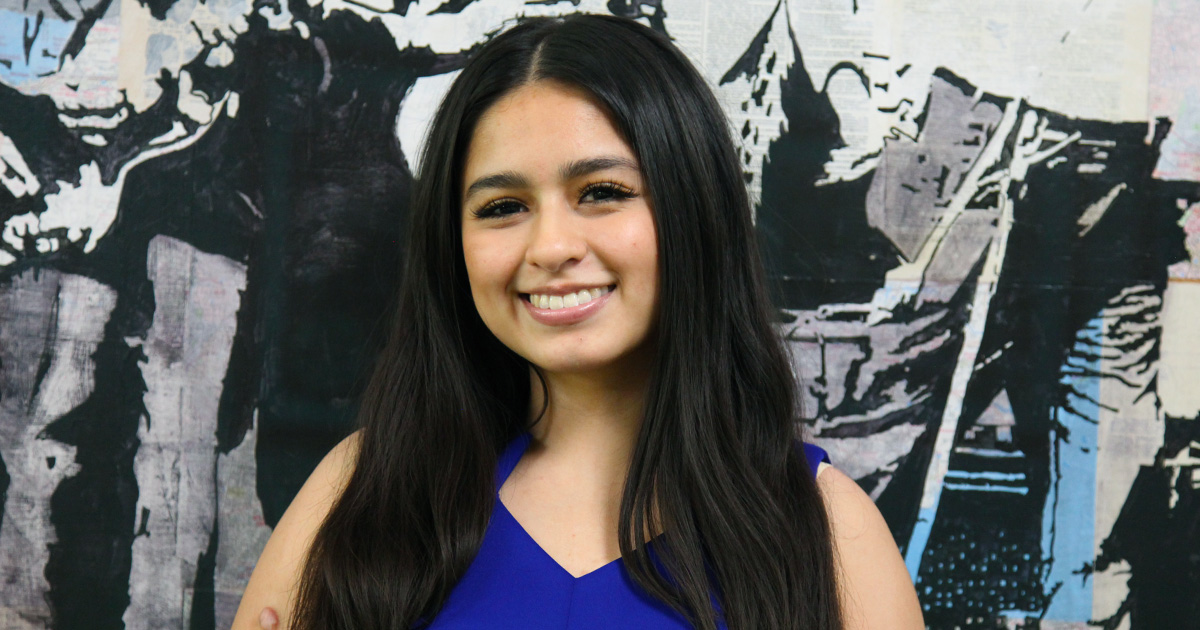 One piece of advice Burga likes to share with law school newbies is that you shouldn't give up who you are before law school. You should always retain at least one hobby.
For Burga, that hobby is dancing. She has been a competitive dancer for most of her life and looking forward to getting her dancing shoes on once she settles back in California.