Cooley Security Guard an Institution and a Treasure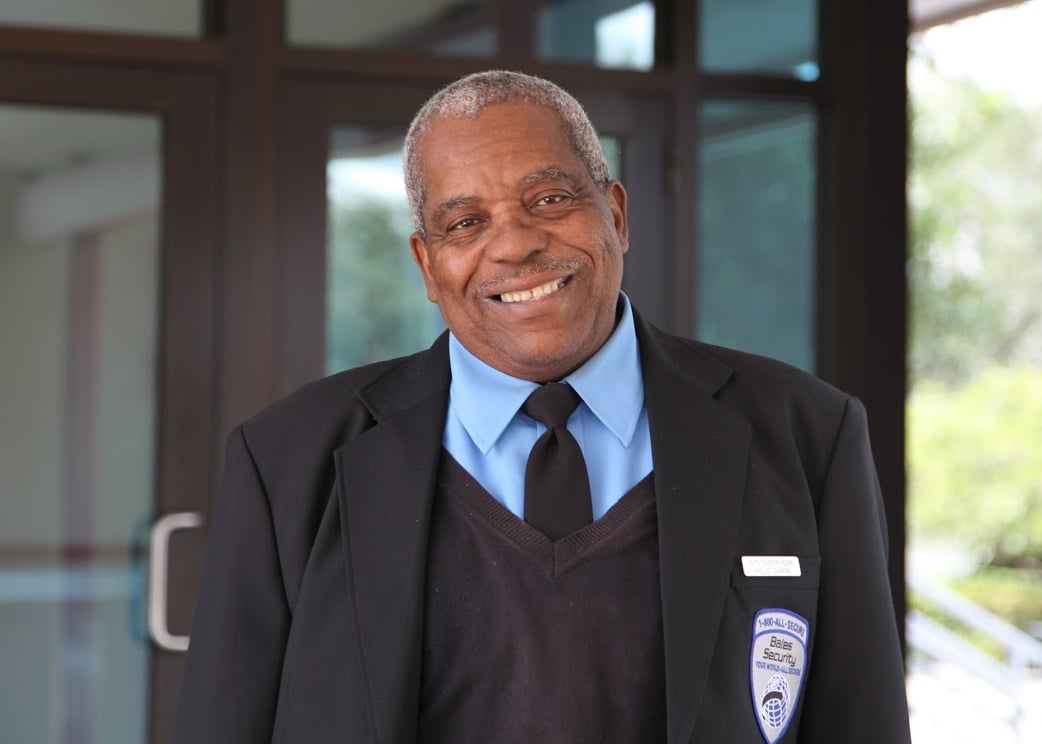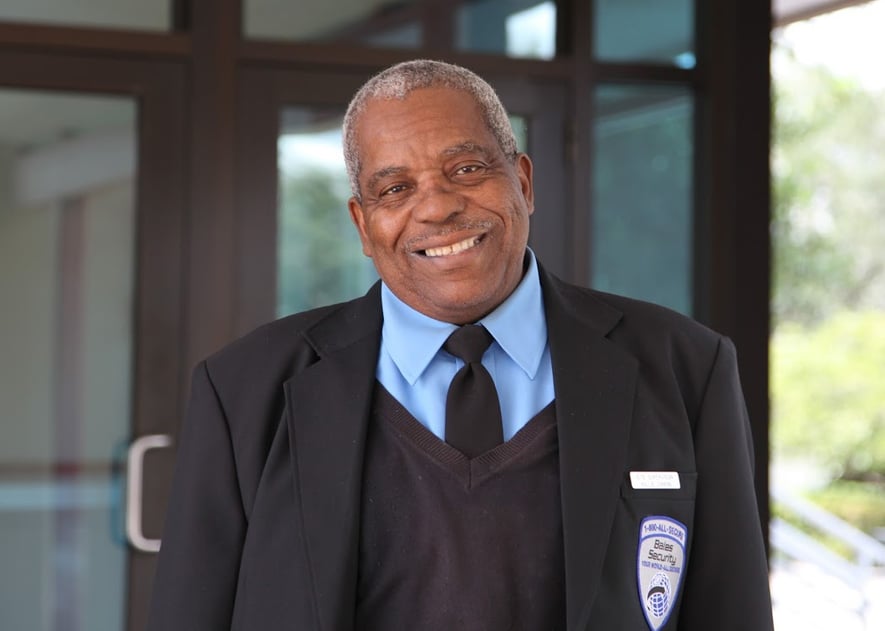 Aspiring lawyers are often drawn to the law because it offers the opportunity to serve others, to make things right and to help those who cannot help themselves. But as law students become immersed in the rigors of their education, they sometimes find they are the ones who need a shoulder to lean on. At Cooley's Tampa campus, that shoulder belongs to Willie Damon.
Damon is a campus security guard who is "the face" of the law school every time you enter the facility. He started out at Cooley during construction and has been there ever since, welcoming new students, befriending those who need a listening ear, and wishing graduates well as they move forward in life. As the father of five daughters, a son and grandfather of 12, he's a natural when it comes to giving.
In fact, the inclination to serve others is more of an occupation for Damon, who went into the Navy in 1969, then the Army and then held a range of jobs in construction, retail, and shipping. When the opportunity arose to work at Cooley, he said it sounded like a good fit.
"When I got into security, pretty much they picked where you're going to go," said Damon. "But when I found out there was an opening here at Cooley, I said 'I think I'm going to like that' because I like working with young people, and I like to hear things about young people. Here I've experienced a lot of young people at different phases in their lives."
Damon's veteran status is also of great benefit to enlisted and veteran students and those considering a military career. His experience and honesty have helped many students have a better understanding of the armed services and what that life was like decades ago.
"I've seen a lot of people that have been in service and they've asked me things about service. Some are first timers; some have been in service for a while," he recalled. "And I tell them service is not like it used to be when I was in there. I came up during the draft and it was pretty much 'you're going to go into service no matter what.' So you pretty much just went head-on and did your duty."
To every student, however, Damon is just there for them, many of whom have come from other cities and states to attend law school. Damon provides for them by treating them like family, lending an ear and giving them a sense of security that goes beyond a uniform. It's easy for him to make them feel special, because to him they are.
"I've had students who have adopted me like a daddy or an uncle. So I try to be a family member for them if they want to talk and what have you," he said. "I've had a lot of students that do come in and they do have issues that are going on in their lives. And they pour their heart out to me and I try to help as much as possible."

But it's not all one sided and Damon is grateful for the students who also take an interest in him, his life, his experiences, and his feelings.
"A lot of the young people do come and ask me questions about things that I have done and I appreciate that. And I also ask them about things," he noted. "I have gained confidence with a lot of the students there. And I appreciate that too. So I can tell them what I think about certain situations. You don't have to accept my opinion, but I can tell you what I think about it."
He also offers words of wisdom for those just beginning: stay the course.
"I tell them, you know, a lot of you guys are going to succeed. Some of you may not make it. But if you give all you've got, and you do your best as far as schooling, and you study, and you say, 'I've done the best I can,' you have nothing to be ashamed of," said Damon. "Many of you will succeed but learning the law is not for everybody. But if you want to do it, and you have a desire to do it, and you are doing the best you can, you will see whatever results are out there for you."
And what better role model to follow than a man who has changed security companies three times to stay at Cooley, one who truly loves his job and the people he gets to meet.
"I love the job and I wouldn't trade it for anything," confirmed Damon. "This is pretty much my last career and I just enjoy it. It's relaxing, it's comfortable and I get to help people as much as I can."