Hassan Abdallah was born and raised in Dearborn, Michigan, but knew his story started long before then. As a U.S. citizen, he started to realize as he got older what a sheltered life he had lived. Listening to stories his parents told about how they struggled and sacrificed to come to America, he recognized that it was through their suffering that he is the person he is today. His father left Lebanon first, in the name of freedom and opportunity, but it was his mother's selfless actions that taught him humility and gave him the work-ethic he has today. His mother had to leave everything she knew, and nearly everyone she loved, to follow her husband to a place she only knew by name.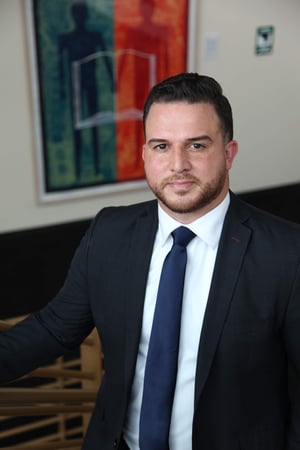 "Last year I had the opportunity to visit my parents' home country in Lebanon," reflected Abdallah. "Seeing my grandmother for the first time was emotional. Sitting with her and hearing the stories of my mom growing up, making traditional Lebanese dishes, and visiting family I never knew I had was amazing. It suddenly occurred to me that my mother's entire family was still in Lebanon. Not even a distant cousin came to the United States, whereas my father's side all made it over."
It became even more clear to Abdallah that life in the United States wasn't the norm for other places. For many, the difference is night and day. He remembered flying into Beirut ad thinking it was not unlike any other metropolitan city, but even a short two-hour drive to the border countries of Palestine, Israel, and Syria, he could see there was a drastic difference in the standard of living. People living in border countries were there with no electricity, no running water, and no voice in the government.

"I remember walking the neighborhoods and villages where my mother grew up," recalled Aballah. "Many lived in extremely poor conditions. Yet, I found such beauty in Lebanon. The stone walls, gravel road sounds, family members drinking tea and playing cards late at night; it was one of the most beautiful places I had ever seen. I realized then how much my mother gave up, how much I owe her, and how much I take for granted living in the United States. It wasn't that she gave up material things, however, she gave up the one part of her life she has taught me to cherish the most – family. She learned to sacrifice at an early age when she lost her father. That visit was one of the most humbling experiences of my entire life, and I'm forever grateful for it."
One of 11

Number 10 of 11 kids in his family, Abdallah and his six sisters and four brothers, have what some would call a familiar immigrant story to tell. Their father in 1951, at the young age of 15, and with an eye toward making a better life for himself, made the move to the United States to seek work and housing for the greater family. He became engaged in his community, which meant being involved in local politics, nonprofits and area organizations. He wanted to improve the lives of those in the city of Dearborn's South End where he and many immigrant, refugee and poor families lived.

"My father was the first South End community council president," said Abdallah proudly. "He worked to create programs like Access, which is the largest Arab-American driven nonprofit in the country. The organization instructs and teaches immigrants and non-English speaking citizens about American norms and how to do rudimentary tasks - things like paying bills and signing up for cable and water services. He got involved in the neighborhoods to nurture the culture, build community in religious institutions, and do everything he could so others saw their home there as a safe haven.
Abdallah's family struggled to learn the new culture and even used public assistance at first. His mother had a hard time learning the new language, communicating the best she could. But his father adjusted fairly easily having been in the United States for many more years. He built a good, long career with Chrysler, retiring after many with the car manufacturer.
"He passed in 2007 when I was very young," said Abdallah. "In the years since then, I have come to appreciate the importance of my immigrant story and his vision for our family. I think that is where a lot of the grit, grind, and commitment I have comes from. I want to leave a legacy for those who will come after me. I want my kids to be able to see, hear, touch of the work I did not for my own legacy – but so that they can do the same for their kids and those who will come after them. My father's work has left a genetic impression on me. Often, I am approached by his friends, or friends of the family who knew him and they tell me how much I remind them of him. No award, certificate or recognition can fulfill the feeling that gives me. To know that he's looking down on me, while I look up to him and that I can leave a trace of him here through my work – that is everything to me."

Choosing to be a lawyer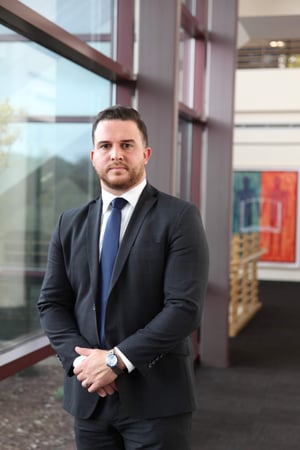 Abdallah's decision to pursue a career in law was one that evolved over time.

"There's a funny joke in the Arab-American community," smiled Abdallah. "They say, 'You have three options; you can become a doctor, a lawyer or an engineer. Anything else, you are a failure!'"
Although Abdallah's decision to be a lawyer fell within those guidelines, it wasn't the career most of his family turned. His oldest brother became a doctor, while the rest of his siblings gravitated to other careers in the medical field, including dentistry. Abdallah actually tried out the dental field for a short time, until he realized it would have been a career to only please his family.

But it was that experience that was the catalyst in his decision to pursue a legal career.
"After being approached by the Arab Student Union during my undergrad, I became very involved with that organization. I learned that I had a great passion and desire to work in the political, legislative and legal field. I knew I could make an impact in that space. I understood the struggle of our people, especially after the 1970s when the largest influx of Arab-Americans came to this country. I was driven to scouring books, policy and legislation."

It was then that Abdallah switched his major to Economics and Policy, then looked to take the LSAT after graduating from Wayne State University. He knew he had plenty of options, but he also knew he wasn't going to be the traditional attorney.
Flexible schedule options and great faculty

As much as Cooley's flexible scheduling options checked a very important box for Abdallah, it was meeting the law school's faculty that locked down his decision to choose Cooley. He noticed how much they were involved in their communities and always willing to help in any way. He also appreciated that the professors brought to the table actual experience from years of working in established industries. It made all the difference in law school, and now as a graduate of the law school.
"Even now as a graduate, I hear their voices every day," stated Abdallah. "I believe having professors who truly have your back in and outside the classroom, then continue to support you as a graduate, is something you just can't place a value on. For me, that was the biggest reason why I chose Cooley."
That learning experience stoked a strong sense of commitment and drive to give back to others, including giving sage advice to students on what kinds of things they can do to find success in law school.
"I think it's extremely vital to your success as a law student and as a professional to establish solid discipline and study habits," advised Abdallah. "I played and coached sports throughout my entire life, and I always would take a sports mentality, whether it was in the classroom or in the workplace. I tell my players exactly what I would tell first-year law students. 'What you do at practice is what you're going to do in the game.' In other words, you need to be committed to your studies and to learning. If you find yourself saying 'I'll push this to next week' then you don't understand the kind of discipline it takes to make it through law school and to be a lawyer. When you're in undergrad, you are building toward law school. Then when you're in law school, you're building towards a career. Developing core characteristics such as diligence, transparency and time management are essential to your success as a law student and your career after law school."
Figuring it out means trying things out

As much as Abdallah knew he wasn't going to be a 'traditional' lawyer, he also knew he needed to try a few things on for size to figure things out. Some of those experiences taught him very quickly what he didn't want to do. Other things made sense and felt right. One thing Abdallah firmly believes is that "you have to create the career you want to have – nobody will ever do that for you. And that will only come through hard-work and an unwavering commitment to defining your own success.
"If you want to be a person with a law degree that does social services work and create an organization, then that is what you should do," explained Abdallah. "My work experience is rooted in organizational compliance, dealing with a lot of regulatory audits, government affairs work, government contracting. It's where I found my strong suit. It's where I found a skill set that I am super interested in. I never that I'd be the guy that reads all the compliance journals, and to be honest, I am addicted to it. That's the fire that gets me up in the morning. I do my best to take that same level of passion to everything I am involved in."


Today, Abdallah works on the Contracts Team for the Legal Counsel at Jack Morton Worldwide in Detroit, and includes clients like Buick, Chevrolet, Chevrolet Motor Sports, and Cadillac. His work includes working with promotional clients such as IMG, Nationwide Insurance, Nike, and the NCAA. He also is the Co-Founder & Executive Director for SAFE Substance Abuse Coalition.
"It's pretty exciting working with some of our promotional partners in the sports and entertainment industry," smiled Abdallah about his work with Jack Morton. "I'm a sports junkie, especially football. Imagine how exciting it was to be on a call with the Green Bay Packers legal counsel! It was amazing. I love what I do."
"I don't think there's a certain position or seat or title that I would say is a future goal for me, but running for public office has been something I would consider in my future."
The reason Abdallah started SAFE was personal and close to home. His older brother struggled with addiction-related issues for nearly 20 years. But it also greatly impacted the family.
"Seeing what addiction did to our family and to our mother was something I wouldn't want any other mother to go through," shared Abdallah. "A monster like addiction can be crippling and often life-ending. SAFE has been running for almost three years now and we now can fill a room with 200-250 people, which is amazing considering I could hardly get 20 people to come in its first year.
"We now have a membership of over 1,000 people. This includes healthcare professionals, lawyers, judges, social workers, probation officers, law enforcement officers, and your everyday citizens. Our community forums begin by teaching people how to deal with addiction and addiction-related issues, understanding common prescription related issues, and how to deal /cope with addiction. We work with healthcare professionals on how they can have more transparent conversations and put into place better internal practices about prescribing potentially addicting-medications. We work with Pharmacists on good practices versus when they can prescribe to in their pharmacies to ensure that they're not just filling scripts blindly. We also started a legislative advocacy committee to work with lawmakers on implementing, amending, and sometimes creating brand new legislation in answer to the opioid epidemic."
Abdallah added that much of the problem lies in the accountability we place with healthcare professionals, insurance companies, pharmaceutical distributors, along with holding elected officials accountable.
Putting lives before dollars
His passion and efforts haven't gone without notice though. Abdallah was the recipient of the Salute to Healthcare's Breakthrough Award by the Greater Detroit Area Health Council. The Breakthrough Award recognizes an individual or organization for their impact on the health and well-being of southeast Michigan through community engagement and innovation.
In the words of Beaumont Hospital Dr. Haidar Al-Saadi in his nomination for Abdallah, "I can see the need for leaders like Hassan to help pave the way for organizations like SAFE, and we need to encourage more individuals to emulate what Hassan has done in giving back to the community."
Abdallah had this to say; "The ability for these individuals to be empowered and find a place in society in which their skills and talents are being utilized is imperative to the success of our ability to fight this epidemic. Many individuals choose to use harmful substances simply because of the fact that they cannot find a job. We've failed as stakeholders if we cannot overturn that."

Trying to balance all he does in his work, his non-profit organization, and with his recently married wife, Samar, a healthcare professional herself (PA at St. Joe's in Ann Arbor), hasn't been easy, but knowing he is supported means everything.

"I think that's kind of where I am at now," reflects Abdallah. "I took a little bit from all of my classes at WMU-Cooley into my career. Even though much of what I studied may not be directly applicable today, I believe that what you do as a law student or graduate or lawyer, should never be limited to what you learn in a textbook or classroom. What's important is that you pursue and mold your life around a career you are skilled and passionate about.
"Every day I look to challenge myself and seek that next mountain to climb. I believe that one should re-define success based on what it means to them, not societal norms. Share your feelings, thoughts, and create pockets of communication within your communities that promote and nurture self-growth. Don't mold your career around money.
"My mother always tells me 'money will come and go, and you take nothing to your grave – but your legacy and your dignity – that lasts forever.' I think if you can build a foundation in your life around a moral lesson like that – you'll be just fine. Work hard, stay humble and never settle. Everything else will come in due time."