Innocence Project's Efforts Free Detroit Man After 42 Years of Wrongful Imprisonment

Almost 42 years after being sent to prison for robbery and murder, two crimes he didn't commit, LeDura (Ledora) Watkins was released on June 15, 2017, thanks to the efforts of the Cooley Innocence Project. Following a motion for a new trial, the Wayne County Prosecutor's office agreed to vacate the judgment of conviction and dismiss all charges in the 1975 murder of a Detroit woman. Watkins had spent more than two-thirds of his life in prison for no reason.
Watkins was sentenced to life without parole on April 15, 1976 at the age of 20. The evidence used to convict him was based on a single hair. That evidence, thanks to modern technology, has been deemed flawed by a new FBI standard for hair comparison. This type of hair analysis was used in more than 2,500 cases during two decades, all of which required review. In addition, lab analysts were also found to have provided false information in testimony or lab reports during the period.
After reviewing the circumstance of his case, the attorneys with the Cooley Innocence Project filed a motion for a new trial on January 19, 2017. The prosecutor's office agreed that the hair comparison evidence used against Watkins did not meet today's greatly improved and more reliable scientific and legal standards.
"Hair comparison is not based on science; it is simply a lab analyst's subjective opinion and has no place in our criminal justice system," said Marla Mitchell-Cichon, director of the Cooley Innocence Project. "This is why a state-wide review of hair comparison cases is critical."
Mitchell-Cichon commended Prosecutor Kym Worthy and the Wayne County Prosecutor's office for working with her office to resolve the case. The prosecutor's office agreed that the new scientific standards are "newly discovered" evidence. She also noted that over the years, Watkins never stopped fighting for his freedom. He never gave up on the belief that the truth would come out. His family also got their wish; he will attend the annual family reunion in August.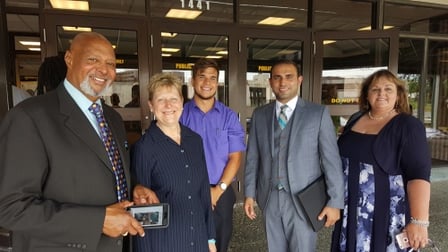 According to the National Registry of Exonerations, at the time he was released, Watkins was the longest-serving wrongly convicted person in Michigan. Cooley Law School caught up with Watkins one year after his exoneration. Click here to read what he had to say.
About the Cooley Law School Innocence Project: Cooley's project is part of the Innocence Network, which has been credited with the release of more than 350 wrongfully accused prisoners through the use of DNA testing. The Cooley Innocence Project has screened more than 5,500 cases since 2001 and, in addition to Watkins, is responsible for the exoneration of Kenneth Wyniemko (2003), Nathaniel Hatchett (2008), and Donya Davis (2014). The Project is staffed by Cooley Law School students and Western Michigan University undergraduates, who work under the supervision of Cooley attorneys. Staff Attorney Eric Schroeder and Legal Intern Wisam Mikho served as lead counsel in this case. Those interested in donating and supporting the work of the Cooley Innocence Project can email innocence@cooley.edu