During the month of October, the WMU-Cooley Law School Innocence Project is doing its part to build awareness about wrongful conviction and its human impact. Part of their efforts included bringing back and giving voice to those exonerees who found freedom through the work of the WMU-Cooley Innocence Project and the national network of advocates working steadfastly to right this wrong.
LeDura Watkins & Darrell Siggers
LeDura Watkins, WMU-Cooley's most recent exoneree, was released after serving almost 42 years for a robbery and murder he did not commit, and Darrell Siggers, another Michigan exoneree, who was released from prison after spending 34 years behind bars for a murder he did not commit, kicked things off early with a speech to WMU-Cooley students on Sept. 12 at the law school's Lansing campus.
WMU-Cooley students were riveted listening to both speakers, and asked many questions of the exonerees, including how they were able to stay hopeful and forgive after an unjust system wrongfully took away their freedom for decades.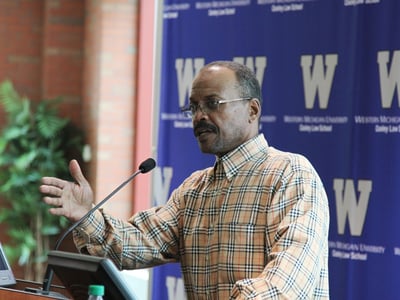 "I think it's easy for a person in prison to lose themselves, especially if they do a lot of time," shared Watkins. "But I think a lot of people underestimate the power of the human spirit. I hear that a lot, 'I don't know how you did that,' well, you will find out that when you are put in adverse situations, there's something inside you that rises, like it did in me. It powers you to go on and to be better. I think that's what life is about. It conditions you to be better."
Some of the biggest challenges for Watkins started with adjusting to life on the outside. Right now it's the simple things that make Watkins happy, like sitting on the porch and enjoying family. He says he is no different than anyone else. He doesn't have time to be bitter. He also noted how much he owes those who helped, especially the WMU-Cooley Innocence Project and the commitment and heart of its students and director Marla Mitchell-Cichon.
Law students also listened to Darrell Siggers tell his story about his heartbreaking path to freedom. They learned that listening and preparation were two things that made all the difference in his long quest for justice, recalling the day the charges were dropped and he walked out of prison in a Michigan Radio interview.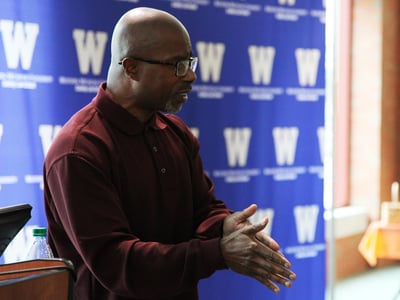 "As I stood there, my heart was pounding," Siggers said. "We were very hopeful that they would do that, because we knew what the evidence was, and we knew that I'm innocent. So we were just waiting, praying, and hopeful. So our faith paid off, and all I can say is I'm truly, truly grateful."
He continued by saying, "I just want to live life with my family, enjoy my freedom, and just be thankful and grateful to God and all the good people that helped in this improbable journey."
Siggers has dedicated his life to helping others like himself. He is now writing a book about what a person should know before hiring a lawyer.
Watkins was exonerated by the WMU-Cooley Innocence Project on June 15, 2017. Siggers was represented by Michael Waldo of the State Appellate Defender's Office and exonerated with the assistance of the Wayne County Conviction Integrity Unit, on Oct. 19, 2018.
Ken Wyniemko & Donya Davis
For International Wrongful Conviction Day (Oct. 2), a day dedicated to raising awareness of the causes and remedies of wrongful conviction and the tremendous personal, social, and emotional costs of wrongful conviction for innocent people and their families, both Ken Wyniemko and Donya Davis returned to WMU-Cooley Law School to tell their stories and thank the WMU-Cooley Innocence Project, especially the clinic students for their tireless work.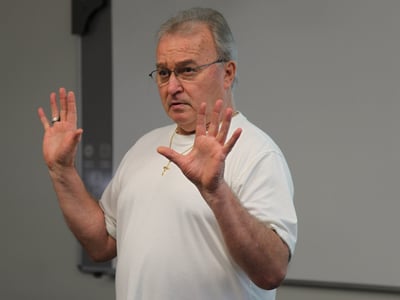 The WMU-Cooley Innocence Project raffled off copies of author Bob Henige's book about Wyniemko, "Deliberate Injustice – The Wrongful conviction of Ken Wyniemko." Netflix is presenting a three-part series, based on the book, to be released in early November. Wyniemko served almost 10 years for crimes that he did not commit. It was later shown that police and the prosecutor withheld evidence that would have proven him innocent.

Davis served almost seven years for crimes he didn't commit, even though pre-trial DNA testing excluded him. Convicted on the basis of mistaken eyewitness testimony, Davis admitted that hope was hard to come by during his incarceration.


"I didn't think I was going to get home until I met Marla," Davis said. "Because of God and Marla and the school, I'm home."

Wyniemko and Davis urged the crowd of students, project attorneys and staff, to continue pursuing justice. Wyniemko said he hoped to light a fire under people to be diligent in attacking the problem on all fronts.

Davis looked out at the project students working in one capacity or another to free the wrongfully convicted, and said "You are our heroes."

The mission of the WMU-Cooley Law School Innocence Project is to provide legal assistance to persons who are imprisoned for crimes they did not commit and to train students in best practices. Since its inception in 2001, the Project has screened over 5700 cases and is responsible for the exoneration of four men--Kenneth Wyniemko (2003), Nathaniel Hatchett (2008), Donya Davis (2014) and LeDura Watkins (2017). Click here to support its important mission.