A Look at the Civil Side of Fraud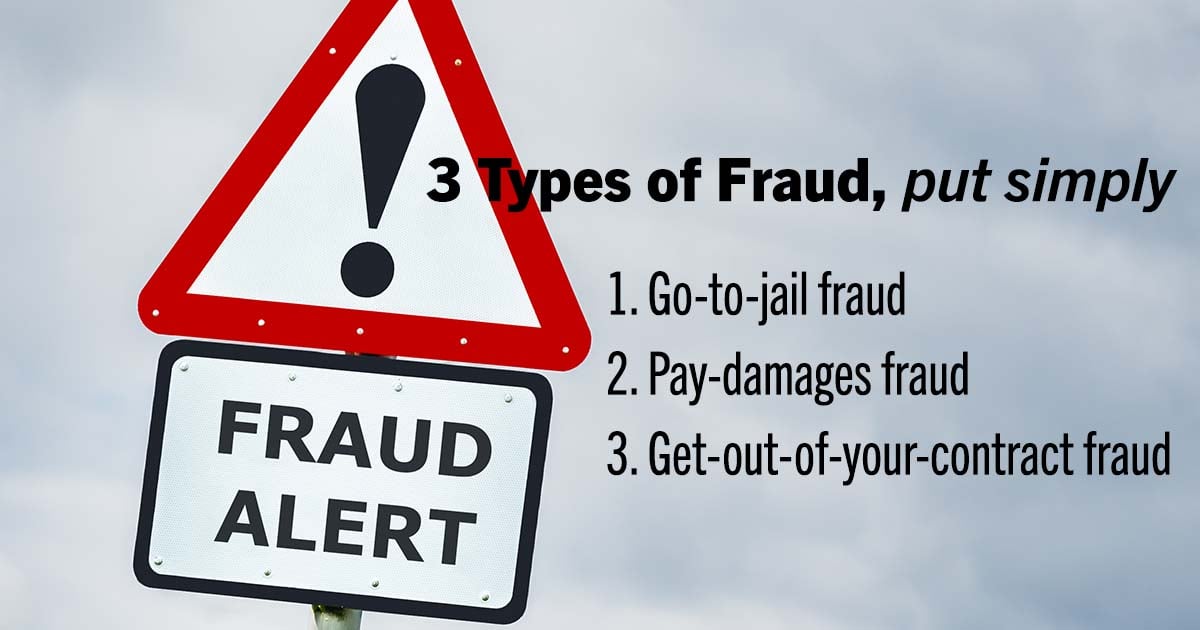 Fraud is the deliberate misrepresentation of a material fact, made with the intention of inducing reliance in another person, which causes a loss of money or property. It can have both criminal and civil consequences.
The recent conviction of Theranos founder Elizabeth Holmes on four counts of fraud has drawn public attention to the criminal consequences of fraud. There has already been one documentary, "The Inventor: Out for Blood in Silicon Valley" (2019). Now Hulu is about to premiere a dramatization, "The Dropout." A film version with Jennifer Lawrence as Holmes is reportedly in the works.

Fraud actually comes in three varieties, criminal, tortious, and contractual. Or, in plainer language: Go-to-jail fraud, pay-damages fraud, and get-out-of-your-contract fraud.

This blog post explains the ramifications of the latter two types, both civil in nature. It comes from my entry "Fraud" in the Encyclopedia of American Law (2002).
THE TORT OF FRAUD
Fraud forms the basis of the tort of misrepresentation, a civil action sometimes called deceit. The victim is entitled to recover compensatory damages based on one or another of three measures.

The most common measure is "out-of-pocket" damages, being the difference between the price paid and the actual value of the item received. A second, more generous measure is "benefit-of-the-bargain" damages. That's the difference between the value of the item as it was represented and its actual value. (Michigan is a benefit-of-the-bargain jurisdiction.)

If the item can be made to correspond to the representation, a third measure is the cost to do so, or "make-good" damages.

Because it is a tort, fraud may also be the basis for punitive damages. They are awarded to punish and deter intentional wrongdoing. (Instead, in Michigan, exemplary damages are recoverable for malicious conduct.) If the misrepresentation was merely reckless, rather than intentional, punitive or exemplary damages are not recoverable.
CONTRACT FRAUD
Fraud is also a basis for several forms of judicial relief in contract law. It may provide grounds for rescinding a contract, for recovering restitution of what was exchanged under a contract, or for reforming the terms of a contract to conform to representations made.

To rescind a contract is to "undo" it. If one party to a contract has been misled by the other party's fraud, a court can order it rescinded. If the victim of the fraud has paid money or transferred property under the contract, a court can order its restoration to the victim, a remedy called restitution.

In the alternative, under certain circumstances a victim of fraud in the terms of a contract may ask for reformation. Reformation is a remedy in which the court literally rewrites the contract language to conform to what was represented.

In addition, a number of federal and state statutes provide remedies for specified fraudulent acts. For instance, one Michigan statute imposes treble damages for odometer fraud. Several permit recovery of both damages and reasonable attorney fees. (In most civil trials, litigants must pay their own legal bills.)

For detailed information on civil remedies for fraud, consult Damages and Remedies in Michigan, 4th edition (ICLE), Chapter 3(V).

Fraud: it's more than just a crime.

Distinguished Professor Emeritus Otto Stockmeyer taught Contracts and Remedies for more than three decades at WMU-Cooley Law School. Various aspects of fraud were covered in both courses. He was editor and co-author of the 2ed and 3ed editions of ICLE's Damages book.