Zack Hugg: Cooley Law School Connections Instrumental in Career Climb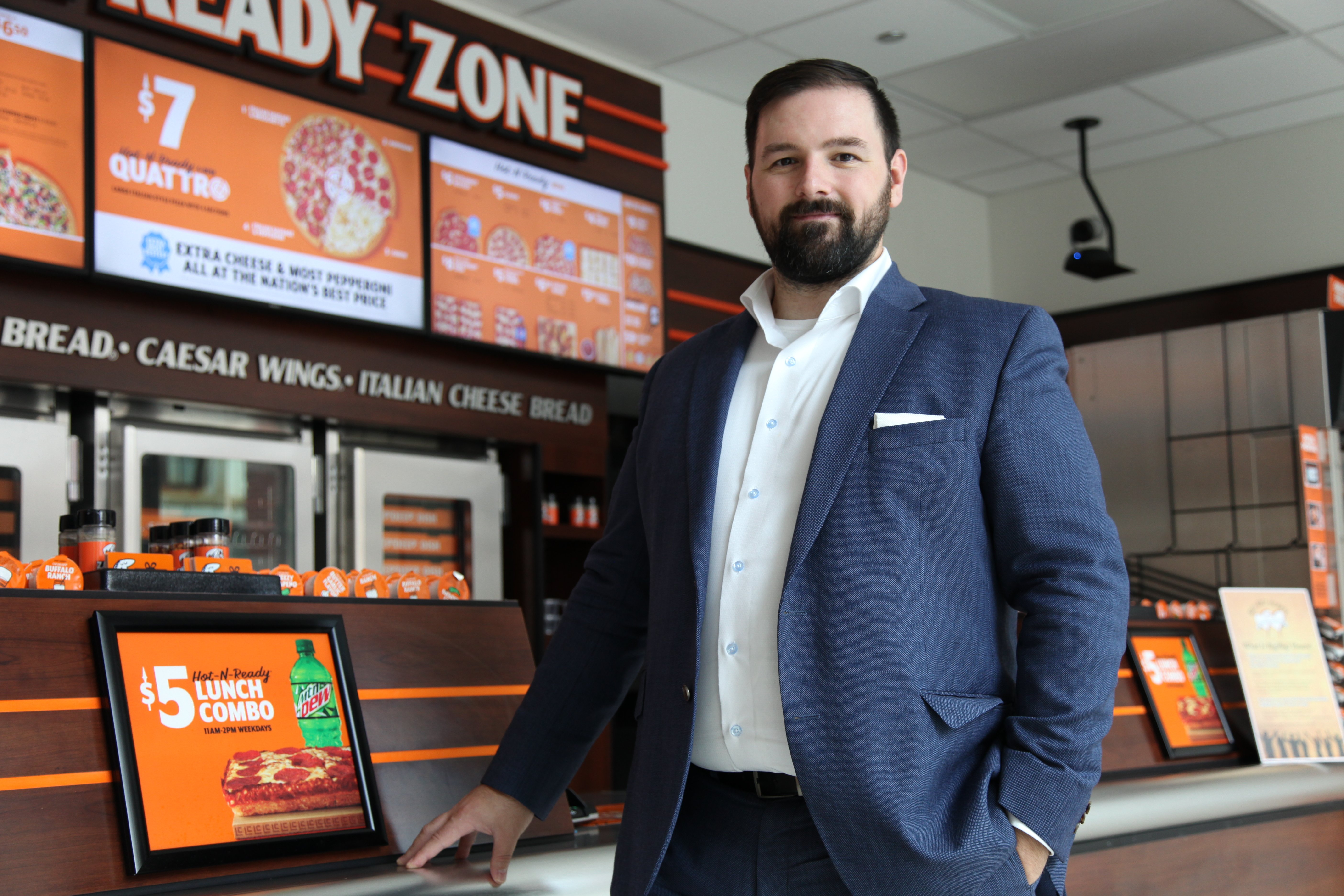 When Zack Hugg entered undergraduate school at Oakland University in Rochester, Michigan, he planned to seek a career in the technology field. But, by his senior year, he'd discovered interests in intellectual property and privacy laws that led him to alter course and go to law school.
He applied to a variety of law schools and was accepted to a large number of them. Already employed, however, and wishing to stay with his job, Hugg limited his choices to those easily accessible to his southeast Michigan home. He ultimately chose Cooley Law School because the flexible schedule meshed well with his existing obligations.
Hugg soon discovered that both the academics at Cooley and the networking opportunities, that is such a part of student life, would prove important to his success as an attorney. Class subjects he previously never thought much about, sparked new interests, and his study groups, that were students of diverse ages and backgrounds, laid the foundation for invaluable post-school connections.
Connections key in Career Climb
"One of the people I met at Cooley Law School turned out to be the connection that led me to interning for a district court judge in Troy (Michigan)."
That internship experience led to a job negotiating contracts and doing a lot of technology work, like licensing software with cloud-based systems at a local law firm. After three-and-a-half years there, Hugg was recruited by Little Caesars Enterprises, Inc., the third-largest pizza chain in the United States.
Hugg's experience working in technology, his academic successes at Cooley, and a strong commitment to staying in Michigan, proved attractive to the pizza giant, and the company brought him on board.
In his position at Little Caesars, Hugg advises business units, covering areas like marketing, IT, the technological side of changes in the law, changes in privacy regulations, and more.
"It's quite a bit of work; cutting edge information, handling things up front, identifying issues. I do a lot of negotiating of technology contracts, whether it's licensing cloud-based products as everything moves to the cloud, vendor agreements, and the business side of things," Hugg explained.
Little Caesars much more than Pizza
Hugg said he was able to hit the ground running when he started at Little Caesars in April doing the licensing side of work, along with vendor management and negotiation. He's been able to grow as an attorney in other aspects of the job, such as negotiating on a global scale and working with Little Caesars' interests in the Philippines, Singapore, Australia, and India.
Little Caesars has come a long way since Mike and Marian Ilitch started the business in 1959 in a little Garden City, Michigan, strip mall. The company, Hugg points out, is now in 24 countries. "Everyone likes pizza," he chuckles.
Not only has the company grown geographically, innovations closer to home keep it in the news as well. Hugg is proud of Little Caesars' recently debuted "pizza portal" where customers can order and pay for their pizza online or through a mobile app. All you do is pop into a designated store and head for the portal.
The portal has a space with the customer's first name and last initial and a little keypad. "You enter the three-digit code or you scan the QR code that gets delivered to your phone. A little door opens, you get your pizza and you go," he explains.
"You don't have to talk to anybody. You can get in and get out, and get home to your family and enjoy."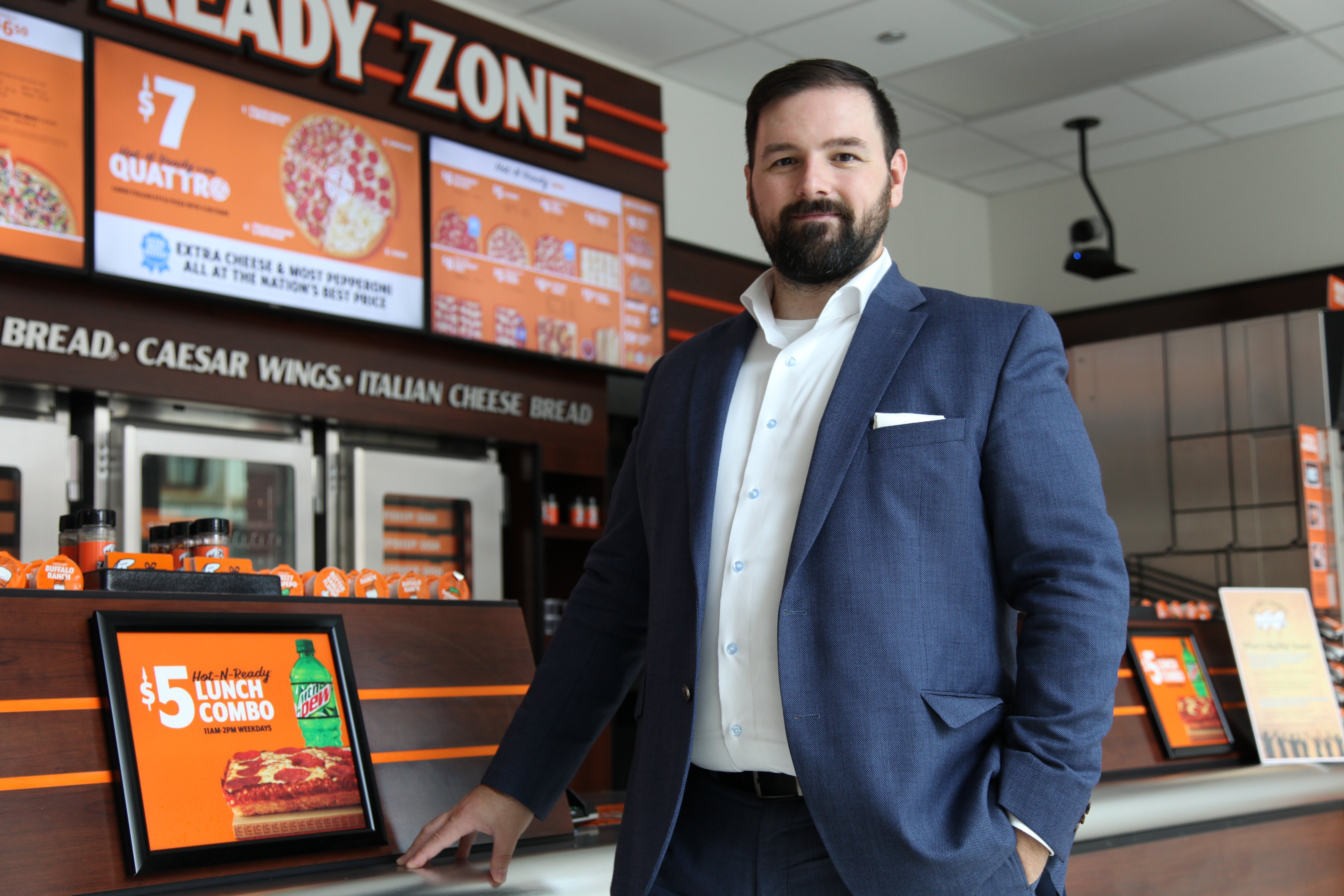 Hugg said the portal is limited to the United States right now, but it's moving into Canada. "From there," he said, "we're going to grow it internationally. One of our biggest markets is Mexico. Eventually, I think it will be a global system."
Attorneys have a variety of choices when it comes to work hours, a good work-life balance and career lifestyles. Hugg is a big fan of balancing work and home. He especially likes how much Little Caesars supports its people.
"Little Caesars has a more relaxed culture — I think that's more of who I am. I like to keep stress in check. It's one of those constant pressures of being a lawyer. We often live stressful lives, and finding the right fit was important to me. It's nice to come to work on a daily basis and really enjoy and love the work that I do."
The consistent schedule allows Hugg to keep family time front and center. Recently married, Hugg and his wife, Heather, often head to northern Michigan to visit her family and enjoy traveling.
There are other perks to the job that prove to Hugg that he's in the right place. Not only is there a gym in the building for staff to use, but they get pizza on a fairly regular basis. Pizza, of course, is one of Hugg's most favorite foods.