WMU-Cooley student Ydelmis Cutino never backs away from hard work, in fact she embraces it. She's on a path to be lawyer, and the sooner the better.
Now 20 years old, Cutino is already in her second year of law school after wrapping up her high school and her undergraduate degree by the age of 18. Ambitious and committed to soaking in as much education and knowledge as she can, Cutino's law school experience has been "so far, so good," as she says, especially with everyone at WMU-Cooley being so supportive of her fast-track timeline.


"I knew law school would be hard, and figured it would be lonely with everyone older than me," started Cutino, "but the fact that the professors were so engaging and the students made me feel so much at home; I was able to settle into the task of learning the law as an equal. The hardest part was figuring out how to balance things in my life outside of law school."


driving in the fast lane
If Cutino has her way, she will be a corporate attorney by age 21 or 22; which makes one wonder what is the driving force behind her motivation to start her career faster than most students. She might say it was the inspiration from her family and the support she has received that has given her the confidence to meet her goals head on.


"I have always wanted to be a lawyer," said Cutino. "I'm originally from Miami; my parents are Cuban, both immigrants. They came to this country to start a new life and to take advantage of all the opportunities this country had to offer. Since I was a very young girl, my parents impressed upon me the importance of education. They would say, 'You don't want to be like us. You make sure education is your number one priority. Being educated is necessary to get you where you want to be in life.'"
She took what her parents said to heart. She learned to have a vision for herself. She also learned that any dream can come to you, so long as you are willing to work for it.


"That urge to be an attorney has been with me since I was young," reiterated Cutino. "I loved the idea of representing other individuals, and really defend them as their advocate. The question was more when and where I would get my legal education, not whether or not I would be an attorney."


Cutino looked into many law schools. Once she found out about WMU-Cooley and learned more about what the law school offered, the more she was convinced it was a great choice for her.


"I read WMU-Cooley's requirements for the application," explained Cutino. "I read everything they had to offer. I learned about the option where I could apply before I had my bachelor's degree. I was only a semester away from getting my undergrad degree, but I already met the qualifications in terms of my GPA and LSAT scores. I thought, 'Why wait another semester to start anywhere else when I can start a semester earlier at WMU-Cooley? I thought, "Why not?!"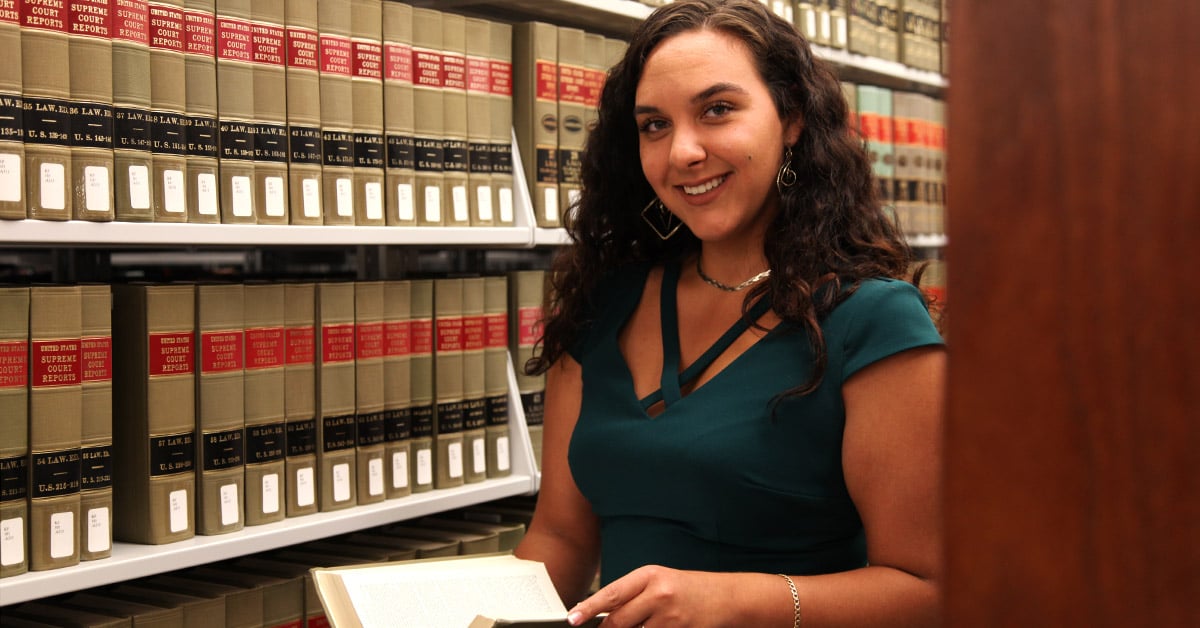 NOW NOT LATER
For a goal-oriented individual like Cutino, time was the only thing getting in the way of reaching her dreams. Despite having to finish up her undergrad at the University of South Florida (USF) in Management, at the same time she was taking her first classes in law school, she was not deterred.


"Why should I wait another semester; why should I wait two more semesters, when I can really advance and get things done at an earlier pace? Especially me, being very goal oriented and having that vision since I was very young. Knowing what I want to do and where I want to be in life has really helped me in planning accordingly."

Looking back two years into law school, Cutino admits that the learning has been as hard as she imagined, but worth every bit of struggle.

"I was working at the time at Regions Bank," recalled Cutino about her first semester as a law student. "It was very overwhelming, trying to balance everything altogether. But looking back, it all worked out. I was able to graduate with my undergrad degree in management from USF and roll over into my education here at WMU-Cooley."


hard work and discipline
Born and raised in Miami, Cutino moved to the Sarasota in 2016. It was her parents who immigrated to the United States in the 1980s to escape political oppression. Once here, they focused entirely on work to sustain the family. The family also placed great importance on their gifts from God and the strength of their religious beliefs.


"So I am the baby in the family, and the only one at home. I know I symbolize the opportunity my parents never had. They knew my belief in God, hard work and being disciplined would open doors for me. I believe that. Anything you want in life requires discipline. If you're not a disciplined person, it's going to be difficult to get somewhere in a specific amount of time."


Her parents supported her in every way, and she made her parents proud at every step. She was the valedictorian in elementary, middle and high school, including having the highest GPA of her graduating high school class. Yet Cutino points most of her success to the unwavering support of her parents. Even when she has fallen down. In fact, she understands that success can sometimes only come from falling down many times. The difference between success and failure is in your hard work, discipline, and a belief in yourself.


"Even though I know I want to be a corporate attorney, and I know what I need to do to get there, I still need encouragement. I know that if I fall down 10 times, I will be sure to stand up 11 times. That is something that my parents have really inculcated in my way of being; my way of thinking," asserts Cutino. "My fiancé is also a great supporter of me. He's always there to make sure I am doing my homework and going to class. Both he and my parents are great sources of encouragement and motivation in everything I do. Whenever I feel discouraged, that self-doubt finds its way into my head, I tell myself, 'This happened for a reason and I'm going to learn as to why I shouldn't do that again, or how I can fix this, or how I can approach this differently next time.' My support group has been key to helping me throughout my trajectory in school and life."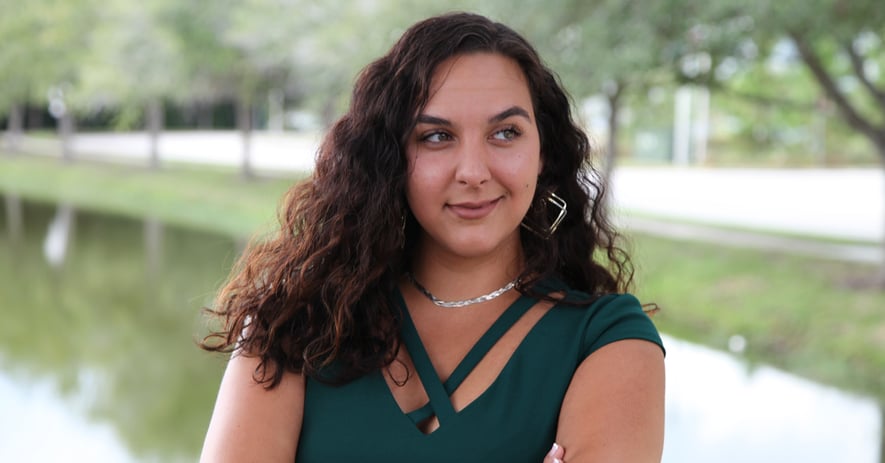 LOOKING FORWARD
Cutino's focus on becoming a corporate attorney stems from many things, but the simple reason is because it combines both her career interests into one.
"I really do enjoy studying law. I enjoy everything that the law stands for," begins Cutino. "I also enjoy business. So the fact that I can incorporate both fields together – corporate and law – it definitely is something that appeals to me a lot. I have a cousin who is a practitioner, a corporate attorney, so I have been able to hear a lot of things about the opportunities and challenges as a corporate attorney. So far, everything she has said appeals to me. I can identify myself practicing for the rest of my life in this field. I also anticipate owning my own firm eventually."


That practice may also include doing business with her future husband, who is in real estate, while finishing up his education in global business. They have already discussed the possibilities. She's excited just thinking about the possibility of, as she says, working and growing as a couple.

Cutino is looking forward, but always looking back on how she has been able to accomplish so much in such little time. Her family and support system includes those at WMU-Cooley who have been there to help her succeed.
Her law school family has also been a great source of support.


"At WMU-Cooley, what really stands out to me is the fact that everyone is very engaging and you feel like you are on the same level – your professors, your colleagues. Everyone is here for the same mission, for the same goal – and that is to succeed. They make sure you understand what's happening, and will answer any questions."


According to Cutino, that support has no limits.


"The fact that WMU-Cooley is very inclusive, regardless of your nationality, your beliefs, that was very important to me. There's a whole bunch of diversity in this school. They are very accepting of everyone. They give everyone the same opportunity. That's what really stood out for me about WMU-Cooley, over any other school."