WMU-Cooley Professor EmilyHorvath, along with five WMU-Cooley Law School graduates, were named as 2017 Michigan Lawyers Weekly Women in the Law honorees during a luncheon on September 7, 2017 at the Detroit Marriott in Troy, Michigan. We are very proud of all their accomplishments and this deserved honor. Congratulations Susan M. Cook, Laura J. Genovich, Emily Horvath, Sara L. Ostahowski, Mary R. Pigorsh, and Cinnamon Rice.
The story below was written by Grand Rapids Legal News writer Cynthia Price and was originally published by the Legal News on August 25, 2017. It is reprinted here with permission of Detroit Legal News Publishing LLC.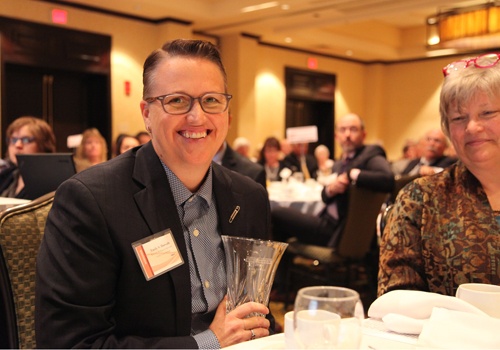 Emily Horvath is so focused on her job that she was surprised to discover others have made note of just how well she is doing it.
"It's something I didn't expect, that's for sure," she said about being named to the 2017 cohort of Women in the Law. "But it's a great honor and I appreciate the recognition very much."
Horvath is well-known as an advocate on behalf of the LGBT community and others, but she has put even that on the back burner since becoming Director of Academic Services at Western Michigan University-Cooley Law School, which primarily entails helping students pass the bar exam.
"I was the co-chair of Michigan Pride march, festival, and rally at the Capitol, and I was involved with that for well over 10 years. That's probably my biggest piece of advocacy, and it's a lot of work – pulling it all together, managing volunteers. I have been focusing hard on my work here, but I'm just now starting to think about what I might want to get back into," she says.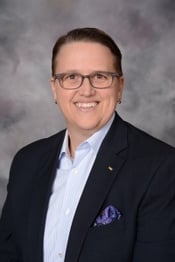 This is not to imply that Horvath has not been dedicated to her teaching ever since she started at WMU-Cooley in 2005. "I started teaching estate planning as an adjunct while I was still in practice," she says, "and I just said to myself, this is what you're supposed to be doing.
"Estate law doesn't change very often – we got rid of the dower last year," she adds, smiling, "but it's pretty static. So I want to keep it exciting for the students. Learning is messy and I think we need to embrace the idea that the classroom doesn't need to be this sterile place. I sometimes tell my students, 'Hey, this is an experiment,
do you like it or do you not like it?' I think that also brings home the idea that they're as much responsible for their learning as I am."
She still teaches, and feels that her own study concerning ways to improve the students' bar exam performance has helped her become even better at it. "I've learned more about teaching in the last two years than I'd learned in the previous 10, finding out about how people think and how they remember," Horvath says. "It's been a great challenge, and it's really rejuvenated my teaching."
Born and raised in Kalamazoo, Horvath dates her interest in becoming a lawyer back to her involvement with the mock trial program at Kalamazoo Central High School. "That was our thing at Central; we really did well," Horvath says. She notes that she was on the same team as Miller Canfield attorney James Liggins, who has gone on to become a strong advocate for the mock trial program (see Grand Rapids Legal News Feb. 2, 2017).
From there she went to Michigan State University's James Madison College, the residential school, majoring in Political Theory and Constitutional Democracy – "That was referred to as PTCD. When James Madison grads meet, we always laugh about how weird the names of the majors were," she says.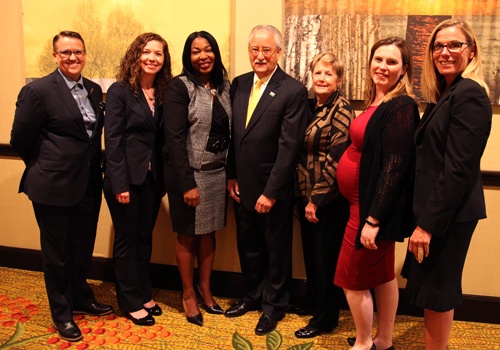 Horvath said she was very happy when Detroit College of Law came to Michigan State University, because she did not have to move. She graduated cum laude.
From there she went to Willingham and Coté, which at the time, she says, was the largest law firm in East Lansing. She also was briefly an associate attorney at White, Schneider, Young & Chiodini. Horvath started practicing in estate planningn partly because she saw it as a good way to help her LGBT community.
"I wasn't necessarily interested in litigating big cases, which would have been one way to have an impact, but I realized I could create all the rights of a marriage using estate planning documents, and give people some peace of mind. Even though their marriage wasn't seen as legal, I could give them those rights and protections. That was aside from the fact that I loved it," she adds with a smile.
Then she stepped into the classroom and realized that she could expand that love into helping another whole set of people, students.
Horvath taught as an adjunct for a year after the 2014 force reduction that took place when Thomas M. Cooley Law School became affiliated with Western Michigan University, but was asked to return as Director of Academic Services in 2015.
In addition to teaching, she partnered with fellow WMU-Cooley faculty member Dustin S. Foster to write Michigan Estate Planning, Will Drafting and Estate Administration for LexisNexis (published in 2011), including a supplement every year from 2011 to 2015.
"Those two big volumes," she says, pointing to her bookshelf. "I didn't have the time to help him, but Dustin turned it into this smaller book recently."
When she speaks about her academic services position, Horvath's passion and diligence make it clear why she was recognized as one of the top Michigan Women in the Law.
"I help students develop the skills necessary to succeed on the bar exam, but also as attorneys – the work ethic, the discipline. That starts on Day 1 here," she says.
"I see my role as having a hand in creating good lawyers and advocates to constantly improve the reputation of the profession and the image of the bar. It's about helping to improve the quality of the lawyers that are coming out of here. I hope Cooley can present more and more opportunities for potential great lawyers."
Horvath serves students on all four WMU-Cooley campuses, with an associate helping at each. In Grand Rapids it is Dean Nelson Miller. Nonetheless, it is a challenging position to fulfill with the excellence she would like.
"I went to a conference of academic support professionals," she says, "and one of the people said they didn't do that much with the February bar exam because they didn't have very many students taking it. Well, we had 250 people take it that year. It dawned on me that one of the challenges is just to not get buried in the scale of it.
"We have a lot of students here who can have a positive impact on their communities, who can be good practicing attorneys," she says. "We take great pride in being an access school, and providing people with the opportunity to chase this dream of being a lawyer. It's just getting them over this one hurdle of passing the bar exam so we can continue to graduate and license more diverse faces and voices."
That passion has also resulted in Horvath being named Most Outstanding Professor of the Fraternity in the Nation, from Delta Theta Phi International Law Fraternity.
Says Christine Church, WMU-Cooley Associate Dean of Academic Programs, "Michigan Lawyers Weekly selected Professor Horvath not only because of her commitment to the legal profession, but for her commitment to helping the community at large. She is well deserving of this honor and we are proud of her accomplishments at the law school and beyond."
---
Find out more about Professor Emily Horvath and other WMU-Cooley expert faculty here.