Breitfeld named MiLW's 2022 'Lawyer of the Year'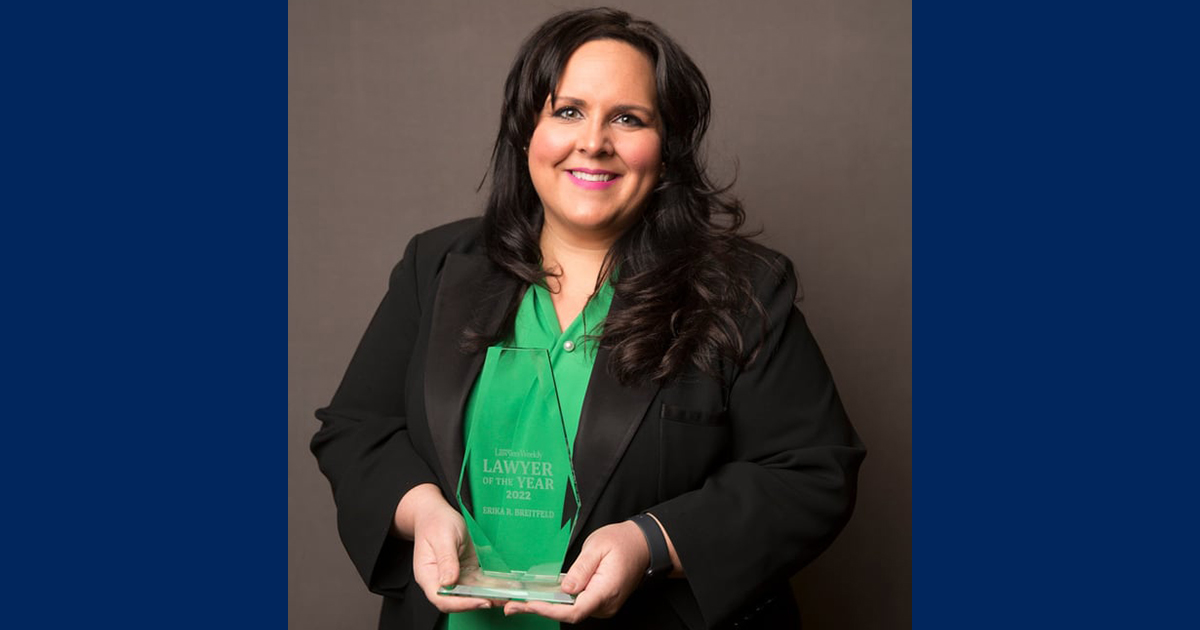 Cooley Law School Assistant Dean and Professor Erika Breitfeld was selected by her peers as Michigan Lawyers Weekly's Lawyer of the Year for 2022.
Breitfeld said she picked up on a common theme as she heard about her fellow honorees' achievements.
"When I was listening to everyone's accomplishments, or what was most meaningful to them or their advice, it was all about helping someone else or someone who helped you," she said. "It's not lost on me that when you started law school, maybe one day you talked about wanting to help people. And if you think about it, all of us have different careers. But the common fabric in this room is how we've all helped people."
Breitfeld said her day-to-day life as an assistant dean was different from those who are practicing law.
"But I get to be with young lawyers who want to be you, who long to one day have the accomplishments and the leadership that you possess," she said.
She thanked the attendees and asked them to continue working together to help those who need it most.
"I am humbled by the company I keep in this room, by being called a leader," she said. "It really is my privilege to use the law to help people, and I'm sure you feel the same way. I am eternally grateful for this very high honor, but I share it with each one of you."
Breitfield received the honor Dec. 2 during MiLW's Leaders in the Law event at the Detroit Marriott Troy.
MENTORS
Clarkston-raised Breitfeld said her largest influence wasn't where she grew up, but who she lived with.
"I have a small, close-knit family and my parents consistently emphasized the importance of education," she wrote in her questionnaire.
When she was six years old, her mother explained that jealousy was a waste of time, pointing out that everyone has special talents to share with the world and reminding her that she would have strengths others didn't.
"The goal, she explained, was to find my special talent and nurture it," Breitfeld said. "Her guidance created the foundation of never feeling in competition with others and genuinely being happy for people when they experience good things."
She kept this grounded approach — and sense of humor — during her first day as an assistant prosecutor. That was when she experienced her most humbling experience as a lawyer.
"I placed my appearance on the record for a civil case that wasn't mine," she explained. "The judge was gracious but painfully pointed out that I must be confused. I can still hear the gentle chuckles throughout the courtroom!"
And that's when another mentor stepped in.
"When I was an assistant prosecuting attorney, my mentor, Therese Tobin, modeled professionalism, fairness and the right balance of seriousness and levity when handling cases and interacting with defense attorneys," Breitfeld said. "By watching her, I learned how to navigate adversarial matters without being adversary, which I think is the ultimate measure of a great attorney."
Her Cooley colleagues have offered seasoned guidance and advice, too.
"Audra Foster told me to remember that students have a lot going on behind the scenes and to always meet them with kindness first," she wrote in her questionnaire. "Tonya Krause Phelan has often reminded me that being honest in the classroom creates the best learning environment. My writing idol Mark Cooney told me to never fear repeating myself when I wear my professor hat: when one is learning, repetition is good! And finally, Amy Timmer taught me to run the race the night before!"
LEADING THE NEXT GENERATION
Cooley Law School President and Dean James McGrath said Breitfeld was deserving of the honor.
"Erika is a proven leader in the classroom and as a legal professional," he noted in a statement after the event. "Dean Breitfeld genuinely cares for her students and their transition into outstanding legal professionals."
Breitfeld's talents as an educator haven't gone unnoticed. As a seven-time recipient of Cooley's Stanley Beattie Award recipient for excellence in teaching, her students know there is nothing she won't do to help them reach their full potential.
Her lessons extend beyond the classroom. Breitfeld encourages her students to volunteer with treatment courts and, as a frequent volunteer at expungement clinics, she brings students along. Modeling excellence in action, she greets apprehensive clients with a smile, tells them they deserve a second chance and patiently explains the process. All the while, she is educating her students who learn from her disposition, compassion and judgment-free personality.
In addition to educating the legal profession's next generation, Breitfeld is an active participant in Michigan's legal community.
She has served on the State Bar's Access to Justice Committee for a decade, and has dedicated her time as a member of the board of directors of the Macomb County Veterans' Treatment Court.
She is a Michigan State Bar Foundation Fellow, serves as a hearing panelist for the Attorney Discipline Board and is a member of the Oakland County Inns of Court.
And last year, Oakland County Prosecutor Karen McDonald appointed Breitfeld to the Oakland County Racial Justice Advisory Board. There she works with community stakeholders to promote equity and social justice reforms for underrepresented groups.