WMU-Cooley Law School professors Jeffrey Swartz, Brendan Beery, and Devin Schindler provided expert legal analysis at media outlets across the nation during the U.S. House of Representative committee hearings leading up to, and after, the announcement of Articles of Impeachment against President Donald J. Trump.
During Monday, Dec. 9's Intelligence Committee hearing, Tampa Bay campus professors Jeffrey Swartz and Brendan Beery joined Bay News 9 to offer analysis
Following comments by minority counsel Steve Castor, who said, "Democrats didn't exhaust all their options to entice witnesses to appear by not allowing witnesses to appear with agency lawyers or initiating contempt proceedings," Beery noted that, "It was very odd to listen to because in one breath he (Castor) said, Democrats should have threatened people with contempt in order to get them to testify, but Castor also criticized Democrats for threatening public employees who didn't testify with losing their pay, something Congress would do as part of its apparent enforcement authority."
When asked why Democrats have set an arbitrary timeline for getting articles of impeachment drafted and voted on before Christmas, Swartz said, "There have been one or two Democrats who have said 'slow down.' The real problem is, who really wants to be involved in an impeachment hearing the middle of next year when you are really getting into the throws of the election. In fact, the Republicans would love to run out the clock here. They are putting up a four-corners defense, the idea being stall, stall, stall and make it too late to happen. Democrats are saying, 'Wait a minute, it's about the 2020 election; we can't wait.'"
Following the announcement that the House would be voting on two Articles of Impeachment, (a) abuse of power and, (b) obstruction of Congress, Beery was interviewed by WTSP TV, where he was asked how strong the case was against Trump.
"The case is very strong, particularly for the second one, for the obstruction of Congress because it's clear - it's in public - the President announced that he was directing all executive agencies not to cooperate with the investigation," said Beery. "There was obviously a decision made here that we've got abuse of power and we've got obstruction of Congress. There's not a lot of factual development needed for those beyond what we already know, and so they're going to go with those."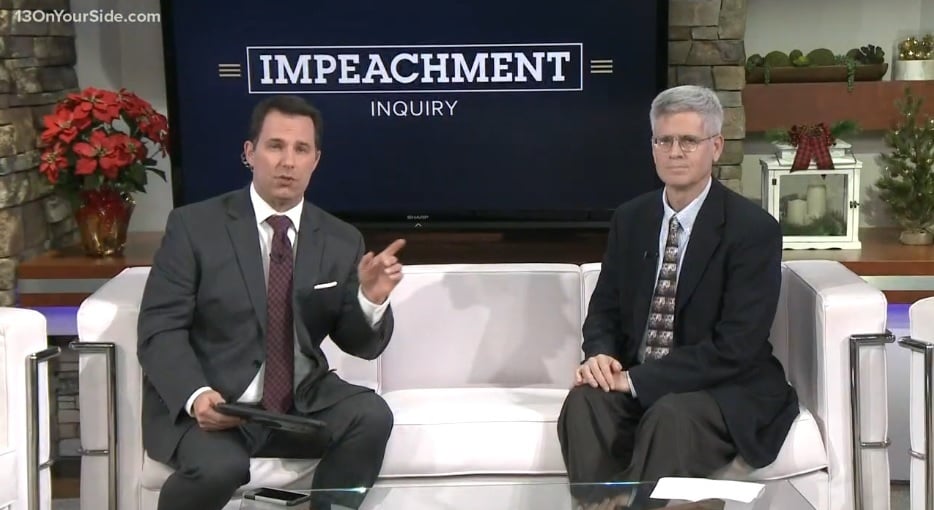 Schindler was interviewed by WZZM TV following the announcement of the Articles of Impeachment. He was asked why the President was only being charged with two counts of impeachable offenses.
"This time the Democrats decided to go with the skinny version. There are a lot of other charges that could have potentially been brought. For political matters, telling a clean story was important," said Schindler. "They kept out Storm Daniels' issue where he (the President) was essentially an unindicted co-conspirator. I'm not surprised though. The cleaner story is the story that is going to be more palatable to the American populous."