Recent WMU-Cooley Law School graduate Devin Blue loved law school, and is even more excited about beginning her career with the Grand Traverse Prosecuting Attorney's Office. Read Devin's story in this month's Legal News story by Sheila Pursglove below.
In her school days, Devin Blue would sit in the courthouse until her mother, a chief probation officer, finished work.

"In a pretty literal sense, I grew up around the criminal justice system," Blue says. "That drew me to wanting to be a prosecutor. I'm one of the extremely fortunate people that have known what I wanted to do since I could remember."
Blue earned a double bachelor's degree from Olivet College in criminal justice and corrections, and sociology and anthropology, and spent six months as a student assistant at the State of Michigan Department of Corrections, Education Section.

"Corrections was a great experience before I entered law school to get some understanding of the other side of the legal system," she says. "I knew I was going to law school when working there and my time there allowed me to have a deeper understanding of the system and how it worked."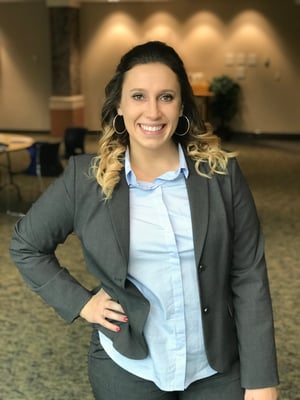 A January 2019 graduate of Western Michigan University-Cooley Law School, Blue was a member of Phi Delta Phi, Delta
Theta Phi member, Themis student rep, LexisNexis student rep, Grade Appeals Magistrate, and a teaching assistant for one term. She appreciated the network she created in law school.

"I think Cooley is unique in that every professor has at least some practical real life experience," she says. "They've all practiced in one capacity or another which makes learning from them a real and practical experience."

Blue particularly enjoyed her experience with Mock Trial, where she served as vice chair.

"Everything I learned about how to be an attorney has come from my mock trial experience," she says. "I learned what works, what doesn't work, and most importantly, being able to do that while in law school, just solidified that I knew I could do this type of work for the rest of my life."

She and her mock trial partner, Matt Hotchkiss, had just completed their first mock trial competition when they heard about the ABA Client Counseling Competition.

"We went to the dean who was in charge and told her we loved competing and wanted to get involved. We prepped, just like we did for mock trial, and were able to win our region at the first competition," she says. "This was a very realistic competition. No matter what type of law you practice, you have to interact and speak with clients—that's what this competition was all about."

Last year's externship from PAAM (Prosecuting Attorneys Association of Michigan) was another "amazing experience" for the
Traverse City native.

"I was involved with a great office in Grand Traverse County that allowed me to actually practice real legal work," she says. "I was able conduct my own jury trials along with a number of other hearings and motions. I would highly recommend this externship experience to anyone who is interested in becoming a prosecutor.

"My current and always career goal is to become a prosecutor," she adds. "I'm super excited to have accepted an assistant prosecuting attorney position with the Grand Traverse County Prosecuting Attorney's Office. I started December 17 and I'm settling in nicely."

Away from legal studies and work, Blue relaxes on the playing field—a member of the lacrosse team in college, she has now started to get into more weightlifting, and the lifelong soccer player is playing in local pick-up soccer leagues.

"My involvement in sports taught me so much about life," she says. "You learn to work with those you disagree with, you learn to work as a team, and most importantly, you learn so much about yourself. What you are capable of and the things you can do when you set yourself up for a positive mindset is an incredible thing to learn.

"I worked so hard growing up in sports that the transition to having to work that much harder in law school was something I readily accepted. The bar is by far the hardest thing I'll ever do. I'm not scared of the effort or the work it takes to get the job done. Having the endurance and a positive mindset is half of the battle."