Nearly everyone knows someone who is either personally struggling with opioid addiction or knows the family members and friends who are feeling the pain along with a loved one's struggle.

Much of the solution, said experts during the summit called "Chasing Hope: An Opioid Awareness Program" held at Western Michigan University Cooley Law School's Auburn Hills campus on October 24, is in educating people on the dangers of opioid use, and working to eliminate the stigma that too often is a barrier to recovery from addiction. Panel members agreed that addiction has for too long been treated as a flaw in an individual's character and lifestyle choice, rather than as a health issue that can be treated, and from which people can recover.
"There is a tremendous need for education about opioids and addiction in our community, and this program was designed to address that need," stated WMU-Cooley student and event moderator Giuliana Allevato. "There are things we can do, as individuals and as a community, to encourage people to get the help they need. We can provide support to individuals and families, and we can work to eliminate the stigma that surrounds this disease so that people feel safe in reaching out for help."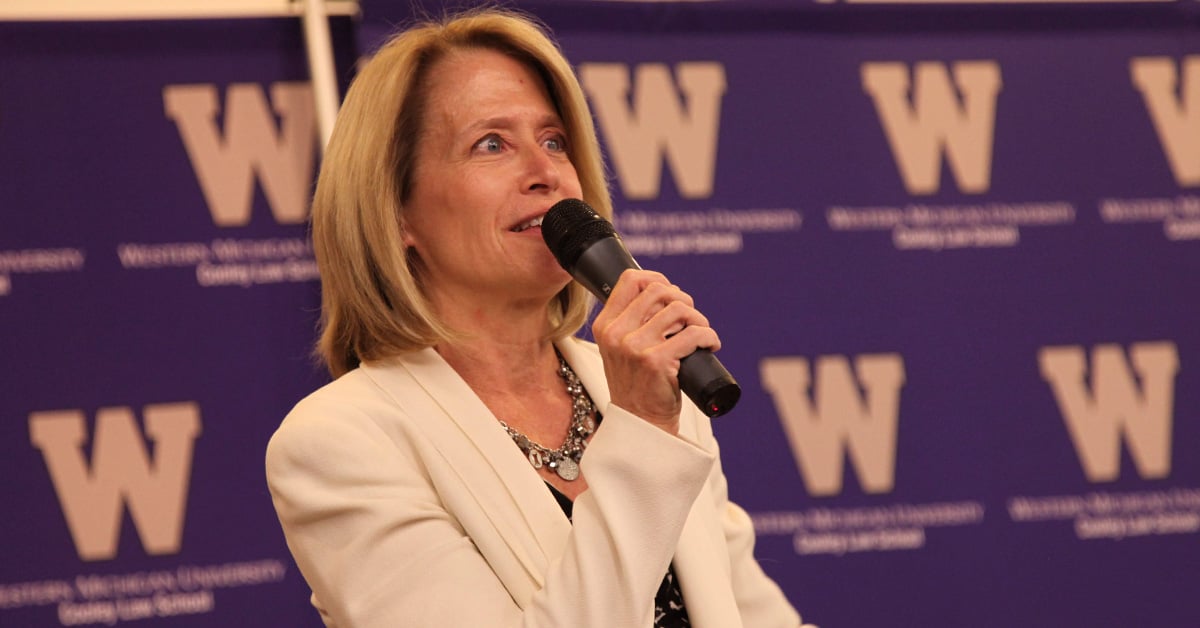 The event focused on the addiction epidemic currently sweeping our country and state, and was presented by the law school's Auburn Hills Criminal Law Society. Newport Academy, an addiction treatment organization focused on adolescents and young adults, and the WMU-Cooley Auburn Hills Sports and Entertainment Law Society, sponsored the program.
Allevato, who is also the president of WMU-Cooley's Criminal Law Society in Auburn Hills, shared her own painful story of personal loss as a result of the opioid epidemic.
Sharon Almonrode, a partner at Miller Law Firm in Rochester Hills, was the event's keynote speaker. Ms. Almonrode represents Oakland and Wayne counties in their lawsuit against multiple opioid manufacturers and distributors, alleging that the defendants misrepresented the addictive nature of their opioid medications. That lawsuit, which was filed in October 2017, has been joined with over 2000 similar lawsuits in a multi-district litigation against opioid manufacturers and distributors currently pending in the Northern District of Ohio.



Ms. Almonrode has received numerous professional distinctions, including having been named one of the top 50 Women Super Lawyers in the State of Michigan, one of the top 100 Lawyers in Michigan, and was identified by Crain's Detroit Business as among the most notable women lawyers in Michigan in 2017. She detailed what is being done in the national opioid litigation, and described the role drug manufacturers and distributors played in the crisis today.


addiction abuse starts early
The program included a screening of the powerful 40-minute documentary, "Chasing Hope – Student Edition," which revealed key facts about drug abuse, addiction, and its consequences through the personal stories of young people who have struggled with the disease. The film focused on the onset of addiction in youth, since over 90 percent of people struggling with addiction began using substances before the age of 18.


The panel included six experts who are intimately knowledgeable on the subject of addiction, and are frequent public speakers on this subject.


Speakers includeD
Hon. Geno Salomone, 23rd District Court judge and vice-president of Downriver Families Against Narcotics
Dr. Carl Christensen, addiction medicine specialist and medical director for Dawn Farm and the Michigan Health Professional Recovery Program
Christina Nicholas, Director of Substance Abuse, Prevention and Treatment Services at the Oakland Community Health Network
Dawn Taylor, Executive Director of Spring Green Educational Foundation and producer of "Chasing Hope"
Lauren Rousseau, WMU-Cooley professor and President of Northwest Wayne Families Against Narcotics
Angela Spino Bogota, Community and School Programs Coordinator for the Alliance of Coalitions for Healthy Communities