Uninformed Critics Will Not Deter Us From Our Mission, says James D. Robb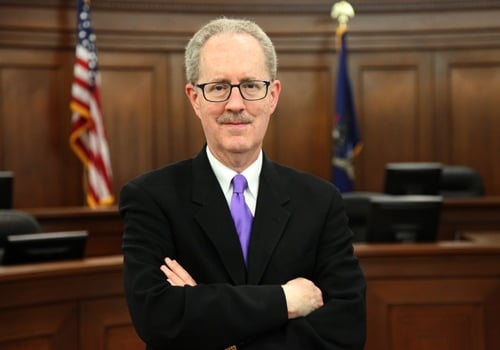 #FromWhereIStand is an op-ed forum allowing a voice and stance for our Cooley community of family and friends. James D. Robb, the law school's associate dean of external affairs and general counsel, is passionate about Cooley, its history and its mission. He also is not impressed by those with their own agendas who give uninformed criticism and offer unfounded opinions.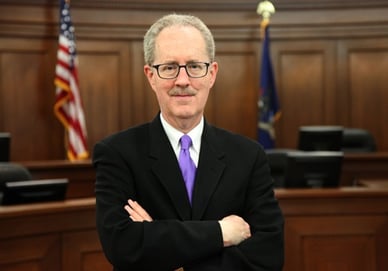 Think about it. Why would someone criticize our School for the recent actions of a lawyer who graduated 27 years ago? Maybe this is more of the recent trend of incivility and bullying in the media and social media, in our case by people who know little about legal education and nothing about our fine Law School.
I wonder whether the "commentators" would say the same things about the University of Alabama Law School in light of discredited Judge Roy Moore; about Columbia Law School in light of the infamous Roy Cohn, who also represented Donald Trump; about Pepperdine in light of Illinois Gov. Rod Blagojevich, who was impeached and imprisoned for bribery; about Duke Law School in light of President Richard Nixon or about Baltimore in light of Vice President Spiro Agnew, who was convicted of tax evasion; about Harvard in light of Soviet spy and convicted perjurer Alger Hiss; or even about Yale in light of President Bill Clinton.
I think not. Unfortunately, every law school in the country has graduates who get disbarred, convicted of crimes, and engage in misconduct, including ours. The notion that these graduates reflect anything that their law schools taught them or that the law schools condone such behavior in any way is ridiculous. We don't have to put up with gratuitous criticism. If the commentators actually knew us, they would see that:
We have great students, great teachers and staff members, and outstanding programs.
Over half of our students enter with an honors scholarship for academic achievement.
We have first-rate facilities (Best Choice Schools named our Auburn Hills building the 35th most impressive law school building in the world.)
Students and faculty of our Cooley Innocence Project have recently won the exonerations of four men who were wrongfully convicted and sentenced to long terms, one imprisoned nearly 42 years, for crimes they did not commit.
A student from a migrant farm family graduated, entered the bar, and won a significant case for migrant workers in Michigan, earning her the title of Lawyer of the Year by a Michigan legal publication.
Our students and faculty have been leaders in combatting the scourges of opioid addiction and sex trafficking in our communities.
Our students and faculty gained the release from federal detention of a refugee from Somalia, a Mexican father with four U.S. citizen children, and a refugee from Iraq.
Two of our skills competition teams won ABA national championships in recent years, and many teams have won regional championships.
Three of the immediate eight past presidents of the State Bar of Michigan are our graduates, as is a recent president of the West Virginia State Bar.
One of our graduates was named "Lawyer of the Year" in plaintiff's personal injury law by Best Lawyers in America.
Hundreds of our graduates are ranked as "Super Lawyers" by that publication.
Our 20,000 graduates have gone on to be a state governor, members of Congress, members of the Canadian Parliament, a member of the Japanese Diet, legislators in nine states, appellate and trial judges in 21 states and Ontario, college presidents, university trustees, corporate and hospital CEOs, professors, librarians, prosecutors, public defenders, public interest lawyers, corporate, lawyers, entrepreneurs, inventors, and, of course, outstanding practicing lawyers from the nation's largest firms to the leading solo and small firms.
In Support of Diversity in the Legal Field

Our Law School was founded on the premise that all qualified applicants should be given the chance. Our access mission allows students of all backgrounds to seek a legal education; to come from near and far; to attend day, evening, and on the weekends; to earn scholarships based on merit; to attend at campuses and at times convenient to them; to take some classes remotely; to attend regardless of whether they studied at the largest university or the smallest college, in a prestigious undergraduate program or a local community college; and to learn from professors who are real lawyers and be served by a staff deeply committed to student success. We are one of the most diverse law schools by race, gender, geography, religion, or cultural background, and we are darn proud of it.

We began in 1973 with 76 students in rented premises atop a print shop in downtown Lansing. We were founded over the active opposition of the so-called law school establishment. A rival dean said we should be a paralegal school instead. I hope his words tasted good when our very first graduating class passed the Michigan bar exam at a higher rate than did the class at his school.
Our Law School has had to scrap throughout our 45 years of existence for every chance to succeed. Over the years, we grew to become:
one of the nation's largest law schools,
the first to have an ABA-authorized weekend program,
the first to have multiple campuses,
one of the first if not the first to insist that clinical teachers and legal writing teachers be members of the tenured faculty,
one of the largest law libraries by collection size, and probably the largest in physical plant.
For those of you who have been following the recent ABA action, know that this was nothing we have not faced before. Over the course of our history, the ABA has reacted negatively to both aspects of our mission—teaching our students how to be lawyers and giving those who dream of becoming lawyers a chance to do so. They have opposed every innovation and impeded the implementation of every initiative, ultimately treating people like a number.

I am very pleased to report that the Accreditation Committee of the American Bar Association issued public notice that the Law School has demonstrated compliance with Standard 501(b) and its related Interpretation 501-1. This decision means that we meet all ABA Standards and Interpretations. Throughout this process, we remained approved by the ABA, and we never received a sanction. Rather, the recent decision reaffirms our approved status, which we have held continuously since 1975. More specifically, the decision follows an interim monitoring process that began in 2016 during which the ABA also found that the School meets the standards and interpretations governing:
sound admission practices,
academic and admission test credentials of entering students,
academic attrition,
bar passage rates, and
the effectiveness of the School's academic support program.
That interim monitoring began only five months after the ABA completed its regular, full-fledged site evaluation review, required of all law schools every seven years, where it likewise determined that the Law School complied with all Standards.

Measuring Success
We have succeeded because we have attracted the kind of students who want to become our style of lawyers—those who know how to practice law, who work hard, who persist, and who represent their clients with competence and zeal. Those students came to us from across the nation and all over the world and have returned to serve their communities with distinction.

The quality of a law school should not be measured by media rankings or the subjective opinions of uninformed commentators or self-anointed "experts." It should be measured by how well the school meets its mission. We know our mission, we abide by it, and we succeed at it. In meeting the mission, Cooley became a great law school.
We are proud of our Law School. We are proud of our mission. We are proud of the hard work and dedication our students display in obtaining their legal education. We are proud of the way our teachers teach and our staff support students. We are proud that so many of our graduates have succeeded in their careers. We are ashamed of nothing, and we will not be shamed by others.
---
We hear you, alumni and friends of our great law school. Please submit your #FromWhereIStand stories using the button above and we will work to make sure your voice is heard in this forum.