Law School After Military Service: A Student Success Story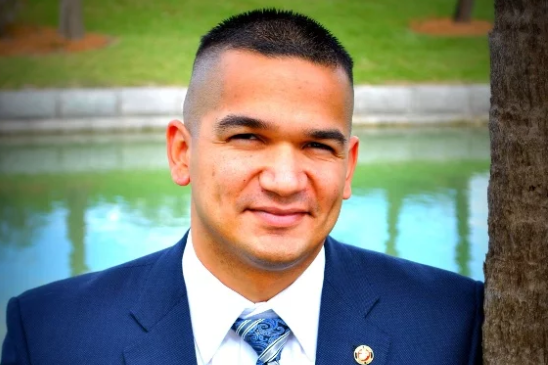 As a former U.S. Marine Staff Sgt., Victor Flores knows the meaning of commitment. As a Cooley Law School graduate and practicing attorney, he also thoroughly understands what it means to dedicate yourself to your goals. Now he offers advice to students, veterans and others considering law school and a legal career.
The right stuff and the right school
Flores, who is the assistant city attorney for the city of Plano, Texas, began his law school journey after his military service ended. He went to college and worked as a clerk in a Texas municipal court, where exposure to the law sparked a flame and he eventually decided law school was a natural next step. When considering law schools, Flores didn't feel location and distance were considerations, but a balanced curriculum was very important to him. He chose Cooley.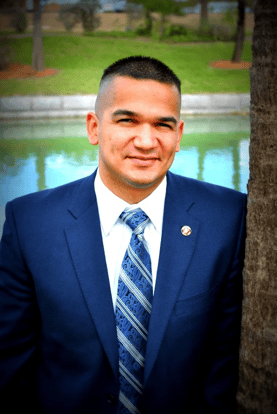 "Researching which law school you want to attend can be very overwhelming because the opportunities are almost limitless," Flores said. "When I was determining where I wanted to go to law school, I looked at law schools that offered a balance of theory and practicum components, which are your writing and advocacy skills. So when I looked at Cooley's program, I really thought the law school was a perfect fit for me. I was really excited when I got the acceptance letter."
Applied skills
Once in law school, Flores said he truly knew he was in the right place after participating in a mock trial during his first year. It was his "aha! moment."
"As far as understanding that being an attorney was something I wanted to do, it was in my first year," recalled Flores. "A good friend and colleague of mine Ryan James, we were partners in a mock trial competition and after that weekend it was just confirmation that I was in the right field."
As time went on, Flores realized his military skills and experience were well suited to law school and he recommends other veterans interested in a legal career to also consider this path.
"For veterans who want to get into the legal profession, it's a great opportunity to use the tools you acquired in your military career and apply them in a profession that's substantially similar with structure, with rules, with advocacy," Flores said. "I think veterans will find an easy transition from their military career to the legal profession. If you're a veteran and looking to the profession, the skills you learned in the military are extremely useful when you go out and start practicing in a private practice or a small boutique firm or a larger firm."
In retrospect
Of course, hindsight is 20/20, but Flores says there are a few things he would do differently if he were starting over.
"In law school you can get wrapped up into getting the GPA, and finals and examinations. I think I would have placed more emphasis on participating in the Law Journal, Law Review, maybe participating more in moot court and mock trial competitions, because that's where you pick up the skills that you're going to apply in the profession," he recalled. "At Cooley that's their backbone, all those practicum components, moot court and mock trial, and all your writing opportunities with Law Review, Law Journal."
He also recommends taking a proactive role in the local legal community during law school to build a professional network that will serve you in the present as well as in the future.
"I think staying engaged in the legal community outside of law school would have really helped because establishing those connections with legal professionals, with practicing attorneys, while you're in law school, that just sets you up when you complete law school and pass the bar exam," said Flores. "Now you already have connections with potential employers and that's really important considering the job market."
Flores also noted how much help you can expect from practicing attorneys while you are learning your craft. It's an invaluable resource and part of the fabric of the legal profession.
"Attorneys want to help out junior attorneys. I have never been turned down by a senior attorney to help me out," Flores said. "There's an understanding of mentorship for attorneys because they have been where I am right now; I am a young attorney. Same with law school students. (Senior attorneys) are willing to do that."
Overall, Flores wants others to know that perhaps the most important thing you can do is believe in yourself and trust in your abilities.
"In general, getting into law school, you need to trust your abilities, maintain that focus and determination in your study habits, in your ability to acquire additional knowledge, to do well on exams, because you're going to have to maintain that same focus and determination when you take the bar exam, and when you acquire a job, " he said. "So developing it early on in your law school career, you really need to trust your abilities."
In addition to his position with the city of Plano, Flores has served as assistant city attorney in McAllen, Texas and deputy city attorney in the city of Denton, Texas. He is a fellow of the Texas Bar Foundation and president-elect of the Texas Young Lawyers Association.