Arthur Semko and his wife, Polina Elizarova, call Toronto home today, but both have traveled the world. Arthur is originally from the Ukraine, while Polina is from Russia. The two are well matched in their belief that living abroad is the ultimate education, and the best way to learn.
That was certainly true for Arthur when he talks about his WMU-Cooley Law School summer Study Abroad experience in Oxford and Toronto.
"Being well-traveled and living in a different culture is extremely important," asserts Arthur. "It's more than just getting on a plane and going somewhere new, it's living there and being part of their culture; getting to really know the people. For me, the fact that we were surrounded by history was mind blowing!"
In fact, Arthur would say that what stood out to him most about the program is simply "everything!"

PHENOMENAL Experience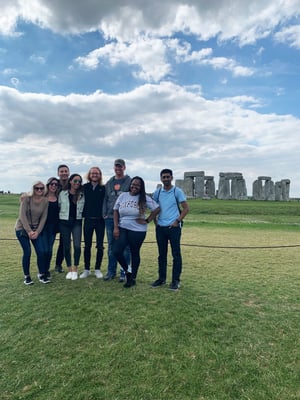 Although Polina didn't go on Arthur's study abroad, she knew exactly how important it was to him. "Arthur was beyond excited to do this study abroad, and I fully supported him. When he was in the Toronto program, I had the chance to meet up with him and his friends at the University of Toronto.
"When he traveled to Oxford, he texted me and called me every day. It was like I was there with him and his friends! I don't know, I having a feeling that he enjoyed his study abroad program more than he enjoyed our honey moon, laughed Polina, because he is always speaking about it as the best time of his life!"
Arthur smiled, but agreed emphatically that it was a once-in-a-lifetime experience. "The food was phenomenal! The weather was phenomenal! The people and the socializing was amazing! We even got to travel to other countries, like Vienna, Spain, Scotland, France, and Portugal."
But it was the chance to learn the law in another culture that sealed the deal. With an eye on learning the intricacies of the law around the world, Arthur was able to take advantage of great classes with even greater professors. "The classes were so interesting. I loved that I got to learn classes like International Law, International Negotiations and International Human Rights from professionals from the country. Truly, it was amazing!"
Friendships made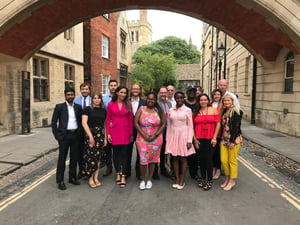 What surprised Arthur about the whole experience was the strong friendships he made. He even came to a new appreciation of his hometown of Toronto, after seeing it from a different perspective with his friends.
"Living in Toronto, we take for granted the culture, the food, the atmosphere, and the kindness of the people. I got to spend time exploring the city with my friends, so I saw the city in a different light. I really fell in love with Toronto all over again."
The experience was shared by all. In fact, Arthur and his study abroad friends plan to join up for the upcoming graduation at the Tampa Bay campus. Then meet up in Toronto soon after. There's even a long-term plan of meeting up in Oxford every five years.
Opposites attract
Arthur has lived in Toronto since he was 23, but the thought of marriage hadn't crossed his mind yet ⁠— until cupid intervened.
But it wasn't love at first sight though. In fact, the first time Arthur and Polina met, neither seemed too impressed.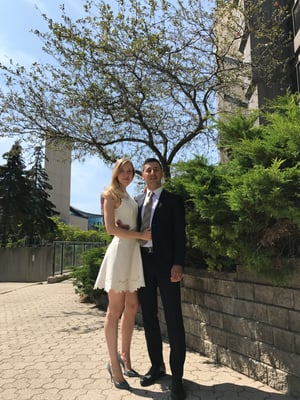 The brief encounter at a mutual friend's work party fell flat on both sides. It wasn't until a year later when they met once again, that sparks began to fly. It took a proper introduction and spending the evening talking and getting to know each other to open their eyes to each other.
The very next day, shared Polina, Arthur called her to ask her out on a date. Ever since then,"It's like we've known each other for many years." The two tied the knot not even a year later, and Polina's three-year temporary posting in Toronto turned into a new home and a new life.
Not one to shy away from bragging about his wife, "the diplomat" as he calls her, Arthur explains that Polina comes from a family of diplomats, with her 92-year-old grandfather still serving in the South American embassy. She speaks four languages; Spanish, German, Russian and English.
Despite her husband's tough guy image, Polina sees his soft side.
"We are very different from each other. Arthur is a total extrovert; he likes going out, he likes being with people, and he likes being in the spotlight. I am the complete opposite. But that's probably why we are such a good match."
Originally from Moscow, Polina traveled a lot as a child with her parents and grandparents. She completed her bachelor's and master's degrees in Moscow, then later came to work for the foreign ministry of Russia. She had a number of short-term postings, including London, Tallinn, and Estonia, but also had a long-term posting in Toronto, which is where she and Arthur met.
Both are working on their law degrees. Arthur at WMU-Cooley Law School and Polina is getting her Master of Laws at a university in Toronto. They enjoy the thriving Ukrainian and Russian communities near them in Toronto.