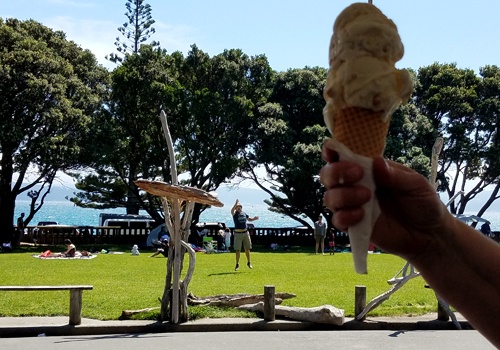 Guest blog author and WMU-Cooley Law School Professor Kimberly E. O'Leary directs the law school's study abroad program in New Zealand and Australia. She and her students will be sharing their experiences throughout the Hilary 2018 semester. The students and I were in the resort town of Mount Maunganui, about an hour and a half east of Hamilton, the locus of our WMU-Cooley Study Abroad segment in New Zealand. A little girl tugged on her mum's hand and said "Let's do hokey-pokey!" This was not a request to sing and dance, but rather a request for ice cream. In New Zealand, Hokey-Pokey is a rather famous flavour of ice cream, containing bits of honeycomb toffee, and is quite delicious!
When the law school dean had us over for dinner, Hokey-Pokey was served for dessert. I asked his family,
"Which came first, the ice-cream or the song?"
"What song?"
"The Hokey-Pokey – you don't know it?"
The dean's mum starts humming the familiar tune; "You know," she says, "You put your right foot in, you take your right foot out …"
Everyone nodded their heads and said,
"That's the Hokey-Tokey!"
Immediate taps of the smartphones, and we had our answer: Hokey-Pokey was a phrase used by Italian ice cream street vendors in 19th century New York and London to mean ice cream (there are lots of theories about what Italian words they were using). A particular flavour of ice cream was developed in New Zealand and that specific one was called "hokey-pokey." The song & dance, on the other hand, has been around in the United Kingdom in some form since the early 18th century, but the name "Hokey-Pokey" was put into American lyrics in the 1940s when the song took off as a novelty song. The song/dance is called "Hokey-Cokey" in England, and "Hokey-Tokey" in New Zealand.
We share the same basic culture, but with so many variations.
A student remarked the other day, You know here, a cookie is a biscuit."
I said, "Yes, and a biscuit is a scone."
Others chimed in, "a mate is a friend and a partner is a soul-mate."
"Chips are fried and crisps are chips."
"Sandals are Jandals."
"Boys are lads."
Students kept finding phrases that were not quite the same:
"Is there a docket posted outside the courtroom?" a student asked.
"Yes, but here we just call it a list," our local guide responded.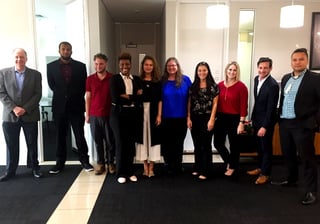 Then there are Maori words commonly used by everyone. A high compliment: You're part of our whanau now," which means, "You're part of the family."
"Kai" is food. "Kaumatua" are elders. A "whare" is a building. "Kia ora" means hello, good-bye, be well, thank-you, and lots of other things, all of them good!
When one of us proposed a popular idea, a Kiwi said, "You're preaching to the converted." I said.
"We'd say, "You're preaching to the choir."
It's just a turn of phrase that is a bit different. To them, we sound quaint. To us, they sound exotic. But after spending six weeks together, we realized we're all saying the same thing, just a little differently. Crossing the ocean, we cross cultures. Laughing over American, Kiwi, and Maori terms, we find connection. As the Kiwis would say, ... "Sweet as ..."
We put our whole selves in…and that's what its all about!