Senior Airman Ray Petty: A Lesson in the Power of Resilience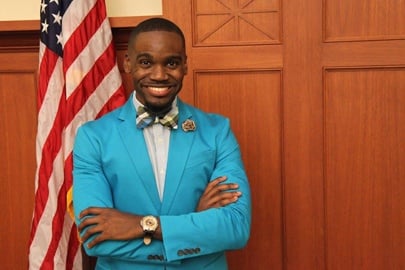 Everyone faces times in life when they are put down, minimized, or demoralized. For most it's a choice of take it to heart or let it roll off. For Ray Petty, those events were many and early on in life when he was just learning self-confidence. As a child he could have accepted comments that deemed him a poor reader, not smart enough, not tall enough, not fast enough. He could have believed them instead of in himself. But Senior Airman Petty knew early on he had a mission. Today that mission is coming to fruition, thanks to an amazingly resilient character, and an amazingly resilient family.
Believe in Yourself
Petty, a paralegal and current student at Cooley's Tampa Bay campus, has served at nearby MacDill Air Force Base since 2016. Part of that time was spent on active duty serving as a paralegal on the justice side and the rest in the general law section.
One of three children, he was raised by a single mother who is the grounding and driving force in his life. He recalls how she set the standards for achievement by example — with only a GED, she went on to earn both bachelor's and master's degrees — and by simply stating what she knew to be fact.
"She would say, 'You're going to be something' and she would drive us kids around different neighborhoods to see things that would expand our imaginations," Petty remembers.
As a reminder, Petty still has a fourth-grade paper on which his teacher noted he was only reading at a second-grade level, and it was like that all the way through school. But he also recalls a conversation he had with his mom during his freshman year of high school, when she told him emphatically, "You are not a dummy. You can do this!" And he is doing just that.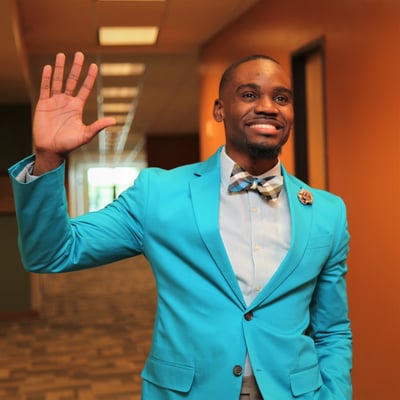 Another driving force was his early infatuation with the legal profession. He loved to watch the TV show "Law & Order," and for career days in elementary school, he would do his best attorney impression wearing a dress shirt that was usually too big and a tie that was usually too small and borrowing a "briefcase" from his sister's purse collection. And he adopted a mantra that has carried him closer to his dream.
"I remember saying, 'I'm going to be a lawyer. I'm going to an attorney and I'm going to do something that is going to change the game. I am going to be someone."
Believe in Your Purpose
Petty has his mother to thank for his successes, but he also has other role models who like him, have beaten the odds through sheer willpower. One is his older brother, a U.S. Army veteran who served and was severely wounded in Afghanistan and given little hope for survival. Another is his sister, the oldest of the three Petty kids, who was diagnosed with sickle cell disease and told she too was unlikely to survive. Like always, however, Petty's mother took command.
"My mother, being a praying woman, prayed and said, 'You're not going to die,' and her words spoke life into a death situation," said Petty.
Ray's father, now retired after 20 years of military service (13 years in the U.S. Marine Corp and seven years in the U.S. Air Force), was a role model and instrumental in his choice to follow a military career path.
For now, Petty says he is grateful to be in the military and to have the opportunity "to complete the mission every day to provide the most excellent legal service this Air Force has ever seen." After graduation and passing the Bar, Petty's first goal is to join the Judge Advocate General's Corps, and to continue serving his country to the best of his ability.
"I love to serve. It's not about me, it's about my fellow man," said Petty, adding, "(It's about) what I can do for them, not what they can do for me."
Ultimately, he says he will likely "get into politics eventually" and also hopes to make a career in entertainment law working for JAY-Z in New York. To him, the sky's the limit!
As he achieves each goal in turn, you can bet Petty is remembering something else he learned from his mother, brother and sister: It doesn't matter what happens to you, it only matters how you respond to it.