Red Carpet Gala BLSA Event More Than Just "Night at the Oscars"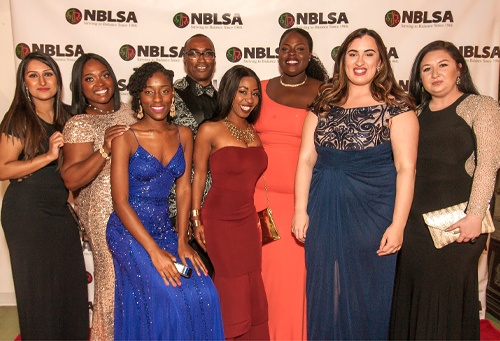 Oscar night always brings to mind bright lights, big names, prestigious awards, and that spectacular trip down the red carpet! Well, that's pretty much what the Cooley Law School Black Law Students Association, Tampa Bay Chapter achieved during "A Night at the Oscars: A Red Carpet Affair" held February 24th in honor of Black History Month.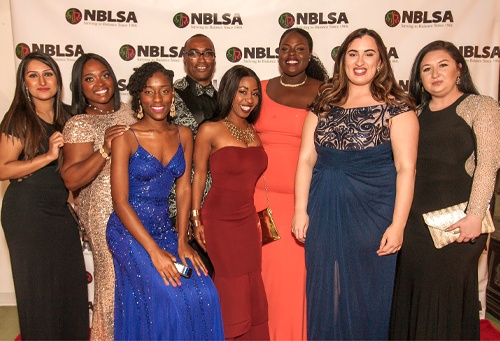 The night opened up with a cocktail hour featuring delicious hors d'oeuvres and champagne, of course. From there all the beautiful people took their turn down the red carpet to show off their fashions and stop for a quick photo—or 12.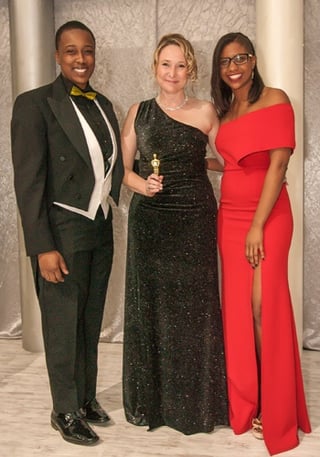 Some may have wondered "who are you wearing?" The rest were wondering "when is dinner?" Attendees noshed on their choice of herbed chicken or roast
beef and a bevy of sides and libations. Dinner served and stomachs satisfied, Cooley Law School BLSA Student Tampa Bay President Gennelle Chatman and Vice President Delana Williams opened up the awards program honoring several members of the Cooley Law School-Tampa Bay faculty and staff. Master of Ceremonies Daniel Johnson announced this year's Black Tie Awards.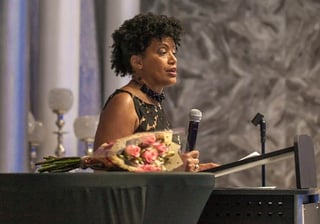 The big winner of the night was Cooley Law School Auxiliary Dean Stevie Swanson, taking home awards for Best Dressed and Professor of the Year. Cooley Law School Associate Dean Ronald Sutton won the award for Most Laid Back, and Professor Brendan Beery took home the golden statue for Most Involved. Professor Jeffrey Swartz was recognized as the professor Most Likely To Turn In Your Grades At the Last Minute. We're still waiting for his acceptance speech.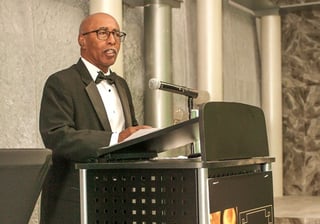 BLSA Faculty Adviser Renalia DuBose—winner of the Black Tie Award for Most Loquacious (Most Talkative)—then introduced this year's Distinguished Leadership Award Winner

—

The Hon. Perry A. Little of the 13th Judicial Circuit.

Judge Little offered many words of wisdom and much encouragement to students. He lauded the diversity of the crowd and talked about his struggles as one of only two black students in his class at Emory Law; pointing out that there was no Black Law Students Association to help him along when he was enrolled. He implored students to "take advantage of the support that student organizations can provide."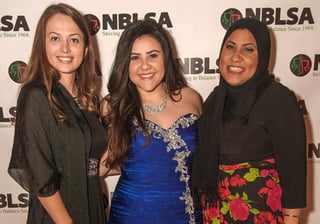 Once the last speaker spoke, the last dancer moved off the floor, and the glitter finally settled, it was agreed that a great time was had by all. The BLSA-TB leaders thanked the talents of The Event Factory, DJ Farth, TeeJay the photographer and NBLSA for making the night such a success. Attendees are looking forward to next year's event being even bigger and better.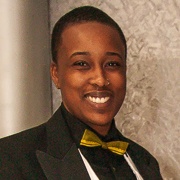 Guest blog writer K. Gennelle Chatman is a 2019 J.D. candidate of Cooley Law School and is the 2018-2019 President of the Black Law Students Association-Tampa Bay chapter, National Director of Community Service for National Black Law Students Association, and a member of Phi Delta Phi International.