Recognizing Key Role of Adjunct Professors to Law Students Learning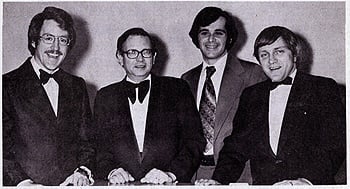 Blog contributor Distinguished Professor Emeritus Otto Stockmeyer explains the historic role of the part-time faculty and the tremendous contributions they have made to Cooley Law School law students over the decades.

From its earliest days, Cooley Law School has employed the services of adjunct (part-time) professors. Indeed, the instructors hired to teach the very first entering class in 1973 were all part-timers, including an appellate judge and a former prosecuting attorney. The photo above shows Cooley Law School's first faculty members (left to right) Attorney George V. Warren, Michigan Court of Appeals Judge John W. Fitzgerald, Attorney Donald P. Ubell, and Circuit Judge Donald L. Reisig.

Ultimately, to satisfy American Bar Association requirements, the law school switched to the full-time faculty model. But adjunct professors continued playing an important role in fulfilling our mission of practical legal education by teaching elective courses. Cooley Law School's dedicated, experienced, and talented members of the adjunct faculty blend teaching with active careers on the bench and in a great variety of governmental and law practice settings. In addition to providing doctrinal instruction and developing practical skills, they provide our students valuable insights into the demands and rewards of their specialized practices.

To recognize their contributions, the law school annually hosts a reception for its adjunct professors, timed to coincide with downtown Lansing's Silver Bells in the City holiday celebration. At the adjunct reception a special award is presented to one of their number. Now in its 20th year, the Frederick J. Griffith III Adjunct Faculty Award was established to remember our colleague Rick Griffith.
Professor Griffith was a former Michigan Supreme Court Commissioner, and practiced Of Counsel with the Lansing law firm of Murphy, Brenton & Spagnuolo. He taught as an adjunct for nearly two decades until his untimely death at age 52.

The Griffith Award was endowed by contributions made in Professor Griffith's memory by his family, friends, and associates. The award carries with it a cash stipend and a commemorative ceramic tile created specifically for this award by Detroit's renowned Pewabic Pottery. Below is 2010 award winner Catherine Groll, holding her treasured award, with Professor Otto Stockmeyer, left, and Rick Griffith's widow, Margie Griffith and their son, Brian.

Among recipients of the Griffith Award over the years are judges and state officials, Assistant Attorneys General and county prosecutors, defense attorneys, solo practitioners and big-firm partners, corporate house counsel, and even a Canadian barrister.

A recent ABA publication, Best Practices on the Use of Adjunct Faculty, reports that less than a third of American law schools have any type of award or recognition event for their adjunct faculty members. Cooley Law School is in the vanguard of what Best Practices referred to as the "recognition and morale front."

The ABA Section of Legal Education and Admission to the Bar is considering relaxing its requirement that more than one-half of the law school curriculum must be taught by the full-time faculty (Standard 403(a)). Under the proposal, adjuncts could be used to teach all courses beyond the first-year ones. The intent is to permit schools more flexibility in the use of "part-time teaching resources." (The present requirement was itself a retreat from an earlier mandate that fulltimers must teach "the major portion" of the curriculum.)

The ABA is coming to recognize what Cooley Law School has experienced over the past 40-plus years: that use of adjunct teachers can strengthen the important mission of imparting a practical legal education. Through receptions, awards, and the potential for increased use, it's good to bring adjuncts out of the shadows.
---
At one time, before entering teaching, Professor Otto Stockmeyer was Rick Griffith's supervising attorney at the Michigan Court of Appeals. Professor Stockmeyer began his teaching career at Cooley Law School in 1976 as an adjunct professor, teaching a legal writing course. He was soon invited to join the full-time faculty and over the years has also taught as a visiting professor at Mercer University Law School and California Western School of Law. Find out more about Professor Stockmeyer and all the Cooley Law School faculty here.