One of the most important aspects of a legal education at Western Michigan University Cooley Law School is that of
service to each other
and to the community. Whether it's volunteering in a shelter, providing pro bono legal assistance to
The Innocence Project
or an
elder law clinic
, or any of the dozens of
other opportunities available
, it's a big part of what makes a well-rounded WMU-Cooley attorney.

But with all the time and effort required to graduate and pass the bar, how do faculty inspire students to make time to give back? For Professor Monica Nuckolls, it's simple: inspire by example.
A law legacy
Nuckolls has taught at WMU-Cooley for 13 years following a career that included working as a commercial litigation contract attorney for the firm Pepper Hamilton, LLP and as commercial litigation associate at Clark Hill, PLC, both in Detroit. A graduate of the University of Michigan Law School, Nuckolls first considered a career in medicine, but one college business law class was all it took to change her mind. Following in the steps of her father, a retired judge, Nuckolls decided she wanted to help fix societal wrongs and eventually developed a love for Tort Law.
"I actually kind of fell into Tort Law while I was practicing as a commercial litigator in the Detroit area, recalled Nuckolls. "One of my mentors did a lot of tort litigation, and so I then started working on a lot of tort litigation, and absolutely fell in love with it. I tell my students that is where I gained my expertise for this area of law as well as my passion for it, and I try to share that passion with them every day."
Do as I do
While working on her career, Nuckolls and her father decided to team up and create an anti-bullying program and to work with children to introduce them to the law and how it impacts us. Their efforts earned the team several awards including the Champion of Justice Award from the State Bar of Michigan and the NAACP (Saginaw Branch) Community Service Award.
One part of the program was held at WMU-Cooley's Auburn Hills campus and Nuckolls said it was a great lesson for young people to be exposed to the legal system and for her to plant a seed that might grow into a legal career for some of them.
"We bused Pontiac high school students in every Saturday and we talked to them about the law and explained to them what kinds of legal consequences there were for certain types of behavior," said Nuckolls. "It was a great experience because we were able to teach people how the law impacts their everyday life; that every choice you make has consequences, as well as showing them that there are opportunities that they could enjoy if they decide to pursue this as a career."
It's all about family
Nuckolls also believes the welcoming culture at WMU-Cooley is the norm. It helps to encourage students to be a part of the good things going on at the law school, in addition to their hefty studies. The sense of family among faculty and students is a huge boon to helping students feel they belong and to encourage them to step up and give back.
"(One) thing I think makes WMU-Cooley Law School stand out as the best law school that exists is our personal relationships with our students," noted Nuckolls. "I know that's something that can't be manufactured. From the moment students are accepted to our law school we bend over backwards to make them feel at home and oftentimes students express the fact that they feel this is not just an institution they are attending to get their legal career, but it really is an extended family."
As evidence of the longevity of the relationships built at WMU-Cooley, Nuckolls says she has many former students who still call or stop by, and every year receives Christmas cards from many others. One example is a former student Nuckolls has kept in touch with as his career has ascended — and his community contributions right along with it.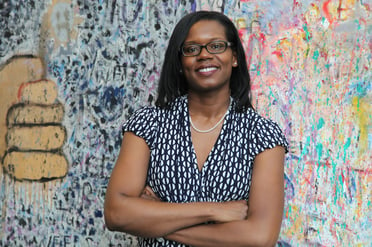 "One of my former TAs for my Torts class is now a practicing attorney in the Philadelphia area and he is doing extremely well. He has won multi-million-dollar lawsuits and I absolutely love getting updates on his success," said Nuckolls. "He started a foundation that gives scholarships to people planning on going to law school. He was a non-traditional student, so he has reserved part of that scholarship money for students who are non-traditional students with second careers. It is really rewarding when you see people who have gone through WMU-Cooley Law School, gained their legal education, and are giving back to the community because we really do encourage that here."
For Nuckolls her desire to help others grew out of a family trip to Africa that she said changed her life. Witnessing both great affluence and abject poverty, Nuckolls felt deeply how lucky she was.
"It totally changed my perspective on life; it taught me how to be grateful for everything," Nuckolls remembered. "When we traveled to West Africa we went to places that were very nice and that were flourishing but we also went to the bush — places that weren't flourishing — and I saw what poverty really means. I saw people who genuinely were hungry and didn't have anything, and it really made me want to give back even more.
"That's one of the things that I love about WMU Cooley is that (service) is not only tolerated here, it is encouraged, and you are sort of pushed to give back to the community! I love that our students are encouraged to do it, I love that our faculty is encouraged to do it and I love that it is just a part of who we are."