Ogenna Iweajunwa: Nothing Short of Remarkable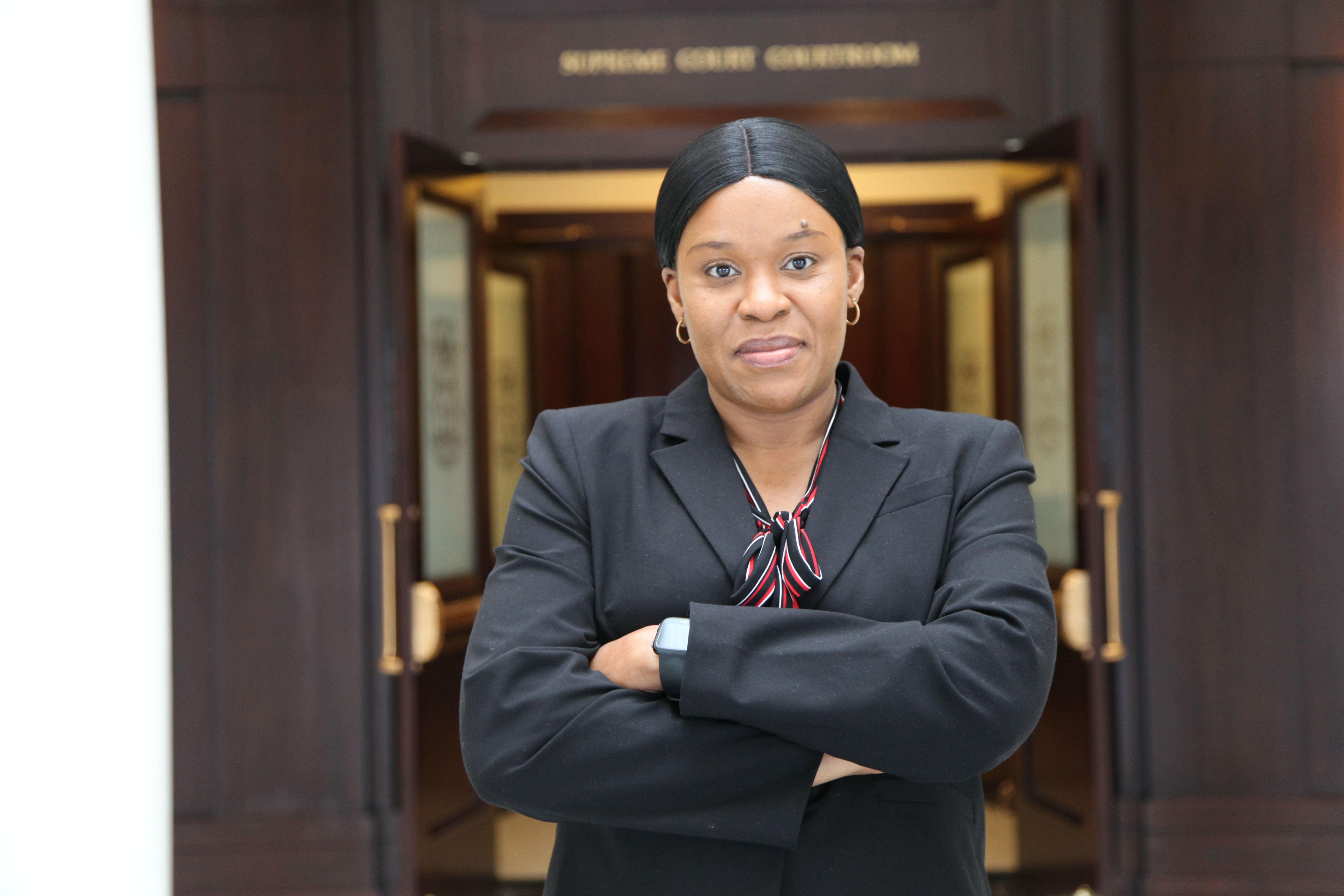 Cooley Law School graduate Ogenna Iweajunwa recently accepted a clerkship with Justice Richard Bernstein at the Michigan Supreme Court. However, less than 10 years ago, she was learning how to tackle basic tasks such as expressing herself, pumping gas, or ordering food at a drive-through restaurant.
That's because in 2009 Iweajunwa emigrated from Nigeria to the United States with her young daughter, leaving behind her parents and siblings, as well as her career as a lawyer — a career that had perfectly married her passions for writing and helping others.
Though British English is Iweajunwa's first language, the differences between British and American English caused difficulties in understanding.
"I had to re-learn everything from scratch, especially the language, and the way of life here," said Iweajunwa. "I asked questions, did a lot of reading, even looked up the most basic things, like the difference between a hamburger and cheeseburger. I continued to educate myself, listen to people, and most importantly, ask questions."
Iweajunwa lawfully emigrated from Nigeria to the United States, and arrived in Minnesota where she began working two jobs, one as a nursing assistant and the other at a local Walgreens. All the while she was learning to adjust to life in America as a single parent.
Taking on Law School — A Second Time
While Iweajunwa was a practicing lawyer in Nigeria, a number of barriers stood between her and practicing law in the United States, including the ability to sit for a bar exam. Even though Iweajunwa had already completed five years of law college, a year of law school, taken a bar exam, and had practiced law in Nigeria, she still needed an American legal education to become a licensed attorney in the United States. This meant that if Iweajunwa wanted to practice law in her new country, she would have to go through law school again, and take another bar exam.
"When talks of going back to law school first arose, I thought it would be impossible," said Iweajunwa. "Then I realized that the only obstacle to doing anything is yourself, and with determination and hard work, you can do anything."
With that, Iweajunwa began applying to different law schools. When she chose Cooley Law School, she moved from her home in Minnesota to Michigan to start her law school venture at Cooley Law School's Grand Rapids campus.
Determined to fully pursue her passion, Iweajunwa worked hard in law school, always going above and beyond. She immersed herself in schoolwork, extra-curricular activities, internships, and anything else she felt would set herself up for success.
"My professors took a chance on me," declared Iweajunwa. "They looked past my limitations and saw my potential. Once I graduated though, people would look at my résumé and say, 'Wow, she has worked really hard.'"
Despite obstacles and adversity, Iweajunwa not only excelled in law school, she graduated at the top of her class — summa cum laude. But when asked what her greatest victory was in law school, Iweajunwa humbly responds that she was happy "she made it through."
It was again her perseverance after graduation that led Iweajunwa to work as a research attorney for the Michigan Court of Appeals and as a judicial law clerk to Justice Douglas B. Shapiro, of the Michigan Third District Court of Appeals.
Most recently, Iweajunwa added another major victory to her accomplishments when she began a new position in August 2018 as judicial law clerk to Michigan Supreme Court Justice Richard H. Bernstein. It's a job she describes as nothing short of "fascinating."
Judicial Excellence
Iweajunwa isn't the only one excited about her new role. Justice Bernstein believes he's privileged to have her in his chambers, describing her as invaluable, tremendous, compassionate, and even "herculean."
"The work that Ogenna does is invaluable," says Bernstein. "You have to be well-versed in so many different areas of law, and her experiences and perspectives are a tremendous gift. She is nothing short of remarkable."
The hardships that Iweajunwa has endured, Bernstein explains, are some of the most important components of performing her job. Knowing how to overcome obstacles and adversity are critical skills important to Justice Bernstein. He knows this to be true because he had to overcome his own barriers and obstacles to become the first blind judge appointed to the Michigan Supreme Court.
"Ogenna and I have been given our life experiences for a reason, and that's to give back and help others," said Bernstein. "Our adversities help us understand, and be more empathetic towards others while making difficult decisions."
Iweajunwa plans to stay in the court system moving forward in her career. She has enjoyed the exposure to all different types of law she has encountered as a Supreme Court clerk. She has one piece of advice for others who might have similar obstacles. "Never say never."
"Identify your passion, and pursue it," Iweajunwa stated. "I always encourage people to work hard, and to not be afraid to ask questions. You'll get a lot of no's, but eventually, you'll get a yes."
---
This story first appeared in the December 2018 edition of Benchmark Magazine.