Nina Yakubov is one of those people who always had a good idea what she wanted to do, even at an early age. Growing up in Russia, being around very educated people, Yakubov was especially amazed by how lawyers could think in a way nobody else could. She thought of attorneys as "Super Heroes."
Yet, when it came time for her to go to college, she didn't feel that law was a path she could take so she enrolled instead at Pyatigorsk State Linguistic University to pursue a degree in international public relations.

But she figured out fairly quickly that this wasn't the route for her. "It was very far away from politics and law, and my areas of interest," she recalled.

Learning American Life
It was in her second year, when the opportunity arose for her to study in the United States, that she thought about a career in law again. At that point she thought of her options as wide open – she could pretty much study wherever she wanted. "Because I really liked everything related to law, I found the best criminal justice university in New York City – John Jay College of Criminal Justice."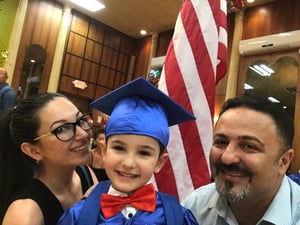 Pushing forward though, Yakubov encountered a bump in the road when it turned out her command of English was hindering her ability to get into John Jay. Undaunted, she embarked on a committed journey of English language classes and, after a year, passed all the admissions tests to get into the college.
While at John Jay, Yakubov met her husband, Valeriy, who was also of Russian descent and of Jewish culture. The United States was fast becoming home for her, then life happened for the couple after discovering that they were going to have a child.

Once their son was born, Yakubov was up against some other hurdles. At the time, those logistical issues required Yakubov to take two semesters off from college to care for Samuel. Busy with her new family and living in a new place, Yakubov, found herself on occasion making excuses for not returning to school. Fortunately, that mindset didn't last long.
"I started thinking, how can I teach my child to achieve something if I haven't achieved anything myself? Children learn by what their parents do, not by what their parents say. By my own example, I wanted to show him that, despite all the obstacles and difficulties in life, you need to achieve something," she said.
IMPORTANCE OF EDUCATION
Being a lifelong learner and becoming educated are the keys to achievement according to Yakubov.
"You need to get your education because education is the most important thing in every person's life. You know everything can be taken away from you – your housing, your car, all your property – but no one can ever take away your education; it's what's inside you."
Yakubov soon after returned to John Jay and put her thirst for knowledge to work. She not only graduated with a 4.0 GPA, she managed to find employment at an immigration law firm within a week after graduation. Working in that law firm, helping immigrants, she honed in on exactly what she should do with her legal knowledge. She was meant to pursue a career as an immigration lawyer.

Living in New York,Yakubov first started looking into law schools there. But she knew that the daily commute from Brooklyn to New York City, and back again (a three hour journey on a good day) was not going be feasible. Between work, daycare, commuting, and homework, she knew her family would rarely find any time to even venture from their apartment.
Yakubov then started looking into other locations; somewhere that offered a better quality of life. She discovered the perfect location for her family to live and for her to learn the law – WMU-Cooley Law School's Tampa Bay campus.
Not only was the weather ideal, the easy commute to classes and the very family-friendly community was something she and her family have loved about living in the location.
Learning in Tampa Bay
One of the most important things she's learned so far in law school is that you need to keep up on a daily basis – never fall behind. She also says new students should ask for help early and often. She praised the Academic Resource Center (ARC) and said that none of her friends in other law schools seem to have that benefit. "Law school is very hard, and to have somebody (in ARC) by your side to always help you is just priceless."

As Yakubov continues her studies, she contemplates all the things she can do with her degree. She knows she still wants to follow her passion into immigration law, either with a firm or as a solo practitioner, but she also wants to do more.

The clients, she said, often "need more than legal advice. They need social adaptation; they ask questions which are not related to immigration," she explained. "They ask how to get medical insurance, how to place their kids into school, where to get a car – you know, little steps. They have nobody to help them with the little steps, the little issues that can seem very funny to American citizens, but to them it's a very big deal."

"I want to tie it together for not only legal advice for them, but some kind of social adaptation so the people will be more comfortable here and more self-confident."