Moot Court Experience Offered Student a Boost
Read about Cooley Law School 3L student Kara Moore in the Legal News story below by Sheila Pursglove. Moore, who has a 3.93 GPA, will work at Collins Einhorn Farrell PC in Southfield. She is pictured with her puppy, Riley Daniel.
Kara Moore had three careers in mind—reporter, lawyer or salesperson—when she entered undergrad at Bob Jones University in Greenville, S.C. Her communications major provided the skills necessary to pursue and excel in any of those careers.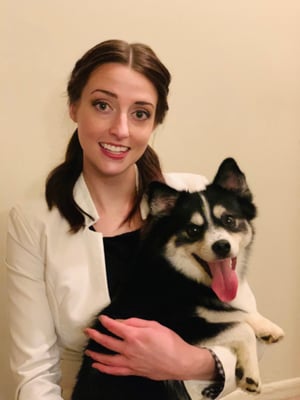 But two of those career plans bit the dust when one of her friends, who planned to become a lawyer, would discuss the law with her.

"I couldn't get enough of it—I immediately fell in love with the material," Moore says. "Every interaction I had with the law captivated my mind, and I knew it was what I wanted to do." Her love of the material is easily seen in her 3.93 GPA.

After getting a taste for the legal field by working for Grand Blanc attorney Paul Scott, Moore started at the Auburn Hills campus of Cooley Law School in 2017.

"I love the professors," she says. "Each Cooley professor is so willing to help you, get to know you, and encourage you both professionally and personally."

Her family has also been cheerleaders in her legal pursuits and beyond.

"I wouldn't be here without them," she says.

Runner-up in intra-mural Moot Court in her first semester, Moore enjoyed the opportunity to get a real feel of what it's like to practice law.

"It gave me courage, taught me to set aside my fears, and how to think on my feet—all of which I've used outside of Moot Court," she says.

In portions of her 1L and 2L years, Moore served as treasurer of the Student Bar Association.

"I enjoyed the people I met as a result of the SBA and the experience I gained in helping to run an organization," she says. "I loved interacting with the other students and getting to know them better."

Last summer, Moore interned for Judge John Gadola in the Genesee County Circuit Court.

"Judge Gadola and his staff are some of the kindest people I've ever met," she says. "I enjoyed getting insight into how things operate behind the scenes and not just from a lawyer's perspective. Among other things, I was able to draft opinions and orders, all reviewed and edited by Judge Gadola."

This year, she was a summer associate at Collins Einhorn Farrell PC in Southfield and will return to the firm following the February 2020 bar exam.

"It was a wonderful experience," she says. "Each attorney for whom I worked took the time to mentor me and provide me with assistance whenever necessary. I was able to perform an extensive amount of legal research, sit in on depositions, and even watch a trial."

In her 1L and 2L years, Moore was a Teaching Assistant for the Property I and II classes.

"I loved the opportunity to help other students—I lived for the moment when the information would finally click in their heads as we discussed the material," she says. "Seeing the stress wash from their faces was extremely rewarding, and I liked the challenge of discovering how to communicate the material in a way each student would understand it."

Raised in Saginaw, Moore—whose mantra is "Be someone worth looking up to"—now makes her home in Auburn Hills, where she enjoys playing and watching sports, working out, playing guitar, reading, sketching, and attending church.

She led the worship music in one of the church's small groups; and since her early teens worked with children at churches—leading songs, playing games, teaching, telling stories with puppets, and ultimately supervising the youngsters.

She also helped run a basketball program for children at the River Church in Holly, and her future plans include working as an attorney while opening and running a nonprofit athletics club for underprivileged children.