Kyndal Midkiff: Cooley Law School Dean's Fellow Feature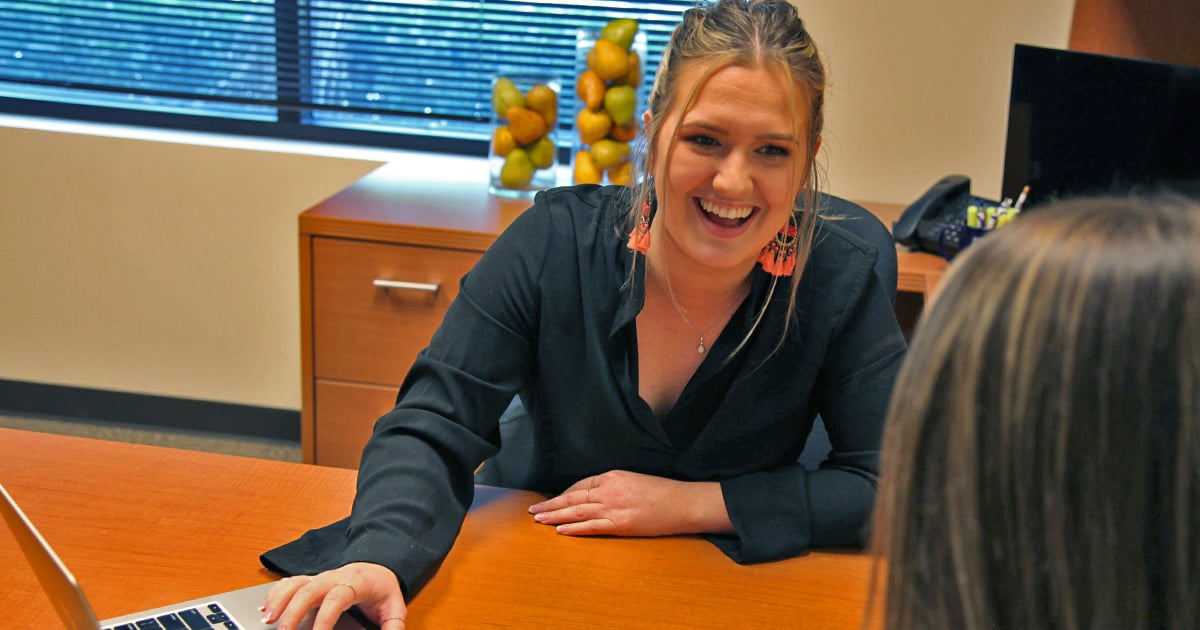 When Cooley Law School student Kyndal Midkiff was younger, her mother worked in a small law firm in Palm Harbor, Florida, with an "amazing attorney." She thought it was a cool environment and was impressed by how the attorney interacted with his clients and how appreciative and thankful those clients were with his care.
That feeling stuck with her. Not only how ideal it would be to create relationships with people, but to make a difference in their lives by helping them understand complicated concepts in the law.
Still, Midkiff didn't know what she wanted to do after she graduated from college – that is until the pandemic hit. Suddenly things got real. She needed a sense of direction.
Midkiff started looking into new and hot careers when she remembered her interest in being an attorney. She decided to work for a law firm to make sure this was what she wanted to do. The experience clinched her career direction.
Next step: Figuring out what law school would be a good fit for her.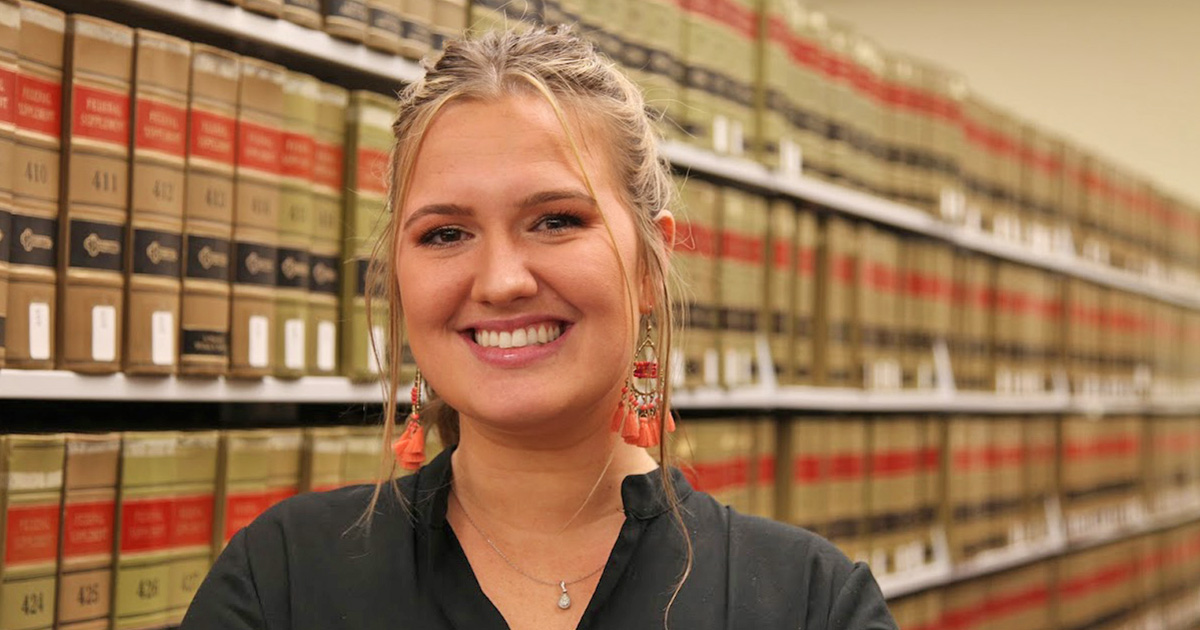 "When I was doing some research about law schools, trying figure out where I wanted to go, Cooley really stuck out for me," reflected Midkiff. "That was because, not only did they offer a part-time program so I could still continue to work during law school, but they offered a wide variety of other classes that a lot of other schools didn't."
In addition, she was attracted to the Academic Resource Center's approach to peer-to-peer mentoring and tutoring and the interpersonal relationships you experience in small classes.
"I felt like it was less of a teacher-to-teacher or teacher-to-student relationship; it was more like a friend helping you work through the turns in the road," said Midkiff. When asked if she ever thought about applying to be a Dean's Fellow for the ARC, she had a swift answer.
"Do I want to apply? Of course, I do, because I want to be able to help students the way I was helped when I first started. And being a Dean's Fellow is not just for one set or one certain group of people. It's available to pretty much any student. If you keep up with your grades and get everything in the right way, you can be a Dean's Fellow."
DEAN'S FELLOW ROADMAP
Midkiff explains the life of a Dean's Fellow as a student mentor and teaching assistant to Intro to Law class. Logistically, a student preferably has finished at least three terms of school and has at least a 3.5 GPA. According to Midkiff, everything is attainable, so long as you develop key studying habits, ask questions when you have them, and meet with your professors and your colleagues to stay on track.
"Cooley gives you all of the resources and everything you need to succeed, so it's up to us as students to take those resources and to utilize them in the way that they are given to make us succeed. And if you do that, then the sky is the limit. And that is where you can put yourself in a position to become a Dean's Fellow." Plus, a Dean's Fellow learns teaching and mentoring skills firsthand.
"Intro to Law is the class that every first-term student has to take," starts Midkiff. "It gives you extra practice and an inside scoop as to how to handle law school. It also allows you to get a better grasp on those first-term subjects which can be a little tricky. So as a TA, I'm able to sit in this Intro to Law class with these first-term students and give them an opportunity to ask questions and to review material and to understand how to write an essay and what the IRAC form is. So that's a really cool opportunity that Professor Marin and the Intro to Law course has given to Dean's Fellows, being able to be the righthand person for that course and be able to get to know the students as they enter and finish their first term of law school."
She explains that Dean's Fellows have specific office hours where students can get answers to their questions in person or via WebEx.
"Sometimes I get emails from students asking, 'Hey, can you hop on WebEx? I have a quick question. I love that! Nothing makes me happier. It's really cool when a student reaches out to you because they know you from Intro to Law class and feel comfortable coming to you with their questions."
Midkiff knows when she's helped connect the dots for a student.
"It's the lightbulb," smiles Midkiff. "You go into class, there's a lot going on. Maybe you just read 50 pages worth of materials, so you go into class thinking, okay, I'm going to try to get a better understanding about this. And sometimes that happens. But sometimes you need a little bit more in-depth thinking and analysis to understand the issue."
That's when students turn to Midkiff and the ARC. It can mean just explaining something in a different way or a little bit more, when a student will say "Oh my goodness, that makes so much more sense to me now. Thank you!"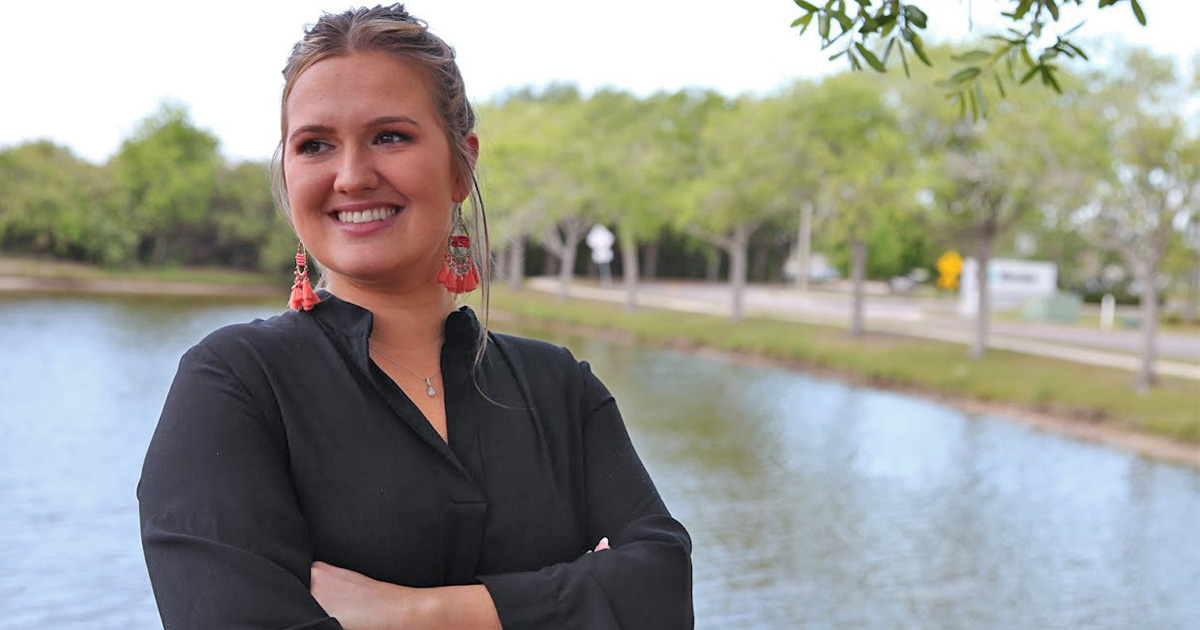 VISION FOR THE FUTURE
Midkiff may have to drive 45 minutes to the Tampa Bay campus from Palm Harbor, but she wouldn't change it for the world.
"I could not be more thankful for what Cooley has given me the opportunity to do, not only with my studies, but with being involved and taking advantage of the different networking events. The close-knit, nice, interpersonal relationships with my professors are something that I cherish. I love that they know your name when you walk down the hall to class. That's really something that I truly love about Cooley."
She has many career interests but is looking closely at some sort of medical malpractice law.
"I think that is an area where it's a very personal subject and can be scary," explains Midkiff. "That is an area where I can really help people who have not necessarily been wronged but there can be a remedy. I can see myself, after I graduate and pass the bar, practicing medical malpractice at a firm to start, then eventually opening my own firm."