Kimberly Lewis and Susan Lee: Unapologetically Unafraid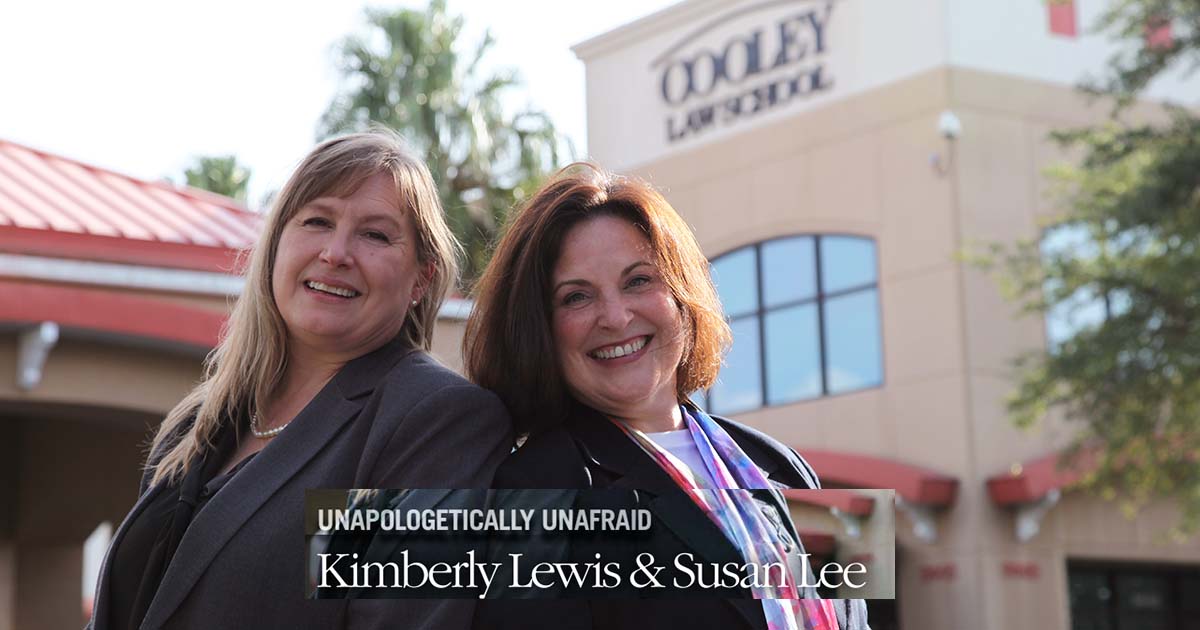 Orientation for most students can be slightly overwhelming, but for Kimberly Lewis it was the launch of an exciting new future. A natural extrovert, she had already scoped out her classmates and locked in on one student. Someone she intuitively knew was interesting and smart.
Lewis didn't take long to introduce herself to Susan Lee. She let her know straight away that "we're going to get to know each other."

That kind of approach may have put some people off, but for Lee, who was already shell-shocked and feeling the whole idea of sitting in a law school orientation was surreal, she was happy to find there were nice people at the law school.

They exchanged phone numbers after that first day, and every day after they discovered one more connection.

"We found out we were in the same classes," smiled Lee, "then we decided to sit next to each other; then we realized I was from New Jersey, and she was from Boston – then we had that East Coast connection. It just went on from there."

It is that Cooley family-like support, according to Lee, that helps you when you are going through a tough moment or getting some necessary motivation everyone needs in law school.

"After that orientation day," reflected Lee, "that became a touchstone of motivation for us – being there for each other, caring for each other. She knows my family and I know her family. It just became more of a sisterhood than a friendship."
CULTURE OF SUPPORT
The Cooley culture of support opens doors for students who otherwise would not be able to fit law school into their schedule or consider a career change.

According to Lee, "Cooley Law School gives people who are genuinely interested in law the chance to practice law, whether in the courtroom or in their career. The support system and resources for students is incredible. The faculty is so accessible. They are invested in your success. You are never really more than an arm's length away from someone who is going to be able to provide you with help or support."

Lewis echoed Lee's assessment. "Not to be cliché, but you are never really alone at Cooley. It's not just a culture of support. The culture is one of setting you up for success versus setting you up for failure. You can go to your fellow students, you can go to the ARC – the support is beyond magnificent. That, I think, is probably one of the greatest gifts that Cooley has given me. The support system at Cooley is truly unique."
WITH AGE COMES EXPERIENCE
Both Lewis and Lee are confident people, and neither one is worried about "fitting in."
In fact, Lewis would say that many of their differences are really assets. They do what they must do and do it well. That comes from their life experience. She believes young classmates also bring things to the table with their youth. "Susan and I are unapologetically unafraid to be who we are and who we want to be in the law," stated Lewis. "We are here because we want to help people."
For Lee, despite being comfortable in her own shoes, she wondered if law school might a too much. "The ultimate question for me was how different did I see myself from being in my 20s to racing toward 50? I found there really wasn't a difference, except for now I bring my life experience, which is everything."
Both spoke to Cooley professors before they started law school to address those concerns. They got the same response; 'Age is not going to matter for you because you're going to come in with life experience and you can't replace that.'
Lee believes a legal career is one you can learn, grow and help others forever, and "It is never too late. It is a great investment because you can practice law for as long as you can practice. You don't have to retire. You can do so many things with your J.D. as you age. It's a wonderful thing."
That means everything to these two nontraditional women law students.

"It's important to continue to show the world that equality is essential for women in society," stated Lewis. "We're equal, we're willing, we're capable, we're able, and in some cases we're better."

"As a woman born in the late '60s," continued Lewis, "growing up formally in the'80s and '90s, and realizing that I am still 27 in my mind; that insight is a powerful. I have seen firsthand how women have been treated. Although women have started to be appreciated and respected over time, there is still a lot of work to be done."
BRINGING HUMOR TO THE TABLE
Both women take their law school decision and work seriously, yet there's plenty of room for laughter.

"We try to bring humor and balance to our day," explained Lee. "You can't go through life with such seriousness. You can't lose yourself within the law. That could easily exhibit itself in a negative way, physically and emotionally."

For both Lee and Lewis, humor in the classroom evolved by being creative. As they would say, "With our personalities, we try to bring fun into the classroom as a way to learn, especially when we are preparing for competitions."

One of the funniest memories for Lewis had to do with how she and Lee would creatively memorize the elements for defamation. And they would put themselves through the ringer asking every silly question they could think of. Each would take turns playing the role of attorney or the subject-matter expert. Using humor was a great way to learn and remember the legal terms and the law behind it. But they both know real cases are all too serious.

"People's lives are at stake," stated Lewis firmly. "There are liberties and money involved."
ELEMENTS OF HUMANITY
Lewis believes that compassion is an essential component to advocating for your client. She believes both men and women can bring empathy to the table, but feels women can sometimes have a leg up because they have learned the art of compassion growing up.

"I think women learn at a young age how to communicate differently," reflected Lewis. "There's a deeper level of communication that women know intuitively and through cultural upbringing. A woman can understand and sympathize with another woman's struggles. Not always, but many times."

For Lee, that compassion really comes down to a matter of perspective and the differences in someone's experience and circumstance. "There is a whole world out there, and when something bad happens, a person will seek out someone they trust and who understands his or her perspective to help solve their problem."
LEWIS & LEE LL.P.?
Like Lee, Lewis is gravitating to the field of criminal law as a career. For Lewis, she feels like she's trading in one show for another, coming from the world of theater.

"I think I am a very, very good fit for trial. I just like it. I'm not afraid to speak; I don't get easily intimidated. I am a hard worker; I work my butt off to know everything I can know before I stand up in front of a judge."

She finds merit in both the prosecution side and the defense side, so either route works as a career in criminal law.
It's not too much of a stretch to wonder if these two dynamic women might be thinking of forging their own law firm. Well, that idea has crossed their minds on more than one occasion. As much as they recognize that there is much to learn and networking to be done, "Lewis & Lee LL.P." is more of a plan than an idea.

"We've talked about this quite often," explains Lewis. "We want to get five to seven years of litigation, really good litigation, under our belt working good caseloads, before we look at opening our own firm. We've been studying together, competing together, and finding success together. Having a business together would be outstanding."

Lewis expounds upon how attending law school at an incredible time in history has been a blessing in disguise.

"It's hard to articulate, but the last two years of law school have truly been amazing. Everyone had to learn how to adjust, and the professors showed us how to adjust. You learn best from good leadership – someone who models good behavior and ethics and does well. Today we now receive accolades because of how we have adjusted and conducted ourselves well. That is a reflection on the great leadership at Cooley Law School."
---
KIMBERLY LEWIS
Kimberly Lewis says she is the poster child of nontraditional students. Her journey started at 13 years old when she began singing professionally. She was sure that was going to be her life's career. She traveled all over the country, then all over the world.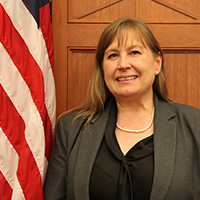 Then she met her husband during a United Service Organization (USO) tour. That was it. She was "the girl who broke up the band." Kimberly then got married, had a child, and learned Arabic. Lewis found work in diplomatic security for the U.S. State Department.

She lived with her military spouse in England, Jordan, and Kuwait. Lieutenant Colonel Lewis worked as a military attache and his career took the family to many embassies abroad. It was from her time living in England and Jordan, that Lewis came to the realization that she had a desire for learning the law.
It was eye-opening for Lewis to live in countries where freedoms look different than those in the United States. Her experience living in countries with different rights for people fueled a passion for advocacy and change.

"To me, a human being has the right to God-given freedoms, the right to be free. The right to make decisions for themselves. And when I saw that wasn't the reality around the world, that is the reason I went to law school. She believes it is the best way a person can be a voice for change."

As a military spouse, with her husband stationed at Tampa's MacDill Air Force Base, Lewis only looked at law schools in the Tampa Bay area. It was Cooley's open house event that made the decision for her.

"It was the atmosphere," stated Lewis. "The dean was there, the assistant dean was there; there were people from the Academic Resource Center (ARC) explaining to us as nontraditional students, younger students, and students coming from out of state, how they were here for us, and Cooley was going to set you up for success. If you sell it to me, I will buy it. Not only did Cooley sell it, but they've also kept their word. That's the important part. They talk the talk, but they also walk the walk."

Lewis feels that she can now really follow her passions at this point in her life, including being involved in protecting those entangled in human trafficking.

"I just finished an externship at the federal prosecutor's office which was a magnificent experience," declared Lewis. "You get to see both sides of the law; one where you are the voice of the victim and the other where there is an individual alleged to do wrong and they need their constitutional rights protected. There is a beauty in both of those things."
---
SUSAN LEE
Susan Lee was a "military brat" growing up mostly in Colorado, who always wanted to be a lawyer. Spending the past 27 years living in Boston, she thought the chance to go to law school might have passed her by. However, it was her move to Tampa and working for a law firm that her childhood dream of becoming an attorney was brought to the forefront again.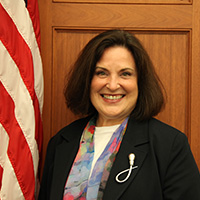 Education and learning have been a constant force in her life. She was always in school for something or another. She painted and had an art studio for a short time; she practiced martial arts for six years; she did triathalons; she went to Boston University where she earned a paralegal certificate; and she went to school for radio and television production and performance. But it took a colleague at a law firm in Tampa to point out the obvious when she was considering getting a master's degree. She asked, "Why don't you just go to law school?"

That was the tipping point. She knew all too well working in a law firm that people in need of help are often also looking for legal assistance.

She started looking into law schools in the Tampa area, and it became clear to her that Cooley was a better fit for her.

"I heard from an alumnus that Cooley picks you, and in my case, I truly believe that," stated Lee. "They give you that opportunity. It was a great choice and the decision to resign from my job to attend law school full time worked better for me and it has been an incredible journey."

With graduation around the corner, Lee is narrowing down her career choices, but that doesn't mean she has limited her options.

"The wonderful thing about a law degree is that there are thousand and one ways you can use your J.D.," smiled Lee. "There are so many directions you can take. One never knows how an opportunity will present itself. You never know what you will end up finding interesting and what will end up driving your passion."

It seems the more Lee learns, the more interests she finds. She thought Elder Law might be her calling, then she discovered she loved the complex layers and issues involved in Native American Law. One thing she is sure about is that she wants to work in the criminal law field.