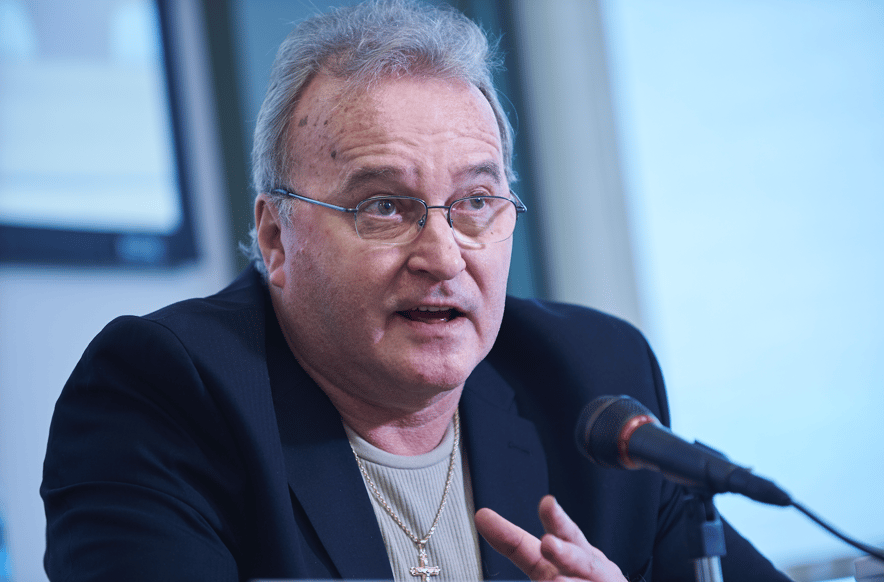 Nine years can be a relatively short time, or a very long time, depending upon circumstances. If you're raising a family, nurturing your children and watching them grow, it can whip by in a flash. If you're in prison for a crime you didn't commit, it would drag on, second by miserable second.
And if the latter were the case, once released from prison, you very likely might just want to walk away, put it behind you, forget the past, and begin again. But for Ken Wyniemko, a wrongfully convicted inidividual, that's just not possible.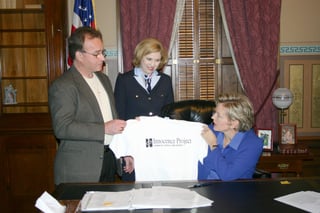 In 1994, Wyniemko was convicted of 15 counts of criminal sexual conduct, as well as breaking and entering and armed robbery, and sentenced to 40 years in prison. The conviction was based on evidence that was DNA tested with the assistance of the WMU-Cooley Law School Innocence Project. Cooley's project is part of the Innocence Network, serving innocent men and women across the U.S. and Canada. Based on the DNA results, the WMU-Cooley Innocence Project and pro bono attorney Gail Pamukov were able to overturn Wyniemko's 1994 conviction. Wyniemko had gone to prison for a crime he didn't commit; he was an innocent man.
But until that was proven, he spent almost nine years in prison, missing his father's funeral in 2000 and the births of his two grandchildren. Mr. Wyniemko was released from prison on June 17, 2003 and became the Cooley Innocence Project's first exoneree.
Today, Wyniemko is one of many wrongfully convicted who have been exonerated by an Innocence Network organization. At the time he was released in 2003, Wyniemko said about one exonerated prisoner was released from prison every 16 days. According to Wyniemko that number has changed to about 4 per week. But to Wyniemko, that's not enough.
As a man who helped fight for and win battles for continuation of post-conviction DNA testing and for ensuring compensation to exonerees in Michigan, Wyniemko says he is most proud of what he hasn't done.
"What I am most proud of is not of what I have done, but what I haven't done. I made a promise to (a dying friend) and to the Good Lord that if the innocence project could bring the truth to light that sets me free, I would never, ever, until the day I die, stop fighting for the innocent men and women who are in prison today. So that's what I am most proud of."
In 2017, Wyniemko, with friend and writer Bob Henige, published a book detailing his wrongful conviction, titled, "Deliberate Injustice–The Wrongful Conviction of Kenneth Wyniemko." The book is a plain-language, first-person account of Wyniemko's life and struggles in prison and the work he has accomplished since his release. The book shines a spotlight on the grim reality, cruelty and prevalence of wrongful convictions.
Wyniemko writes about his experience in a way that is at times gut wrenching and terrifying, at others exciting and hopeful. In the end, his freedom enabled him to turn the other cheek, become an advocate for others, and earn the admiration of judges, prosecutors, legislators, wardens, attorneys and reporters; all achievements that would likely have been impossible from his prison cell.
"The book took me three years and it was a struggle for me because I had to relive things I had kept buried for 12 years. There are testimonials in the book, including one from Judge Carl Marlinga, who was prosecutor then, and who had evidence hidden from him that proved I was innocent."
In the years ahead, Wyniemko will continue his commitment to getting innocent prisoners released. He realizes he is one of the lucky ones and has dedicated himself to the cause of justice, as well as to helping the exonerated rebuild their lives once released.
Of course, Wyniemko is also extremely grateful to the WMU-Cooley Innocence Project and its students.
"I have innocence project tattooed on my heart. But there is no way I can thank everyone who was involved in my case from day one," Wyniemko acknowledged. "But the students are learning what it's really like out there, what they have to face in the future, and to me that is very, very important. We have to educate them, so they won't be buffaloed, they won't back down. I love each and every class and I hope they will keep up the good work."