Jason Guari: A Life Built on Gratitude and Giving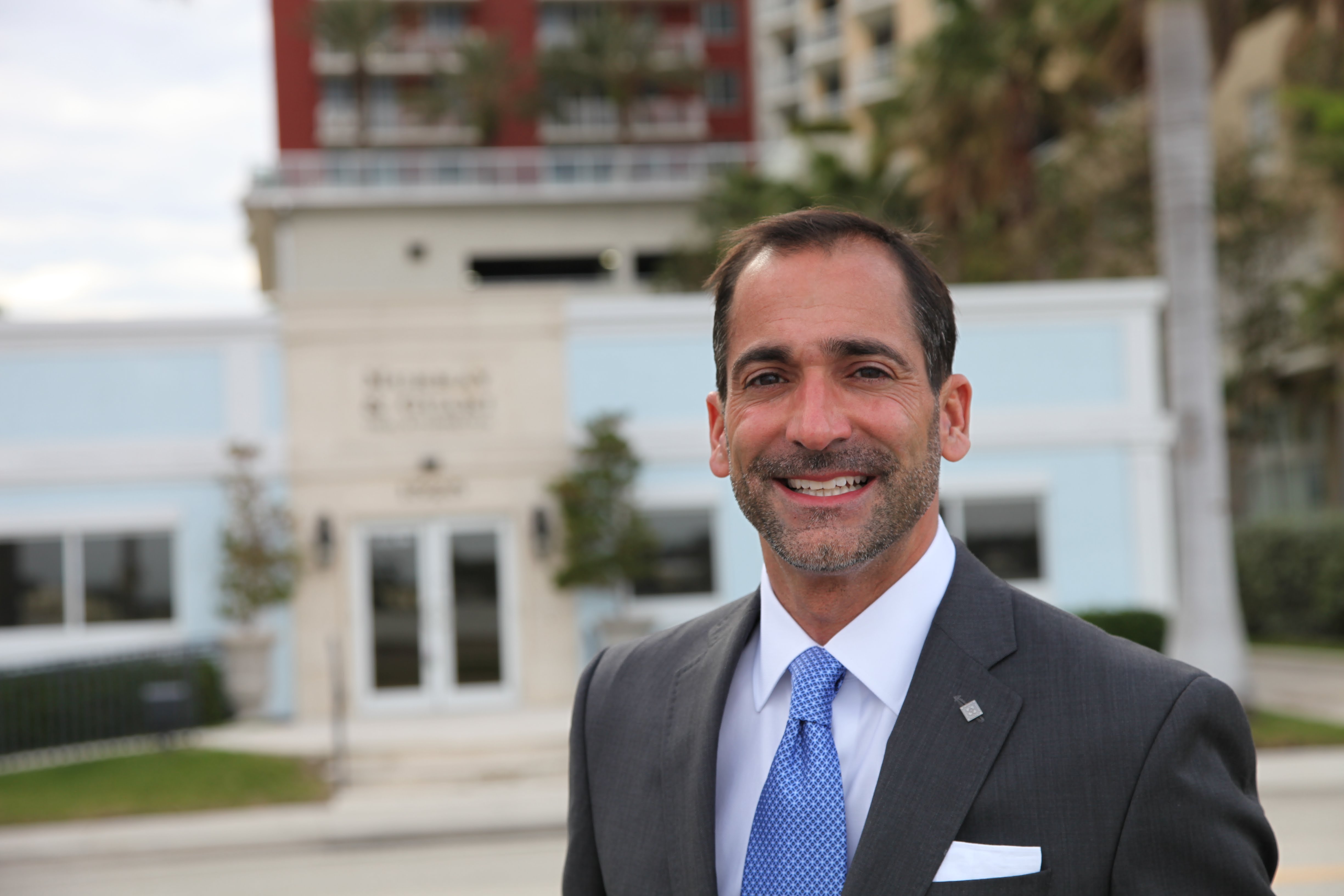 Trial law is a challenging, stressful and just plain demanding career path that isn't for everyone. But for Cooley Law School graduate Jason Guari, it's a passion turned mission to assist others at the worst moments in their lives, and to give them hope for better times.
MORE THAN A JOB
Guari is a partner in Murray & Guari Trial Attorneys, PL, a highly successful Palm Beach, Florida-based law firm specializing in personal injury and wrongful death cases. Unlike many such firms though, Murray & Guari does not advertise, depending instead on reputation and word of mouth referrals. So Guari is able to take a very personal interest in making clients feel at home, cared for and well served. In turn, he gets the gratification that comes with a job well done.
"Probably the greatest satisfaction I get is when there is one person who is really grateful. It means the world to me as a lawyer to help someone, particularly when they are in a time of need," Guari said. "When you get a nice note saying thank you from a client, that's worth all the hard work."
There's also the skill and expertise it takes to win on behalf of his clients that gives Guari the added fuel he needs to keep pushing forward. In one recent case, he exemplified what can really happen when pursuing a personal injury case with an insurance company.
"We were just at trial in Broward County and about to get to verdict and the insurance company said, 'Hey, no more, let's try and get this thing resolved before it goes to jury,'" Guari recalled. "It was a rear-end accident where someone had to have a neck fusion. So, we had to make a decision to settle the case. It's very exciting!"
But it's not about the thanks or the winning to Guari, it's about the giving — giving people back something for all they have lost.
"We have some very interesting cases, some catastrophic injuries where people's lives have been changed or they have lost loved ones," Guari said, adding, "We're helping people get their lives back together and really the only way we can do that is to help them get monetary compensation."
FIGHTING THE GOOD FIGHT
Despite a very busy and fulfilling work life, Guari makes time for another passion, helping promote cancer research and care for patients through the Leukemia & Lymphoma Society. But Guari's introduction to the society was through the worst possible experience — his wife, Nicole, was diagnosed with leukemia.
"We were married about three years and my wife was just pregnant for our second child when she was diagnosed. At first the doctor told her she was just tired, but her blood count was zero," said Guari.
It took multiple rounds of heavy chemotherapy and what Guari calls "control alt deleting" her bone marrow over the next year to annihilate the cancer cells in her blood. During the last treatment, Guari remembers the oncologist giving a frightening prognosis.
"He was about our age then, and he told me, 'The very thing that could be helping her could be the very thing that kills her.'"
Miraculously, a few weeks later her blood count began to respond, and she has been in remission ever since. This, Guari says, is something that is improving across the board for leukemia patients, and immunotherapy is also on the cutting edge of cancer care. But what's important about leukemia, Guari said, is that as a blood cancer, it's so easy to test compared to cancers in tissue. That makes it a great starting place for researchers.
"You see a lot of advances in leukemia treatment and those parallel into other forms of cancer. So, all the advancements you get with leukemia drugs transfer over to treating other types of cancer," he explained. "There have been some real breakthroughs and it's great to see these advancements, but there is still so much more work to be done and so much more money to be raised for leukemia research."
All the more reason, he says, to keep fighting the good fight. For his part, he has served as a board member and chairman of The Leukemia & Lymphoma Society's Palm Beach Area Chapter and his firm actively promotes and supports the cause as well. Even more noteworthy, however, is that his passion has spilled over onto his daughter, Lily, who was just a toddler when her mother was diagnosed.
Lily is now a young teen who is providing comfort to patients undergoing cancer treatment. With two of her friends, Mercedes and Johnny Cassidy, Lily started a 501(c)(3) called Blankets of Love, to bring blankets to people while they are getting their chemotherapy infusions. Sadly, the three share poignant cancer experiences in that they all recently lost people they loved to cancer, including Guari's own mother who died after a brief battle with lung cancer.
"They're young children, just 13 years old, and they are seeing someone at their worst, and they realize it could happen to them, to their parents, to their loved ones," said Guari. "So, they are just giving patients a little bit of hope. It's about putting someone in a good mood. I once saw a Facebook post from a patient that said, 'These three young kids just showed up like little angels with blankets and made us all smile!'"
ON THE HORIZON
In light of his success, Guari might be tempted to rest a bit on his laurels, and maybe play a little more tennis, his favorite athletic endeavor and one he shared with his mother. But when asked what's next, Guari lights right up and it's crystal clear he is nowhere near done.
"I want to continue growing the firm and get in there and really fight with the insurance companies, get more cases resolved, go to verdict, and just do good work," he said.
Also on his career bucket list is developing some properties, maybe even the site of his current office, which is in a great location and includes land on the intercoastal. And, he concedes, he also would like to see Blankets of Love go national, but he asserts "We'll see how it goes. It's all been done by the kids and I cannot take credit for it."
LIVING THE COOLEY LEGACY
Now 23 years into his legal career, Guari can still remember the anticipation he felt before he began his first term at Cooley Law School.
"I had to wait a year before getting in and I just remember every day looking at the catalog and thinking, 'This is where I am going to law school,'" he recalled. "And I remember my mom saying 'OK, we're going to drive you out there, we're going to drop you off, and you're going to do it.' And I did!"
Guari still appreciates the Cooley Law School difference and how it shaped his career and his character. It wasn't easy, and it took plenty of fortitude, but he knows he is better for it.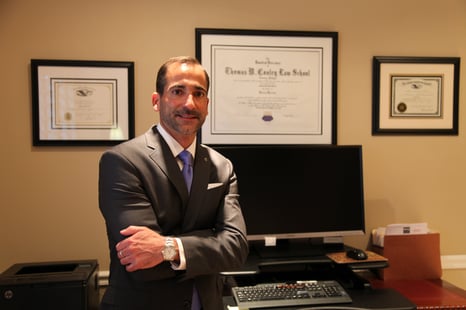 "The biggest thing at Cooley was that nothing was going to come easy and you were going to have to work for it — that was instilled," said Guari. "There was never any guarantee that you were going to graduate, so we knew we had to buckle down, study and do well. And many of us have applied those principles to our practices. Have you ever heard the expression: the harder you work, the luckier you get? I think that's really true!"
In fact, Guari is lucky to have a lot of Cooley graduates as peers in Palm Beach, and he sees his experience and work ethic mirrored in many of them.
"We all have a common thread; we all kind of work a little bit harder than most, and we work a little smarter, and it's nice that we've all seen such success."
To stay in touch and share expertise and experience, Guari is always ready and willing to host Cooley alumni events at his firm and said he "feels it's really important for Cooley Law School grads to get to know each other and to know what we all do because we can all help each other.
"I am extremely grateful to the school. Had it not been for Cooley Law School, I would not be where I am right now."
---
This story originally appeared in the June 2018 edition of Benchmark Magazine.