James Turgal - A Lifetime Calling to Protect America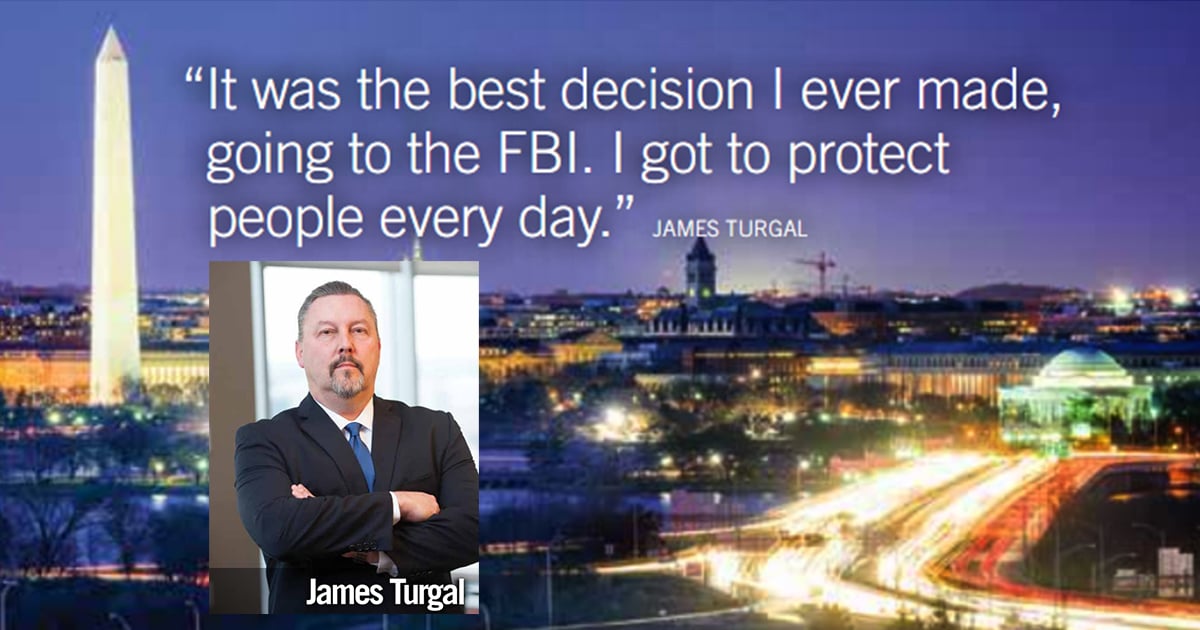 James Turgal stared at his phone in shock. In just five minutes, his life had been completely changed. Settled in nicely to his post as Special Agent in Charge for the FBI in Phoenix, Arizona, moving across the country was not on his to-do list. But when your boss – who happens to be FBI Director Robert Mueller – calls and tells you he needs you back in Washington, D.C., ASAP, you just start packing up your house and go.
Still reeling from the mostly one-sided conversation, Turgal called his wife and joked, "Just got a call from Headquarters, I feel like we've just been the victim of a drive-by 'shooting!' "
It was 2013 and Mueller was calling Turgal back to D.C. to take over the FBI's Human Resources Division. It certainly wasn't his usual job description – which included everything from busting down doors in drug raids, to serving as Chief Attorney for all Domestic Terrorism operations for the FBI. However, the FBI's HR functions were still using paper and in need of desperate repair and Turgal's track record of solving difficult problems was legendary.
"You're the guy," Mueller told him. And the call ended there.
It wasn't the first time that Turgal and his wife had packed everything up and moved – although it was the quickest as he only had 30 days – and it wouldn't be the last. Over the course of his career with the FBI, Turgal and his family moved nine times to respond to the needs of the bureau.
Turgal (Montgomery Class, 1992) is a 21-year veteran of the FBI. When he retired in October 2017, he was Number 6 in the organization. He signed on with Deloitte & Touche, LLP, when he left the bureau and then, in January 2021, he joined the cyber-security firm, Optiv Security, Inc., in Washington, D.C.
Choosing a Life's Calling
Turgal didn't start out on a career path to the FBI. Early in life, he wanted to be either an attorney or a police officer. He started getting experience in the legal field during high school, working summers for a local attorney in Scottsdale, Arizona, where he grew up. He continued that practice in college while earning his B.S. in Business Administration-Economics at Northern Arizona University.
Turgal, now 54, took a gap year after earning his bachelor's degree and started exploring law school options. He took the LSAT and was accepted to three schools. He said he chose Cooley because of the personal attention he found students received, as well as the school's manageable size and its robust moot court program.
While at Cooley, Turgal served as a research assistant for Professor Barry Dubner. The legendary Dubner was an influential mentor for Turgal, shaping the nature of the lawyer he would become, and becoming a friend for whom he would house-sit and dog-sit when the Dubner family went on vacation.
It's common knowledge that law school, while intellectually stimulating, can be stressful. Turgal found a slightly unusual way to de-stress, taking flight lessons at nearby Mason Jewett Airfield during his third year at Cooley. By the end of his law school career, Turgal had earned his J.D. and a pilot's license, skills that were to become very important in his subsequent law and FBI careers.
Dubner strongly encouraged Turgal to get his LL.M. degree. With an eye toward starting a corporate law practice back in Arizona, Turgal focused on programs in that field and soon had his pick of three top schools. He chose Georgetown University School of Law in Washington, D.C., where he could focus on corporations and securities law. "I love the whole concept of how economics plays a role in corporate decision making," he explained.
While the transition from Arizona to Lansing hadn't been too bad, it was a culture shock going from Michigan's small capital city to the non-stop motion and traffic snarls of D.C. Turgal lived in the basement of a college buddy's house and got to class mostly by using the Metro. Turgal may have nerves of steel, but even he quickly tired of the daily battle with the insanity of D.C. traffic.
"The LL.M. program is a two-year program and I did it in one year. I needed to get out of D.C.," he chuckled.
Ironically, as fate would have it, Turgal would go on to spend the bulk of his career living and working right there in D.C.
But first, Turgal followed his plan to return to Arizona where he joined the practice of the attorney he'd worked for during his high school and college summers. The partner, Turgal recalled, would do pretty much anything to settle out of court, but Turgal was made of sterner stuff and wanted to mix it up.
"Here's this young kid with two law degrees, and I wanted to be in front of judges and juries."
With their different interests and skill sets, the two made it work.
Until the traumatic day that it didn't.
Bump in the Road
In a made-for-TV scenario, two years into the partnership, an unsuspecting Turgal answered the phone one day and found himself talking to his partner's wife
"I remember to this day, I was in the office," he recalled. Bottom line – the partner had cleaned out the bank accounts, fled to California and had a nervous breakdown. And, the partner's wife told him, "He's not coming back."
Turgal was 27 and stunned. Suddenly, he recalled, "I was responsible for all of the cases, rent, and two employees. I was terrified."
It was an actively bad situation, he recalled, but a couple of Turgal's many attributes are his steadfastness and his focus. He is the calm in the room. "I just take a deep breath and say, 'OK, let's work the problem. Do the math and work the problem.' "
Work the problem, he did, but that meant dealing with subject matters that weren't in his wheelhouse and resolving inherited cases he would never have taken on if he'd had a choice. Still, in the interest of giving the on-board clients the service they deserved, he soldiered on.
One of those cases, however, would prove to be a bridge too far and would dramatically change the trajectory of Turgal's career.
Tragedy Strikes
It started with one of the firm's long-term clients, a couple in their 60s who suddenly found themselves with a son in deep trouble. The son, armed with a .357 and a wicked anger management problem, had fired four rounds into his own lawn while having a telephone argument with his girlfriend, who was in her own backyard 100 yards away on the other side of a fence. The son was over-charged with aggravated assault and Turgal was able to get the case more reasonably resolved as a misdemeanor reckless discharge of a firearm.
Fast forward a month or so, and Turgal was sitting in the courthouse waiting on a status hearing for an unrelated case when he received word that the judge wanted to see him.
"This is just a status hearing," he remembers thinking in confusion, "why does the judge want to see me in chambers?"
It is rarely a good thing when a judge preemptively orders an attorney to appear in his office, and this day would be no exception.
Turgal walked in to hear the judge angrily ask, "Do you know what your client did?!"
After a brief exchange, Turgal realized he and the judge were not on the same page and asked who he was talking about. The judge gave him the name and Turgal realized it was the young man from the bullets-in-the-lawn matter. "But that case was resolved," Turgal told the judge.
That's when he found out that the same young man – still angry at the girlfriend – had taken to stalking the young woman. And then he beat the girlfriend and her grandmother, putting the older lady in the intensive care unit for two weeks.
Turgal was stunned. The defendant had long since stopped being Turgal's client, but "it was a watershed moment," he recalled. Forced to take on clients and cases he didn't want, he asked himself, "Do I want to keep doing this?" The answer was quick in coming – "No."
Resolved, Turgal reached out to Sherie Veramay, then director of Cooley's Career Resources Department and asked her to help him out of his misery and start sending him job postings.
Turgal, who'd worked with the FBI on a couple of bankruptcy and fraud cases, recalled one of the agents telling him at the time "Boy, the FBI could sure use you." Up to his ears in his caseload at the time, the compliment didn't really resonate with Turgal. But when Veramay's listings included some FBI positions, he sat up and took notice. He remembers thinking, "Maybe this is a sign the universe is trying to tell me something."
It was. Two weeks later, Turgal received a phone call from the FBI's Phoenix office and got an offer to join the bureau. He made the hard decision to give up his practice. "In my mind, it was everything I wanted to be. I always wanted to be a litigator."
But the FBI offer was too good to turn down, so Turgal closed his practice, gave his clients away, and relocated to Quantico, Virginia for four months of intensive training at the FBI Academy.
"It was the best decision I ever made, going to the FBI," Turgal said. "I got to protect people every day."
The FBI Years
Turgal's FBI career is a study in upward mobility. His first post following the academy was in Houston. He was there for four years assigned to the drug squad, conducting late-night surveillances, working drug warrants, arresting area drug dealers and tracking them back to the cartels. It was intense, dangerous work. "There was a lot of kicking in doors," he recalled. He was also using his law degree – once the squad figured out they had an attorney on the team, Turgal was put in charge of getting the warrants and other paperwork. A professional fixed wing pilot, Turgal also flew for the FBI in his Houston post.
From 1996-2011, Turgal served as Supervisory Special Agent and Chief Division-Assistant General Counsel. He was a criminal investigator, an FBI pilot, and a Cyber Task Force Supervisor. He was also Chief Division Counsel and Assistant General Counsel, serving as the designated general counsel for the FBI's Cincinnati Field Office and chief attorney for all domestic terrorism operations across the FBI, including the Oklahoma City bombing follow-up investigation, the 9/11 terrorist attacks in 2001, the creation of the Terrorist Watch List and the No Fly List.
The Cincinnati posting was one that still stands out in Turgal's memory. It was an assignment that would have a profound effect on his life and involve work and victims he would never forget. At the time, the FBI was beginning to recognize the importance of cyber security and created a task force there. Many of the cybercrime issues involve offenses against children and Turgal and his team dove in and spent the next four years investigating and solving crimes in that arena.
"We saved 17 children from being harmed. To save a child in danger – you can't beat that," Turgal said.
From July 2011 to March 2013, Turgal was Special Agent in Charge for the bureau's Phoenix, Arizona Field Division, with responsibility for all Arizona operations, 600 employees and a $22 million budget. He directed all operations for the bureau, including counterterrorism, counterintelligence, cyber, criminal, foreign intelligence, economic espionage, and border operations. He was also the senior executive in charge of the design and construction of two large new FBI facilities.
In this role, Turgal was responsible for investigation of the murder of Senior Judge John Roll and the attempted murder of Congresswoman Gabrielle Giffords, the FBI's response to the ATF's "Fast and Furious" gun scandal, the bureau's ongoing investigation of the murder of Border Patrol Agent Brian Terry, and a 20 percent increase in public corruption convictions, including the convictions of a U.S. representative and two state legislators.
During this time, while the FBI was working to solve the 2010 Terry murder, Turgal felt that the investigation needed a boost. Why not provide a little incentive for potential witnesses to wade into dangerous waters.
"We weren't getting a lot of traction," Turgal recalled about the search to find the men believed to responsible, "so I went to HQ to get the public involved and set a $250,000 per person reward for information leading to the capture of the four individuals responsible." The 2012 press conference announcing the bounties captured the attention of the nation, and the internet is filled with clips from that event with Turgal and six-foot posters of each of the wanted men.
In From the Field
It was in 2013 after arriving back in D.C. that Director Mueller, named him Assistant Director-Chief Human Capital Officer and launched Turgal on a completely different kind of assignment. His task was to rescue and revamp the vital operations of the Human Resources Division that dealt with a global workforce of 38,000 people and a $4.6 billion dollar budget. Turgal oversaw a staff of 400, helped the department through a mandated downsizing and designed and implemented a replacement for the FBI's 30-year-old personnel management system. Before the upgrade, he recalled, nationwide "everything was still on paper."
By February 2016, Turgal had the HR situation well in hand and he was promoted again, this time to Executive Assistant Director-Enterprise Information Technology. In this role, he was tasked with rescuing the FBI's Information Technology (IT) infrastructure, restructuring IT operations and information security. In addition to transforming the IT operations, he set out to re-energize the IT workforce, by refocusing IT's mission on the Agent and Analyst technology needs. In this role, he oversaw the entire IT infrastructure which included Top Secret, Secret and Unclassified networks across a global footprint including 56 field offices, 400 resident agencies and 88 foreign legal attaché offices.
Throughout his FBI career and subsequent high-level private sector positions, Turgal's successes have generated major press interest. A one-second Google search brings up almost 20,000 hits – his success and promotions within the FBI, the move to Deloitte & Touche LLP, following his retirement from the bureau, and the more recent move to Optiv Security, Inc.
Even after more than two decades in the public eye, and as polished as he is in front of the camera, Turgal is still a bit uncomfortable seeing himself on camera. "Maybe some people get used to it," he said, but he added that he always finds himself critiquing his performance.
But he's come a long way since first experiencing the media attention. "It felt very weird," Turgal recalled, seeing his name in those initial press releases. He values one in particular, though. "I kept the very first press release, where I was named Special Agent in Charge and able to go back where I grew up and be responsible for the protection of the community that shaped me and helped me grow and become the leader I am today."
Time to Move On
With his vast skills in everything from counter-terrorism to cybercrime cases, and cyber security solutions, it was no surprise when private firms came calling when Turgal left the FBI.
Now at Optiv, Turgal draws on his two decades of experience in investigating and solving cybercrimes for the FBI to protect the clients who come to the firm for help, guidance, and solutions. An end-to-end solutions firm, Optiv clients include both those proactively protecting themselves upfront and those firms who find themselves in some sort of cyber mess that needs repair.
Turgal has received numerous FBI Director's Awards and Certificates of Achievement for national security investigations, such as the Oklahoma City bombing, the 9/11 terrorist attacks, and the multiple life sentences of Jared Loughner, who was convicted of the murder of Judge Roll and the attempted murder of Giffords in 2012. He also was given the Presidential Rank Award for Meritorious Executive for the FBI in 2015.