Cooley Homeland Security Expert Gen. Michael C.H. McDaniel Tapped By Media as Legal Expert During COVID-19 Pandemic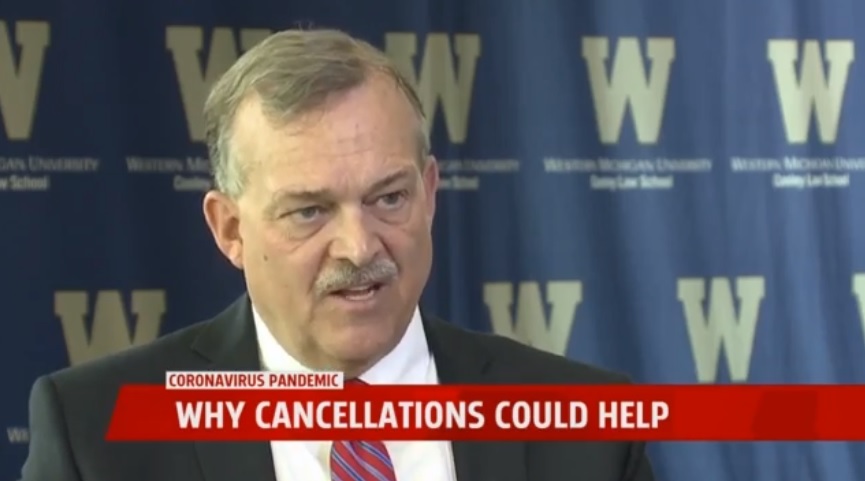 Former Deputy Assistant Secretary for Homeland Defense Strategy and retired Brigadier General Michael C.H. McDaniel, who serves as director of Cooley Law School's Master of Laws Program in Homeland and National Security, has experience in leading multiple government agencies in times of disaster. He held his post with the Pentagon during the H1N1 epidemic and most recently led Michigan's response to the Flint water crisis. McDaniel often provides support to government agencies during times of crisis.
Homeland and National Security Expert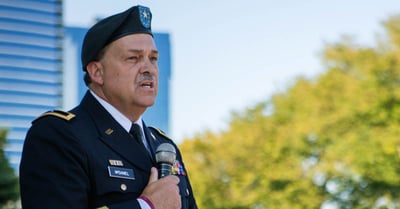 McDaniel has been tapped by media outlets to discuss the nation's response to COVID-19. ABC Action News in Tampa, Florida, spoke with McDaniel about a report issued last year by the U.S. Director of Intelligence that identified pandemic flu "as the greatest threat to global health." He told reporter Adam Walser that the United States lost valuable time by not acting sooner.

"We had plans in place. The federal government has these plans. It is remarkable to me, almost incredible, that we didn't have a plan that was instituted; that we didn't have authoritative action from the CDC. That we didn't have test kits out to states and locals," said McDaniel.

While speaking with WXMI, FOX 17, in Michigan, McDaniel said that the nation is past the point of containment. To prevent COVID-19's infection rate from jumping, it will take a concept called, "flattening the curve," to avoid a spike in cases that could overwhelm hospitals.
Legal Interpretation of U.S. Constitution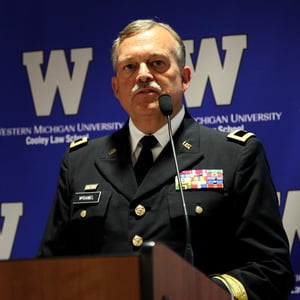 "The way to do that is through something called 'social distancing,' and that's what we're seeing with the cancellation of college classes and major sporting events. If this is as infectious, as contagious, as it appears … it does mean that we'll have those cases spread out over more time, and our public health community is therefore going to be able to respond to them," said McDaniel.

If we successfully flatten the curve, then, McDaniel said, "We'll have enough hospital beds. We'll have enough ventilators. We'll have enough respirators. We'll have PPE equipment sufficient for our health community so that we can sufficiently respond to this and that will lower the lethality all by itself."
While speaking with WKZO Radio, McDaniel said, the thing about epidemics is they catch people off guard. They shouldn't, and we should be prepared for them. Ever since SARS, which hit the U.S. more mildly than it hit other countries, the Department of Homeland Security, the Department of Health and Human Services, and the World Health Organization came up with plans, both nationwide and worldwide, for respiratory epidemics.

"We have plans in place. This is not a new occurrence, and we shouldn't be surprised by it, but we always seem to think it won't happen again. We should have been prepared; we weren't. We have not acted like we were prepared and are now playing catch up," said McDaniel.
"We're not going to have really accurate numbers ever, because we're not going to be able to test everybody that's got a mild to moderate case," McDaniel explained to an MLive reporter recently.
McDaniel was interviewed on April 14, 2020, by WOOD-TV, regarding Gov. Gretchen Whitmer's executive orders during the coronavirus pandemic and whether or not Constitutional rights had been violated. "The courts have said it does not apply — the idea of takings does not apply when the public power is being used to protect the public generally," McDaniel said.
On April 25, 2020, McDaniel explained to the Williamsport Sun-Gazette about the right to protest during a Stay-Home order. "What a lot of people are talking about is 'I have this right to go out and sort of have a party with my neighbors.' And to a large extent, you do. But there is also the right of the states to protect the safety and welfare of the people," McDaniel said. "Speaking broadly, this is the primary responsibility of state government."
McDaniel offered expert analysis to WILX-TV on May 6, 2020, regarding the lawsuit filed by Michigan's House and Senate against Gov. Gretchen Whitmer's extension of the state's emergency order without their consent.
McDaniel explains why Gov. Whitmer is likely to win the GOP lawsuit over her emergency powers in the Detroit Free Press on May 7, 2020. "McDaniel said he would flip the Legislature's argument on its head. What the House and Senate leaders are proposing, he said, is an unconstitutional intrusion by the legislative branch on the executive powers of the governor to manage an emergency."
McDaniel joined the nationally syndicated Rick Ungar Show on May 8, 2020 to discuss the Michigan legislative branch's lawsuit against Michigan Governor Gretchen Whitmer.
---

In addition to serving as Deputy Assistant Secretary for Homeland Defense, McDaniel also served under Michigan Governor Jennifer Granholm as her Homeland Security Adviser in 2003 and served in that capacity until July 2009. At the same time, he also served as the Assistant Adjutant General for Homeland Security, Michigan National Guard.

He joined the Cooley Law School full-time faculty as a professor in the Constitutional Law Department in 2010, and leads the law school's LL.M. program as director of its Homeland and National Security Law program.