When the coronavirus hit and Michigan Governor Gretchen Whitmer issued her stay home-stay safe order, thousands of people were suddenly faced with rearranging their lives to fit the new reality.
Between figuring out how to work from home, as well as how to suddenly become home-school teachers, parents throughout the state could be excused for using their downtime to hit the couch for a nap.



Not WMU-Cooley's Michelle Schmidt and her family.

Pre-virus, Michelle reported daily to the Cooley Center in Lansing, Michigan, to work in the Enrollment Data Systems Office and Graduation Office, and her kids made the daily trek to Holt and Mason schools for their education.

Post-order, they're suddenly at home with work, school and free time taking place all in the same space. Now what, they wondered. It didn't take long to find out.
masks and Shields needed
News of health care workers' lack of protective equipment soon reached the news. Almost immediately, Holt teacher Lisa Weise, who leads the high school Robotics Club where Michelle's son Sean is a member, reached out to her students via Facebook. Weise, who also orchestrated the donation of 350 pairs of goggles from the school, asked her club parents if they could help.

Yes, Michelle and her family answered. Yes, we can.

Instructions for masks and shields came with the plea for help, and the family got to work.

"We had fabric here," Michelle said. "Elastic is a hot item, so we got creative." Fitted sheets and a few clothing items were soon part of the volunteer effort.

Parents in the club organized a distribution plan, with people taking turns leaving their completed items on a fellow parent's porch, and that person took the donated items to McLaren and Sparrow hospitals to maintain a high level of social distancing.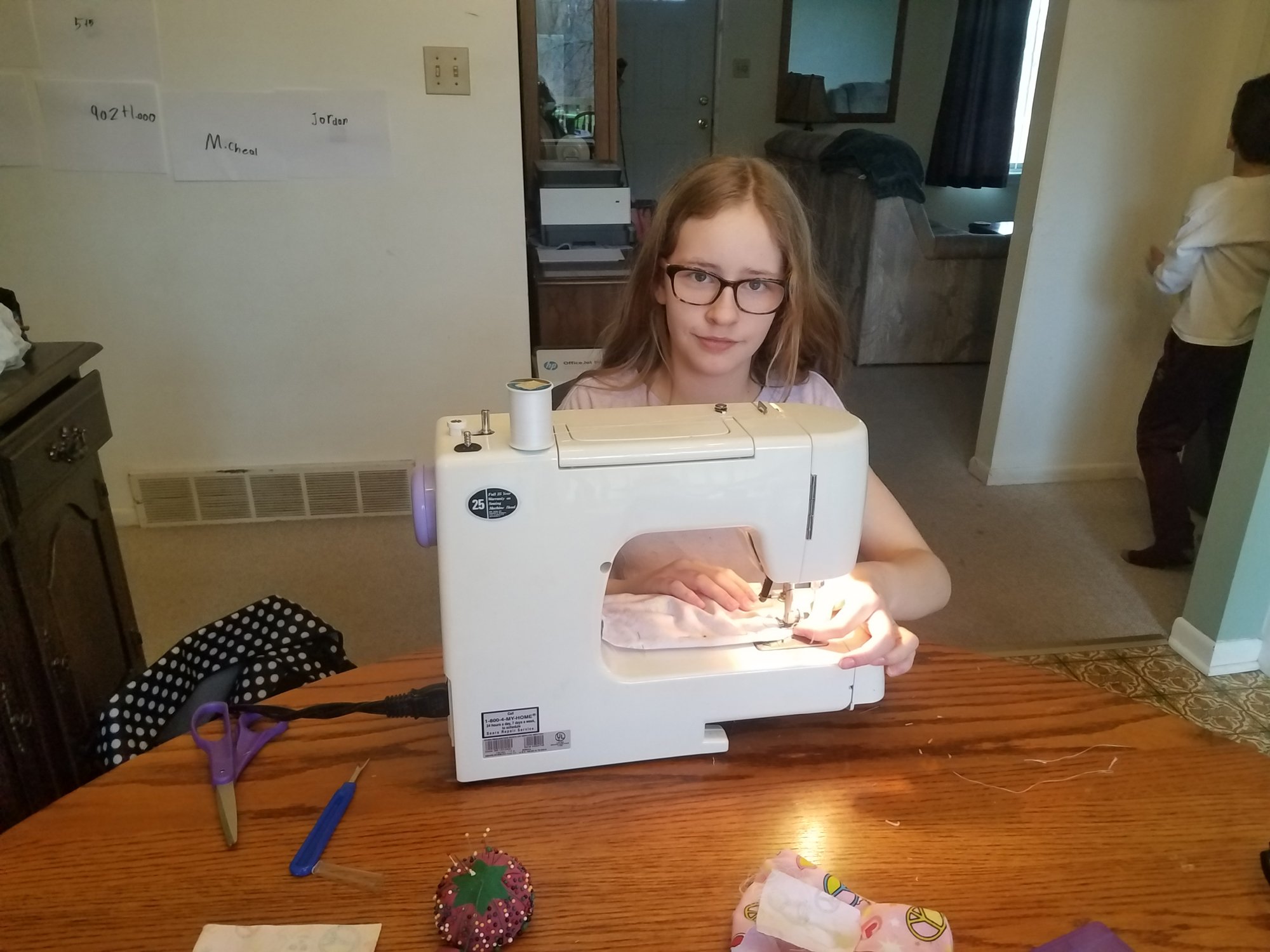 After Work and School
All work is done after home school and the work day is done, and there was an interesting, but relatively quick learning curve.

Michelle and daughter, Audrey, 12 1/2, make the masks. "The first one took time, not going to lie; but after that, it was smooth sailing," Michelle said.

They attempted to make shields with 2-liter bottles but that effort was stopped when they discovered a flaw in the plan. They found, Michelle said, that "the bottles have ridges and aren't easy to clean, so the club brainstormed on the next item."

The club is now looking at creating the shields with the 3-D printers that the club was able to get from The Maker Space Grant funded through the Dart Foundation.

So, why take on the extra tasks when it would be so easy to just rest after school and work?

Michelle said, "For me it was more about teaching the kids to help when they can. This is something we can do. We have the skills, let's use them."

Daughter Audrey said she enjoyed making the masks because it was helping people. Audrey also was proud to receive her great grandmother's sewing machine and enjoys using it.